eKartingNews.com Driver of the Month: April 2016 – Aiden Baker-Crouse
'ABC' goes perfect at WKA Gold Cup opener with seven Sportsman victories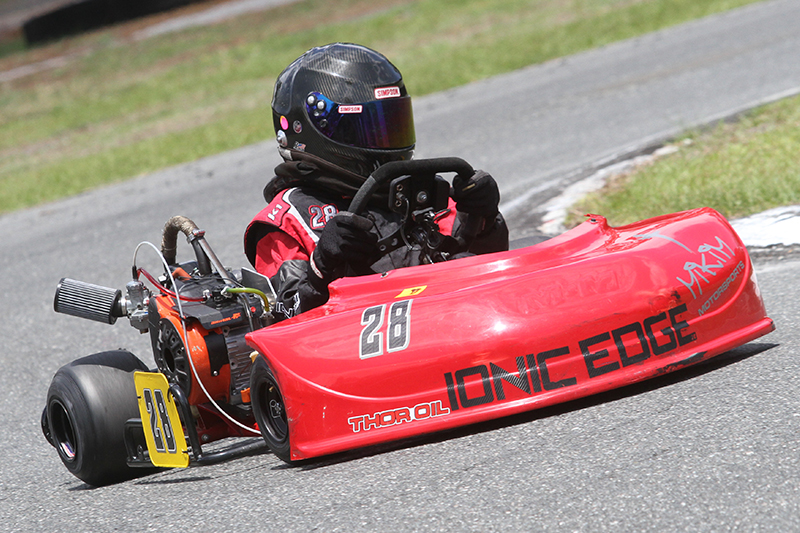 Aiden Baker-Crouse (Photo: Carl Barnes)
In a continued effort to highlight the many outstanding performances by drivers around the country, eKartingNews.com is proud to introduce the 'Driver of the Month' program. Each month, the staff at EKN will determine the one driver who stood out above the rest and give the viewers a chance to know exactly what they accomplished and who they are.
There are hundreds of young racers across North America, looking to be the next star or among the best of their generation. A decade ago, we were able to watch the beginning steps of racers like Sage Karam, Gabby Chaves and Spencer Pigot on their way to competing at the Indianapolis 500. Some of today's top Senior drivers were competing in their final years as a Cadet driver just a few years ago. And today, the number of talented drivers from state to state, track to track is growing. The same can be said in the WKA Gold Cup series, producing a number of longtime and top drivers over the past few decades – including IndyCar champions Sam Hornish and Ryan Hunter-Reay.
Aiden Baker-Crouse is one driver to watch throughout 2016 after opening up the WKA Gold Cup season with seven victories, sweeping the entire Sportsman division on the weekend. Competitors traveled to the famous 103rd Street Sports Complex in Jacksonville, Florida – site of the 1986 World Karting Championship event. Its a mixture of challenging corners and the 1000' straightaway, welcoming the top 4-Cycle racers along the eastern half of the country. 'ABC' was set to compete in three classes over the weekend – utilizing just one Ionic chassis. Between sessions, his team would change over the engine, tires and weights to compete in the Pro Gas Animal Lite, 206, and Pro Gas Animal Heavy.
The weekend began with a victory in the Pro Sportsman Shootout Friday night at the end of qualifying. Aiden went on to sweep all three categories on Saturday as the top driver in qualifying, the heat race, and the main event – bringing his win total to four halfway through the event. The minimum margin of victory was 2.4 seconds with over a seven-second advantage in the 206 main event. The field closed up the gap on Sunday, however, 'ABC' added three more wins with another sweep of the day.
Aiden is coming off a Triple Crown season in WKA competition in 2015, earning three of the Gold Cup national championships, all while earning the most wins of any driver in the series. ABC is making the move into the 2-Cycle side of things with plans to race at select WKA Manufacturers Cup Series, United States Pro Kart Series, and at his GoPro Motorplex Karting Challenge local program – aside from racing for another Triple Crown season at the Gold Cup program.
April 2016 EKN Driver of the Month – Aiden Baker-Crouse
Bio
Born: 8/1/2004 (Santa Monica, California)
Hometown: Vale, North Carolina
Parents: April & Jason Crouse
Siblings: None
Height/Weight: 5'0" / 71lbs.
Education: 6th Grade West Lincoln Middle School
Job: Student
Racing Resume
Chassis: FA Kart, Ionic Edge
Engine/Engine Builder: IAME Swift – Woltjer Racing Engines, Yamaha KT100 – Woltjer Racing Engines, LO206 – Johnny Bartlett Racing Engines, Animal Pro Gas – Turner Racing Engines
Sponsors: Mom & Dad
Series You Compete In: WKA Winter Tour, WKA Gold Cup, WKA Man Cup, USPKS, GoPro Motorplex Karting Challenge
Years Karting: 2
How did you get started in karting? When I was six years old I started in quarter midgets on a circle track but always wanted to race road courses so in April of 2014 my karting career began.
What has been the high point in your racing career? Winning all three WKA Gold Cup national championships in 2015
What are your goals in racing? To become a Formula One driver
In a few words, how would you describe your driving style? I try to be respectful, intuitive and consistent
Funniest moment at the race track? I won a race one time and they forgot I was the leader and didn't give me the checkered flag so I kept driving and driving until my dad called me off the track and told me I won and could stop driving. I did three extra laps and everyone got a good laugh out of the event.
Likes
Favorite Track: GoPro Motorplex
Favorite form of professional motorsports: Formula One
Favorite karting driver: Nick Tucker
Favorite professional driver: Fernando Alonso
Favorite website: eKartingNews.com
Favorite movie: Fast and Furious 7
Favorite actor/actress: The late Paul Walker
Favorite music/group: Alex Metric – It Starts
Favorite vacation/activity spot: Ferrari dealership of Beverly Hills, CA
Favorite food: Tortellini
The Real Deal
What do you do when not at the track? Race on my Play Station and XBOX, mostly with my Dad
What are your goals outside of karting? Get good grades at school
What type of street car do you drive? None, I don't have my license
What type of street car would you like to drive? Ferrari LA Ferrari
What are your pet peeves or things that irritate you? Some of my cats
What do you think could be done to improve the sport of karting? Get more people involved in the sport
What are your favorite aspects about the sport of karting? Adrenaline and competition
April 2016 Driver of the Month – Honorable Mention:
– Christian Brooks: Challenge of the Americas Double Winner / Series Champion (Senior Max)
– Oliver Askew: US Open NOLA – Senior Max Sweep
– Jak Crawford: Challenge of the Americas Double Winner (Mini Max)
– Steven Dial: Route 66 Sprint Series – Two Wins (IAME Junior)
– Cody Hall: WKA Gold Cup – Two Wins (Junior Pro Gas Heavy)
– Jacob Healow: WKA Gold Cup – Four Wins (Senior Pro Gas Lite / Heavy)
– TJ Koyen: Route 66 Sprint Series – Two Wins (IAME Senior)
– Matthew Miller: WKA Gold Cup – Four Wins (Junior Pro Gas Lite / 206)
– Dakota Pesek: Route 66 Sprint Series – Two Wins (Yamaha Senior)
– Zack Pretorius: Route 66 Sprint Series – Two Wins (Yamaha Junior)
– Kaden Wharff: Route 66 Sprint Series – Three Wins (IAME/Yamaha Cadet)