First Verdicts in Spain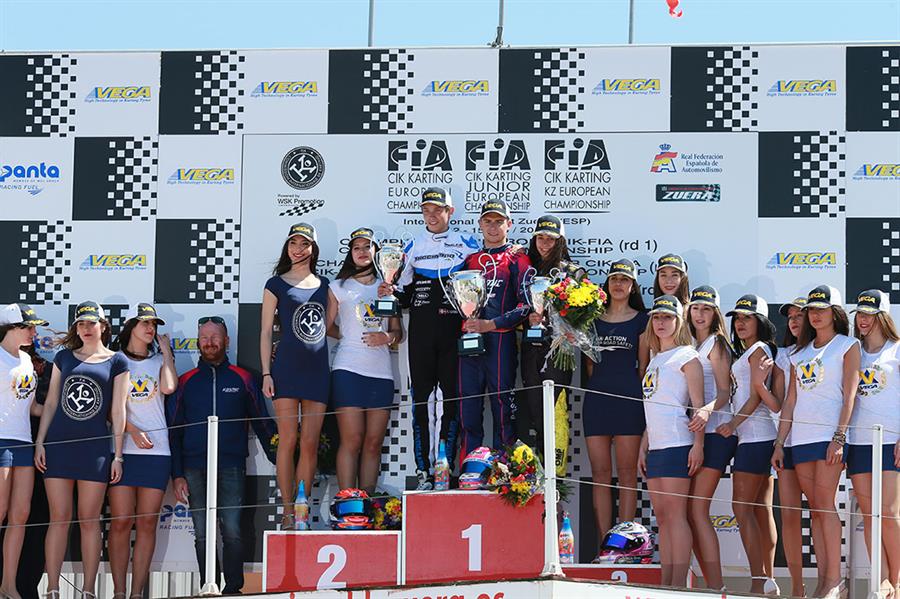 The first round of the European CIK-FIA Championship for the OK and OKJ categories and the second round of the KZ ended in Zuera (Spain), while Max Verstappen – winner three years ago of a KZ race, right on the track in Aragon – was cruising towards his maiden victory in Formula 1 in Barcelona. It was an eventful and spectacular competition, a taste of what could happen in the next appointment in Adria (Italy) on 5th June, when it will be the KZ2 to run together with the OK and the OKJ. In the meantime, all the highlights of the Spanish weekend will be on TV next week thanks to the special report on Motors TV.
Watt is still at the top in OKJ.
The European Championship was what the Danish Noah Watt needed to drive to his full potential: he left no escape to his opponents and won the OKJ Final. The only driver who managed to remain ahead of him for few laps in the Pre-final 1 was Isac Blomqvist (both on Tony Kart-Vortex-Vega). In the Final, the Swedish tried to attack during the first stage of the race, but eventually he had to give in and was overtaken also by the Brazilian Caio Collet (BirelArt-Parilla-Vega), who finished second with Blomqvist third.
Basz surprisingly wins in OK.
The OK Final had a thrilling finale, with a pack of drivers duelling until the very end of the race. At the start, the British Tom Joyner (Zanardi-Parilla-Vega) took the lead followed by the Polish Karol Basz (Kosmic-Vortex-Vega). While the two frontrunners were fighting for the leadership, behind them the Swedish Christian Lundgaard (Ricciardo-Parilla) and the Spanish Marta Garcia (EvoKart-Parilla) were closing the gap. So, the battle for the head of the race was between these four drivers, with Basz who finally managed to grab the leadership on the penultimate lap and to win the race. Behind him Lundgaard and Garcia, while Joyner, after a contact with the Spaniard, dropped back and finished well behind the top positions.
Hajek wins the KZ Final.
It might seem that today's KZ final was an uneventful race, with the same three drivers in the first three positions from the beginning until the end. On the contrary, the KZ Final was filled with tension, with the Czech Patrik Hajek (Kosmic-Vortex-Vega), the French Jeremy Iglesias (Sodi-TM-Vega) and the Italian Marco Ardigò (Tony Kart-Vortex-Vega) always within half a second of each other and ready to take advantage of the tiniest error. Eventually, Hajek managed to gain ground and won ahead of the French and of the Italian.