First Results in Zuera: Tomorrow the Winners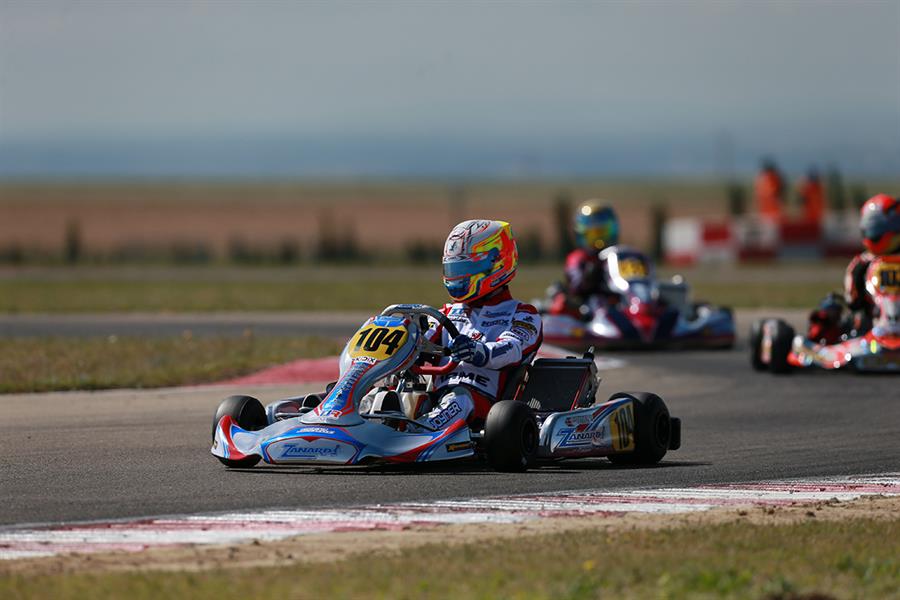 It was an eventful racing day in Zuera (Spain), with 14 races during the afternoon and tough racing condition because of the wind which blew incessantly over the 1,700 metres of the Spanish track. The OK and OKJ were at their debut in a CIK-FIA European Championship. Among drivers coming from 31 different countries, young promises drove alongside with the more experienced champions of the KZ. Tomorrow the grand finale will be broadcast live in streaming on cikfia.tv and cikfiachampionship.com, starting at 10:15am with the drivers' parade.
In the OK, hat trick for Tom Joyner.
Since qualifying, Tom Joyner (Zanardi-Parilla-Vega) was the driver to beat: he set the best time and then achieved the pole in the Pre-final thanks to two victories in the heats. Next to the Brit, the Spanish Marta Garcia (EvoKart-Parilla-Vega) did a great performance and grabbed the second position, thanks to a second and a seventh place. Second row for the American Logan Sargeant (FA-Vortex-Vega) and the Spanish Pedro Hiltbrand (CRG-Parilla-Vega), eager to put in a good performance in front of his public.
In KZ Hajek is the leader.
The protagonists of the heats in KZ were the Czech Patrik Hajek (Kosmik-Vortex-Vega) and the Dutch Bas Lammmers (Sodi-TM-Vega). They scored a victory and a second place each and, eventually, it was Hajek who grabbed the pole in the Pre-final thanks to his best time in qualifying. Second row for the French Jeremy Iglesias (Sodi-TM-Vega) and the Dutch Stan Pex (CRG-Vortex-Vega).
Watt and Taoufik in Pole in the OKJ Pre-finals.
Two victories and two second places allowed the Danish Noah Watt (Tony Kart-Vortex-Vega) to grab the pole in the Pre-final 1 of the OKJ. Next to him, the Swedish Isac Blomqvist (Tony Kart-Vortex), who won twice too. Three victories for the Moroccan Sami Taoufik, the pole-sitter of the Pre-final 2; second slot for the British Finlay Kenneally (both on FA Kart-Vortex). The other two heats were won by the Russian Pavel Bulantsev and the Spanish David Vidales (both on Tony Kart-Vortex).