Tight Qualifying Day at the Rotax Euro Challenge in Italy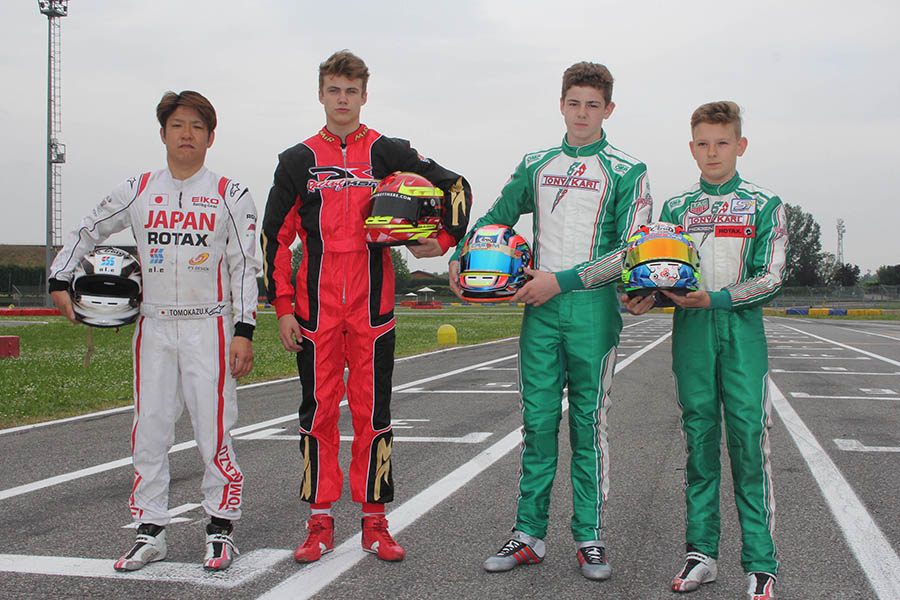 Today the circuit of 7 Laghi at Castelletto Di Branduzzo in Italy was venue of the first decisive track action of the second round of the ROTAX MAX Euro Challenge 2016. In the morning smaller rain showers marked a first obstacle to overcome for the drivers of the three categories of juniors, seniors and DD2. But after the lunch break the unpredictable weather became stable so that the qualifying practice could be driven on a dry track offering perfect conditions for a balanced competition.
In the junior's class Mark Kimber (Strawberry Racing) drove in his own league. By a time 50.889 seconds the young Brit was the only one who managed to break the sonic barrier of 51 seconds. Runner-up was Belgium's Glenn Van Berlo (Hugo Motorsport) who thereby even placed ahead of the championship leader Axel Charpentier (Strawberry Racing). The latter ended up in third place although he had been the fastest man in the first of the two qualifying groups. German driver Dirk Seifried (Team TKP) surprised by a remarkable fourth place in his only second Euro Race thus far. His teammate Cao       Zhou (Team TKP) from China complemented the top five positions after the first day.
UK driver Tom Gamble (Strawberry Racing) set the benchmark in the senior category. By a time of 50.160 seconds he asserted himself on the top while his fellow countryman Jonathan Hoggard (KR Sport) followed in second place, missing the pole position only by 0.009 seconds. Third place went to Belgium's Glenn van Parijs (Bouvin Power) ahead of Germany's Christopher Dreyspring (VPDR TAD Racing) and Turkey's Berkay Beslar (Bouvin Power). Two favourites ended up in sixth and seventh place, namely the reigning vice champion Rinus van Kalmthout (Daems Racing) from the Netherlands and the current championship leader Nicolas Schoell (Strawberry Racing) from Austria.
In the DD2 class Mick Wishofer (VPDR) was the fastest man on track. He set the best time by 48.953 seconds and was only a blink of an eye quicker than Poland's Lukasz Bartoszuk (CRG S.P.A.) with 48.982 seconds. In third spot title defender Ferenc Kancsar (VPDR) left his mark in front of Constantin Schoell (Daems Racing) from Austria and Luka Kamali (CRG S.P.A.) from Germany. Quite a setback suffered Kevin Ludi from Switzerland: the opening round double winner only ended up in eleventh place.
When it comes to the DD2 Masters Tomokazu Kawase (Paul Carr Racing) from Japan stood out. He took the Masters' lead and established himself in 15th place of the overall grid.
On Saturday the next stage of qualification is on the agenda: All told 15 heats will ascertain the final grids for the main races on Sunday. More information regarding reports, photos, results and live TV stream are available on the official websites www.rotaxmaxeurochallenge.com or www.telemundi.com.