Product Spotlight: Mezzo Technologies Radiator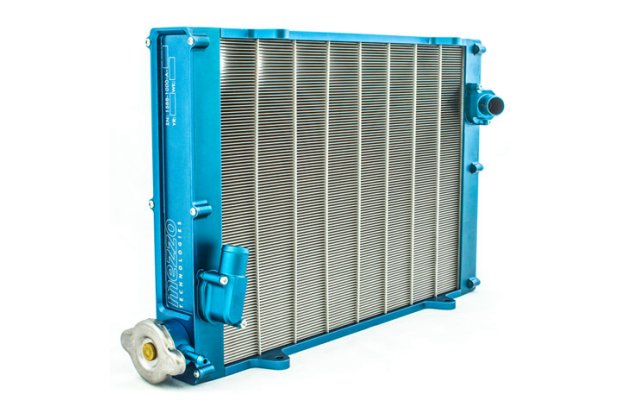 The temperatures will begin to increase as we now enter the month of May and the summer season of racing approaches. One of the major factors in engine performance for water-cooled engines is the radiator. Proper mounting, plumbing and of course the correct choice in radiator is crucial to the power your engine produces. Mezzo Technologies is among the leaders in radiator design, engineering, and manufacturing. Now, their Ultimate Kart Radiator is available to the karting market.
The Mezzo radiator was designed to provide more heat dissipation and less drag than any other current models on the market. Their microtube design gives temperatures 10°F lower than your basic fin radiators and maintain coolant temperature exiting the radiator within 25°F of the air temperature. It is incredibly lightweight, weighing six pounds full of water with a dry weight of 5.5lbs at a size of 10"x18.25". Stainless steel rods in the front and back protect the microtubes to help keep debris from damaging the internal cooling system.
"It is an awesome piece of equipment," stated former SuperNationals winner Chris Jennings of DRT Racing. "I was a little worried about changing the type of radiator I use, but then I looked into just how long the Mezzo is built to last, it is the best bang for my buck in the long run. These tubes don't bend and certain parts can be rebuilt instead of just throwing it away. At the SKUSA SpringNationals, my water temp never rose above 112° while many competitors were in the 130° and up."
"We love it," stated Mark French of Dallas Karting Complex / SodiKart USA. "Once you understand how it works, we never had any issues with it during our race weekends. We have noticed how the fins don't fold over, and really looking forward to seeing how it performs during our hot summer months here in Texas."
To find out more about the Mezzo Technologies Ultimate Kart Radiator, visit their website mezzotech.com