One-Two for Team Gamoto Racing in Singapore's STC Rok Cup 2016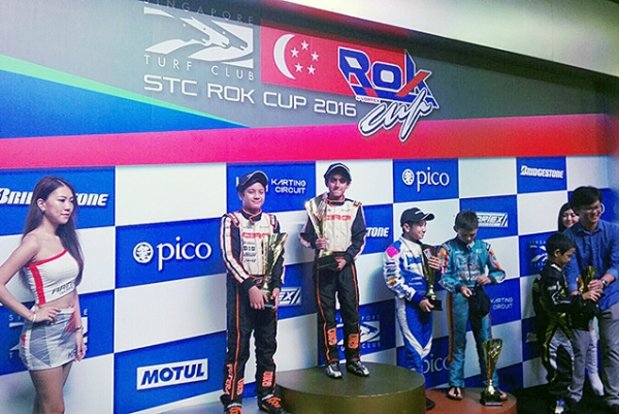 The Sicilian team, on track in collaboration with IS Racing, claimed the victory in "Mini" with Nikhil Bohra and triumphed in Senior DVS with Noorzilan
Singapore, 7 May 2016. Team Gamoto Racing got it all in one of the longest exit of the season, the STC Rok Cup 2016, race held this weekend in Singapore.
The Sicilian team, that for this occasion has collaborated with IS Racing, monopolized class Mini Rok claiming the victory with the very young Indian driver Nikhil Bohra and the second place with the Malaysian Adam Putera, who has been protagonist in Europe with team Gamoto Racing in WSK.
Also shining in the same class and in the team led by Enzo and Salvatore Gatto, Akshay Bohra (Nikhil's brother), who was eighth at the flag. The perfect weekend was completed by the victory of the local hero Amin Noorzilan in Senior DVS.
This double win enriched the long prize list of team Gamoto Racing, ahead of the WSK Super Master Series that will run its fourth and final round next May 22nd at the Adria International Raceway in Italy.
In Italy, the French Evann Mallet, currently third in the classification, will battle the title out for the Italian outfit.