Morning Coffee: Friday, May 6
A Major Rethink To Bringing Back Racecraft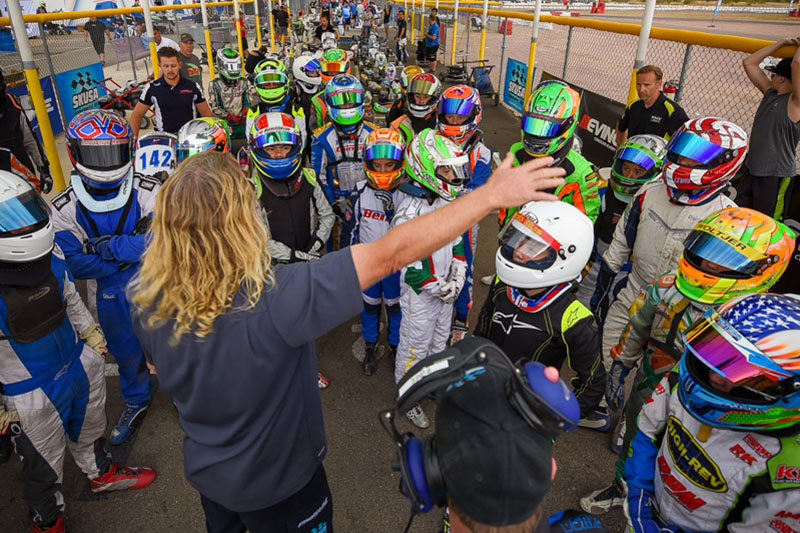 Meetings before on-track sessions were a major part of the SKUSA SpringNationals weekend (Photo: On Track Promotions - otp.ca)
The sport of karting has evolved a great deal through its 60 years of existence, but the overall approach to competition may have changed the most over the last five years alone, especially at the national level.  This unique segment of our world is now characterized by pro-level transport truck haulers and toterhomes, unlimited testing, and full-time driver coaches.  So, with all this 'coaching', why is the on-track racing so ridiculously bad right now?  Why are so many starts complete wreckfests, and why can't drivers stay out of the rear bumper of the competitor ahead of them? Why are organizers being forced to push their race directing staff to be heavy on penalties to change the racing, and why do they need more and more officials and corners workers to keep an eye on the racing all the way through the pack.  When did quality racecraft get exchanged for full contact sport?  How did these drivers develop the belief that driving into someone to gain is position is acceptable?  I know that in my mind, based on my high regard for racecraft, it's not something I would ever do deliberately.  When did this change?
This past weekend at the Superkarts! USA SpringNationals in Phoenix, we saw another rough event in terms of an over-abundance of contact and poor on-track conduct.  I will submit that the characteristics of the track run in the counter-clockwise direction made that a very poor decision, and that passing was incredibly difficult, but that is still not an excuse to drive like an idiot.  I've communicated with many racers, parents and industry members over the last four days, discussing the lack of penalty calls despite the vocal threat of action, the complete lack of quality racecraft and, interestingly, because it as offered by a highly-respected industry member, the concept of penalizing not only the drivers but the teams and coaches as well.   It's very apparent that everyone wants something to be done to raise the quality of the racing.
Let's start with the officiating that we saw last weekend.
"It's all bark and no bite."
"They didn't call anything."
These are just two of the numerous comments I was presented with this week, but I heard them from many people.  Everyone has an opinion based on his or her own experiences, while mine comes from surveying the situation from the tower, and from a place void of any favoritism or personal connection.  I just call it as I see it, so here's my take.  As you probably know, I announce the races from the tower alongside Timing and Scoring, so I am privy to the radio communication between officials.  I can tell you that I heard countless calls from the Race Director requesting position penalties for avoidable contact throughout the weekend.  These penalties are listed on the results that are posted after each session, but they're not announced on the PA, which likely takes a little sting out of the lesson.  Were there penalties?  Yes, lots of them.  Were there enough?  Not even close.
What this group of drivers needs right now is a weekend where they are penalized so aggressively that they'll learn their lesson and so that a new day will begin.  If I were in charge, I'd put eight people in turn one with notebooks and order them to drop a 10-position penalty on anyone who touches the rear bumper of the driver in front of him.  In addition, if a competitor does not raise his or her hand and slow visibly coming through a waving yellow flag corner, it's a 10-position penalty.  It's time to drop a sledgehammer on these drivers, because things are out of control.  If we want to put an emphasis back on quality racecraft, we need to completely eradicate what poses as 'racing' right now.  Thankfully, the front of the fields in S1, S4 and X30 Master are providing a quality example of how to get it done. It's a little rough around the edges at times, but we can chalk that up to hardcore racing.  X30 Senior was pretty decent at the front, but from outside the top-10 backwards, it's ugly.  The Junior, Mini and Micro classes were embarrassing.
So, if racecraft is becoming more and more non-existent, where do we focus the attention?
Here's a little example of part of the problem. I was detailed over the weekend on a particular post-session dialogue between an official and a father and son that blew me away.  The driver had ignored three black flags during a practice session, and not surprisingly, this prompted a discussion with the Race Director.  In this conversation, the driver was asked why he ignored the flags, and he looked straight at his father and said "but Dad, you told be to ignore the black flag and keep going!"
Really?  Is this where we are?  If you're a parent who is teaching this to your son or daughter, what are you doing? What, on earth, could you be trying to accomplish?
I've heard so many stories from officials, and other parents, on pit lane who have overheard other parents and coaches firing up their drivers, telling them to actually push their way to the front.  They're being told to keep the throttle down after the green heading into the opening corner, or "knock the guy out of the way".  This epidemic of poor racecraft is starting somewhere, and as I think any parent knows, it starts at home.  It starts in the team tent.  Team owners and coaches need to be teaching quality racecraft, the purity of the sport, and learning how to make contact-free passes.
Folks, here's the harsh reality.  In terms of your success at this level of the sport, nobody in pro car racing cares if you win.  All they care about is that you graduate from karting with quality racecraft….and have a big enough budget to support a program at that level.  That is the cold hard truth.  If your son or daughter wins karting events by smashing and bashing their way to the front, you'll be paying for a ton of crash damage in open wheel formula car racing.  That's just a little heads-up from me, and I spend lots of time at that level of competition.
If a coach is teaching a driver to race with contact and excessive aggression, I can tell you that they are only hurting this racer's chance at success if they are planning a move to open wheel formula car racing. If the driver wants to become a professional, they need to be taught racecraft and how to pass without contact, not with it.  If a karter were to drive in the USF2000 series of the Mazda Road to Indy, like they did in Phoenix, their crash damage bill would be over $50,000 after the first weekend.  There is zero room for contact in any open wheel racing, so why is anyone teaching it?
Much of the discussion I've had this week centered on the lack of penalties and the severity of those that were actually issued.  Maybe it's time to strike even deeper.  I completely agree that more penalties need to be issued, and as I detailed above, let's stop beating around the bush and let's drop that hammer.  But, if we want to truly change the quality of our racing, is it time to penalize the source as well?  It was suggested by a few this week that we add monetary fines on the parents and coaches.  I think this is a very interesting idea.  Coaches and tuners are paid daily salaries plus expenses.  Maybe hitting them where it hurts, in the wallet, will curb them from instructing their pilots to drive like they do.  Right now, there is no recourse.  The parents demand results, and the pressure is high on everyone involved, but if the penalties struck deeper then just on-track and extended into the team tent, maybe we'd see a shift in the quality of the racing were exposed to at this time.
There's a major issue with national level racecraft, so maybe the sport needs a major change to turn the tide.
Please follow and like us: