Todd Edgington Returns Home
Karting community member leaves hospital following injuries in Hawaii diving accident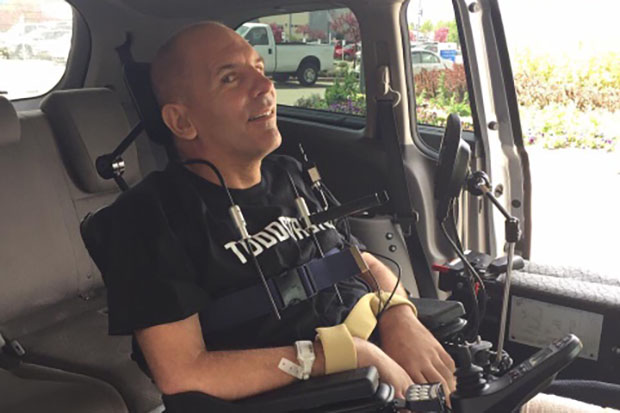 #ToddStrong
On January 17, during a dream vacation, life changed forever for the Edgington family. Kart racer Todd Edgington had traveled with his family to Hawaii for some rest and relaxation, only to have tragedy strike on day one. Edgington was on one of the many Big Island beaches with his family when big waves hit hard, tossing him around in the surf. The rough water took Todd down, and he did not come back up. The family rushed to his aid and they were able to tend to him with the help of fellow beachgoers. They discovered Todd to be alert and awake, but he was unable to talk and having a hard time breathing.
After being rushed to the Honolulu Hospital Queens Medical Center, doctors determined that Edgington had broken the C2 vertebra in his neck and fractured his C3 vertebra, as well. Todd was placed on a breathing machine and communicated with doctors and family by blinking his eyes to answer 'yes' or 'no' to questions. His movement was limited to shrugging his shoulders and he had no other feeling in his extremities.
The karting community, friends and family all pulled together with the GoFundMe campaign to help the family pay for medical and living expenses – including the flight from Hawaii to their home town of Salt Lake City at the end of January. Once in SLC, doctors began planning procedures and surgeries to help repair and heal the injuries.
On February 4, Edgington had neck surgery to help stabilize the bones to allow the neck and spinal cord the best chance to heal. Super Bowl Sunday was the first time the family heard Todd's voice as a speaking valve was placed in his tracheostomy. Day by day, Edgington has made little strides in terms of the health of his body, including eating real food. In mid-February, the family began the process of updating their home to welcome Todd when he left the hospital.
During that time, he began to work on his wheelchair training. Todd navigates the wheelchair with a mouth control, and was quickly up to speed, no doubt thanks to his kart racing. Physical and vocal therapy continued through March and April, preparing both Todd and the entire family for his return home. That day came on April 22, a total of 98 days after the accident. Therapy continues for Edgington, and a new way of life begins for the entire family.
The GoFundMe helped to raise over $100,000 and more fundraisers are scheduled to maintain support for the family. Please be sure to follow toddscheckeredflag.blogspot.com for updates from Todd's family regarding the race to the checkered flag on their road to recovery. EKN and the entire karting community continues to keep the Edgington family in our thoughts as they lap their way to the finish line.