Mixed Results for the First European Round at Essay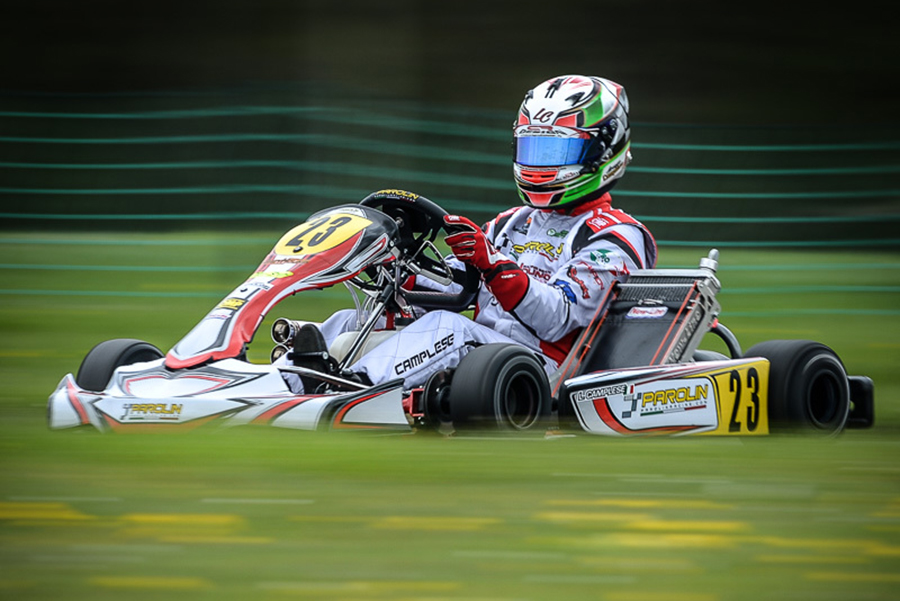 Lorenzo Camplese
The first round of the 2016 European KZ Championship was held this weekend in France at Aunay les Bois / Essay. After the good performances produced early in the season, Team Parolin Racing Kart harboured legitimate ambitions for its driver Lorenzo Camplese. The Parolin chassis has demonstrated excellent competitiveness, but several factors upset the smooth running for everyone, the first of which was the accelerated wear of the Vega tyres on the abrasive asphalt at Essay which was difficult to overcome in these conditions, and the complex weather.
To begin with, early testing was very convincing at the front of the KZ category, whether dry or rainy. Unfortunately, the track was changing between wet and dry when timed practice was held on Saturday morning. Lorenzo was fully prepared in the rain during the previous warm-up, but the team could not find the set-up best suited for Qualifying. In this complicated mix, Lorenzo set the 18th time.
The rapid degradation of the tyres since the beginning of the meeting then made it possible to conceive an alternative strategy. Instead of trying to regain some places in the two qualifying heats, it was tempting to sacrifice intermediate classification to save a set of tyres by not taking the start of the heats. This was a bold gamble in the face of the exceptionally complicated situation that met all participants.
There was a lot riding on this to succeed. Lorenzo was obviously very fast in the Prefinal, as he set the fastest time of the race while overtaking many rivals, an achievement at this track. He regained no fewer than 11 places and crossed the finish line in 10th position. However, a penalty of 10" for a dislodged spoiler relegated him to 21st place, canceling out his efforts. Starting at the back of the grid for the Final, Lorenzo managed to take six places, but his 15th place finish was far from the original target.
After that first difficult meeting, Team Parolin Racing Kart is already looking towards the Zuera track in Spain where the Parolin chassis performed very well last season in KZ2 in the hands of Francesco Celenta. Lorenzo Camplese intends to take his revenge in this second European event as long as the tyres keep pace.
"I'm still very confident in the competitiveness of the equipment that Parolin has put at my disposal," said Lorenzo after the race at Essay. "The circumstances were not favourable for the start of the European KZ Championship, but the Parolin chassis was never unworthy. That's racing and we'll do everything we can to respond at the next race in Spain."