Mike Manning Karting to Debut New Team at SKUSA SpringNationals 2016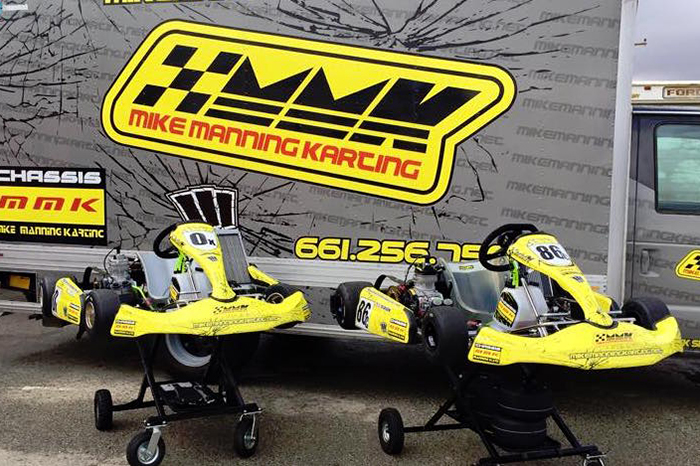 For the 2016 SKUSA Pro Tour Springnationals in Phoenix, Arizona, MMK is thrilled to announce a line-up of six drivers, in what will be a historic race for us with the talent we are bringing to the table. Mike Manning Karting has been in business since 1980. That includes 35 years of back-to-back race seasons. This being the 36th race season, team owner Mike Manning cannot help but smile when he talks about the team we are bringing to the Pro Tour this year. "I have not had a team this strong in quite a few years. I am so proud of the effort put in by the guys the last few weeks. Six drivers in X-30 Masters, all on our new 2016 Chassis MMK. I feel very confident going in to this weekend," stated Mike.
Returning 2015 team members include Rob Brackett (#29c) and Mark Vargo (#117c). Rob, out of Valencia, CA, had a great first race at Pro Kart Challenge California Buttonwillow race where he finished 7th. Unfortunately he has been sitting out the last couple of races due to a non-racing related injury. Springnationals will be Rob's first race back, and we are extremely excited as he has been improving every single time he's out on the track. Rob is proving himself to be a tenacious top 10 contender in this highly competitive field. Mark Vargo, out of Glendale, CA, will be competing in his first ever SKUSA ProTour event. Mark has been karting for less than a year and his progress in this short amount of time really is exceptional.
Next on our roster is Kevin Manning (#23k), son of Mike Manning, who will be returning to SKUSA after taking last year off. Kevin, out of Valencia, CA, has years of experience under his belt, and we are very excited to have him back in the seat. One of the best parts of our team we can all admit to is the family vibe we have going. There is nothing better than seeing Mike and Kevin, father and son, working together to achieve solid results. When asked about this weekend, Kevin said, "I am really excited for the new talent on our team and am looking forward to all of us racing together as teammates".
Out of Long Island, New York, we are extremely excited to have back on the west coast, Phil Pignataro (#05n). Phil competed in the SKUSA Supernationals back in November under the MMK banner colors, and we are extremely happy with the results he was able to wheel. This was Phil's first time ever competing at the Las Vegas event, and he managed a podium finish coming across the line in 4th place, but being penalized back to finish 5th.  Phil is a true inspiration for all the young drivers he coaches back home, proving hard work and determination does pay off. We would like to give a huge thank you to ACG Machine Corp (Matt Beck) for their support on getting Phil back on the west coast.
Next, we have a newcomer to our team this year, who actually raced for us back in the 2000's during our Rotax era, Erik "Action" Jackson (#86c). Erik, out of Long Beach, CA, attended the Rotax World Finals in 2011 and 2014 as an official Team USA driver. In 2011 Erik placed 11th, in one of the "toughest/most competitive races" he's ever been to. Erik commented, "I am super excited to be driving for MMK. I drove for Mike years ago and am very happy to be back on the team. I tested the MMK chassis and it works perfect right out of the box. The MMK X-30 has the power to get the job done!"
Last, but of course not least, Team MMK is proud to announce our new relationship with long-time karter Tim Meyer (#0x). Tim, out of Mission Viejo, CA, had his first swing in an MMK Chassis at the LAKC race back in March. Tim finished 2nd in the main event in a stout field of 19 drivers. Team MMK would like to give a huge thank you to all of their drivers for their hours of hard work leading up to this event. Please follow our Facebook page (www.facebook.com/mikemanningkarting) for updates throughout the weekend. See you in Phoenix!