Calgary Kart Racing Club – Round One Report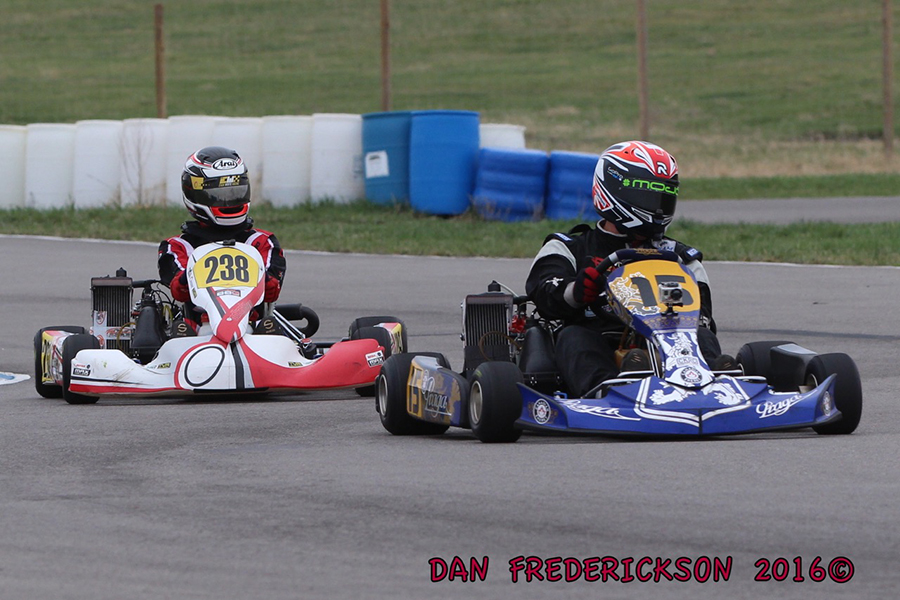 The Calgary Kart Racing Club started off the 2016 racing season on April 24. With the weather threatening to rain all day with a temperature hovering around zero celcius, a successful first event was able to be held despite the cold temperatures.  The race corner marshals did their usual outstanding job in very trying weather conditions.
Race Summaries:
Senior Rotax (5 entries)
After qualifying on Pole and winning the Pre-Final, John Kwong(15) lead most of the Final until being passed at Turn 2 by Evan White(238).  John battled back to re-take the lead at Turn 2 on the last lap and continued to the checkered flag with a .211 margin of victory.  Third was Jacob Astren, a new member to the CKRC from the West Coast Kart Club.
John Kwong
2. Evan White
3. Jacob Astren
4. Brendon Sanguinetti
5. Alan Haggerty
Junior 2 Briggs (9 entries)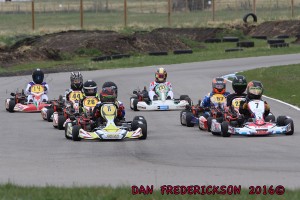 The most entertaining battles of the day came from the junior 2 Briggs class with Kart #227 Matthew Taskinen fought with #7 James Altamirano and #8 Jill Altamirano for the lead from start to finish.  Jill was always on the back of them waiting to pounce should they tangle but she never got a clean run at the lead.  James and Matthew swapped places numerous times before the checkered flag dropped. Fourth ,Fith and Sixth was also a close battle between Levi Schmidtke, Steven Humeniuk and Tyler Simmons  with all three in the mix pouncing on opportunities of missed apexes from the lack of grip due to the cold temperatures.
James Altamirano
2. Matthew Taskinen
3. Jill Altamirano
4. Levi Schmidtke
5. Steven Humeniuk
6. Colby Wallace
7. Garrett Cook
8. Naomi Hanna
9. Tyler Simmons
Rotax Masters (7 entries)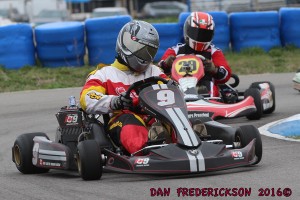 A spirited battle between Mario Gimenez(29) and Josh Carter(9) as they battled with Josh leading, an opening was seen by Mario exiting the TicTacToe chicane and Mario found a way through to lead to the checkered with a 1.5 second victory.  Dan Peet finished third, 4.7 seconds behind.
Mario Gimenez
2. Josh Carter
3. Dan Peet
4. Brendon Sanguinetti
5. Peter Sammon
6. Stephen Orton
7. Reinaldo Varela
Shifter (3 entries)
3 racers in this class to make up the podium spots.  Brennan Peters takes the win handily while Evan White drops out with a rib injury and Alan Haggerty was 2nd.
Brennan Peters
2. Alan Haggerty
3. Evan White
Junior 1 Briggs (9 entries)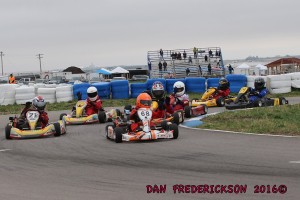 A relatively large field for the beginning of the season with most competitors starting their second full season of karting.  Alexander Berg, Kiefer Peet and Enzo Sartor battled for the first half of the race.  Kiefer made an inside move but spun at the infield hairpin.  He soon made his way back up to the leading two.  Alexander found his way by Sartor going into the infield hairpin and Peet soon followed.  Sartor seemed to lose some momentum and fell back while Peet continued to chase Berg and finished .078 seconds behind.
Alexander Berg
2. Kiefer Peet
3. Enzo Sartor
4. Nikolas Ruhrman
5. Jonathan Howe
6. Aiden Carruthers
7. Matthew Hanna (R)
8. George Deadman
9. Matthias Boschman
Senior Briggs (11 entries)
John Kwong continued his excellent cold weather driving pace with a convincing win over Kevin Canning Second and Alan Haggerty third.
John Kwong
2. Kevin Canning
3. Alan Haggerty
4. Tanveer Deen
5. Aaron Mooney
6. Connor Gilbert
7. Scott Meyer
8. Murray Hanna (R)
9. Sandor Hevesi (R)
10. Patrick Turner (R)
11. Vinnie Surdhar
Mini Max (4 entries) and Junior Rotax (4 entries)
Junior Rotax and Mini Max was a mixed grid in which Matthew Taskinen dominated a first corner coming together and subsequent spins left Matthew to romp away to a win of 3.8 seconds over the rest.
Driver of the day award and by far the biggest cheer from the packed bleachers goes to Kiefer Peet who after spinning on entry to the infield hairpin took 6 laps to drag his lead laden kart across soft ground falling in the process many times and visibly out of breath to finally got it back on the track surface and back into the race.
Mini Max
James Altamirano
2. Spencer Perrealt
3. Enzo Sartor
4. Kiefer Peet
Junior Max
Matthew Taskinen
2. Tyler Kozma
3. Connor Peet
4. Naila Deen
Upcoming events at North Star Raceway:  
Try-A-Kart April 30/May 1
CKRC Club Race #2  is on May 15th