Urban and Joyes Take Rotax Class Wins Wet or Dry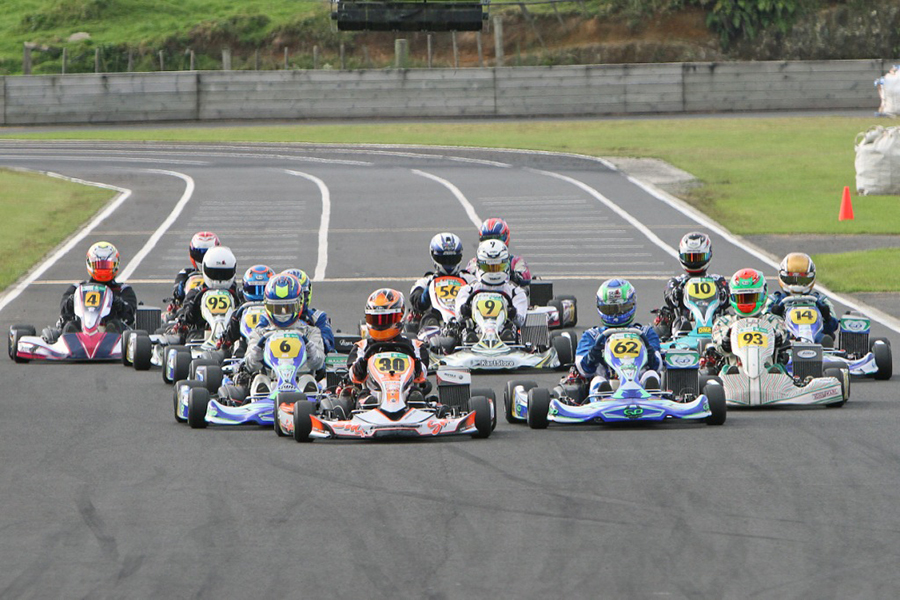 (Photo: Fast Company/Graham Hughes)
You couldn't have had two more contrasting days weather-wise but it didn't bother Auckland's Ryan Urban or Hamilton's Campbell Joyes at the latest double-header round of the Giltrap Group New Zealand Rotax Max Challenge at Rotorua over the weekend.
Dry (for Rnd 3 on Saturday) or wet (for Rnd 4 on Sunday), it made no difference, the pair claiming the only class clean sweeps (quickest in qualifying then eight race wins from eight starts) at the meeting.
Having – just – missed out a clean sweep at the opening double header round of this year's Giltrap Group-backed New Zealand Challenge at Palmerston North in February, Urban at least had something to aim for at Rotorua. But to complete the challenge he still had to master two very different sets of driving conditions – warm and dry on Saturday, and wet and cool on Sunday – which was some achievement, and one matched by only one other driver over the weekend, recently crowned NZ Rotax Max Heavy class Sprint champion, 17-year-old Campbell Joyes.
In the dry on Saturday Urban led home top female driver and former UK Rotax category rep Tiffany Chittenden in the heats and Pre-Final then won the Final from experienced sprint and superkart ace Karl Wilson from Wellington with Chittenden a dnf (did not finish) thanks to a brake issue.
In the wet on Sunday Aucklander Aarron Cunningham, Wilson and Chittenden battled mightily all day behind Urban who again won both class heat races and the Pre-Final and Final, the latter from Wilson, Chittenden, Cunningham and Palmerston North driver Callum Orr.
Campbell Joyes, and Auckland pair Keith Wilkinson and Sam Carpenter, proved the form trio in the 125cc Rotax Max Heavy class, finishing all four Saturday races in that order. They were also quick in the wet on Sunday though this time Carpenter missed out on a place on the podium to Brendon Hart in the second heat and Darren Walker in the Pre-Final.
In the other classes Pukekohe teenager Matthew Payne dominated Rotax Max Junior on Saturday but was pipped in the rain in qualifying on Sunday by in-form local driver Reece Hendl-Cox who went on to win both heats and the Pre-Final and finish third in the Final behind visiting Australian driver Cody Brewczynski and Wellington young gun Ryan Wood.
A spin on the second corner in the Final put Payne back down the field but he retained his series points lead.
Three drivers – Daniel Bray, Mathew Kinsman and Josh Hart – battled hard on both days for DD2 class honours with Bray having the edge in the dry on Saturday but Josh Hart coming through to win the Final on a damp but drying track on Sunday.
Tyre choice proved critical in this race with Mason Armstrong and James Blair claiming weekend-best finishes (second and third respectively), Kinsman hanging on for fourth and Daniel Bray back in eighth place by the time the flag came out.
The points leader in the 125cc Rotax Max Light class heading into the meeting, Daniel Connor from Auckland, found himself with work to do on Saturday but came back to dominate on Sunday.
Young gun Michael McCulloch from the Kapiti Coast was quickest in qualifying on Saturday and last year's Rotax Junior class winner Dylan Drysdale won the heats before multi-time class South Island champ Chris Cox came through to win the Pre-Final and Final with Connor back in fifth at the flag.
Defending class title holder Connor was back to his dominant best in the rain on Sunday, however, topping the time sheets in qualifying and winning all four class races, the first heat from Jordan Baldwin, the second and Pre-Final from Michael McCulloch and the Final from Dylan Drysdale and Hamilton's Mitch Beach.
After two double-header rounds the Giltrap Group Rotax Max Challenge resumes in Wellington where Rnds 5 & 6 will be contested over the August 20-21 weekend
2016 Giltrap Group New Zealand Rotax Max Challenge Rnds 3 & 4 KartSport Rotorua International Raceway Amoore Rd, Mamaku Rotorua Sat-Sun April 23-24
Round 3 Finals (Sat)
Rotax Max Light
Chris Cox; 2. Kaleb Currie; 3. Jacob Cranston; 4. Dylan Drysdale; 5. Daniel Connor; 6. Michael McCulloch
Rotax Max Heavy
Campbell Joyes; 2. Keith Wilkinson; 3. Sam Carpenter; 4. Daniel Bugler; 5. Brendon Hart; 6. Kevin Barker
DD2
Daniel Bray; 2. Josh Hart; 3.  Mathew Kinsman; 4. Jacob Cranston; 5. Josh Drysdale; 6. CJ. Sinclair
DD2 Masters
Ryan Urban; 2. Karl Wilson; 3. Stuart Marshall; 4. Aarron Cunningham; 5. Garry Claxton; 6. Peter Wrightson.
Rotax Junior
Matthew Payne; 2. Jaden Ransley; 3. Cody Brewczynski; 4. Kaleb Ngatoa; 5. Ryan Wood; 6. Tom Greig
Round 4 Finals (Sun)
Rotax Max Light
Daniel Connor; 2.  Dylan Drysdale; 3. Michael McCulloch; 4. Mitch Beach; 5. Kaleb Currie; 6. Caleb Huston
Rotax Max Heavy
Campbell Joyes; 2. Keith Wilkinson; 3. Sam Carpenter; 4. Ashley Higgins; 5. Daniel Bugler; 6. Brendon Hart
DD2
Josh Hart; 2. Mason Armstrong; 3. James Blair; 4. Mathew Kinsman; 5. Jonathan Buxeda; 6. Taylor Harte
DD2 Masters
Ryan Urban; 2. Karl Wilson; 3. Tiffany Chittenden; 4. Aarron Cunningham; 5. Callum Orr; 6. Peter Wrightson
Rotax Junior
Cody Brewczynski; 2. Ryan Wood; 3. Reece Hendl-Cox; 4. Kaleb Ngatoa; 5. Madeline Stewart; 6. Rianna O'Meara-Hunt
Points after Rnd 4 of 8
Rotax Max Light
Daniel Connor 346 points; 2. Dylan Drysdale 345; 3. Kaleb Currie 328; 4. Chris Cox 319; 5. Jacob Cranston 317; 6. Caleb Huston 306.
Rotax Max Heavy
Campbell Joyes 357 points; 2. Keith Wilkinson 348; 3. Daniel Bugler 323; 4.  Sam Carpenter 309; 5. Kevin Barker 306; 6. Teddy Bassick 302.
DD2
Mat Kinsman 353 points; 2. Josh Hart 348; 3. Daniel Bray 335; 4. Dylan Drysdale 309; 5. James Blair 303; 6. CJ Sinclair 296.
DD2 Masters
Ryan Urban 364 points; 2. Tiffany Chittenden, 336; 3. Karl Wilson 333; 4. Callum Orr 322; 5. Stuart Marshall 321; 6. Aarron Cunningham 317.
Rotax Junior
Matthew Payne 343 points; 2. Ryan Wood 333; 3. Reece Hendl-Cox 319; 4. Madeline Stewart 309; 5. Rianna O'Meara-Hunt 303; 6. Jaden Ransley 302