All Set and Ready in France for the CIK-FIA KZ and KZ2 European Championship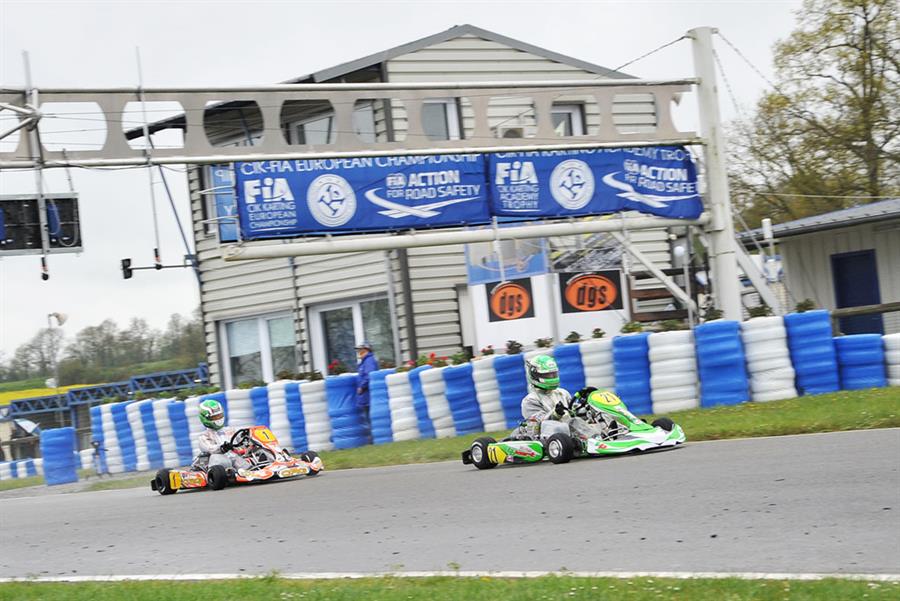 A full day at the Circuit International d'Aunay Les Bois: the CIK-FIA European Championship has started at the track near the Northern French town of Essay. The season has started with the free practice at the event reserved for the elite gearbox categories of international karting. On track are the KZ and KZ2 categories, with entrants coming from all around the world. The elite champions will be joined at the event by a field of 50 drivers in the junior class that is the CIK-FIA Karting Academy Trophy, many of whom are racing in an International event for the first time. The first round of this year's European Championships can boast the participation of 128 drivers who, tomorrow morning, will challenge each other in qualifying. After qualifying, tomorrow afternoon, the event will continue with the heats.
On Sunday 24th, the Finals will be streamed live
So, the circuit in Essay is almost ready for the great finale on Sunday 24th, when the trophies for the first out of the three rounds of the European CIK-FIA KZ and KZ2 Championship will be awarded. All the images of the closing day, with the Pre-finals and the Finals of all the categories, will be available on cikfiachampionship.com and cikfia.tv, starting from 10:15am with the drivers' parade. Next week, the special TV report from the event will be broadcast on Motors TV.
Free practice is a foretaste of spectacular races
The changeable weather in Normandy, with sudden showers throughout the day, made the track condition unpredictable. So, during the 20 sessions of free practice we had remarkably different performances, according to the wet or dry asphalt conditions. That's the reason why the overall performance cannot be regarded as a reliable assessment of drivers' quality, given that the weather is going to play a key role during the whole event in Essay. In KZ, good start for the reigning European Champion Flavio Camponeschi (CRG-Parilla-Vega), who took advantage of the best moment of the day and drove on the 1,220 metres of the track in 47"789. In KZ2, the best time was set by the Italian driver from Locorotondo Alex Irlando (Energy-TM-Vega), with 47"859. Finally, in the CIK-FIA Academy Trophy best performance for the Polish Piotr Wisnicki (Exprit-Vortex-Vega) with 49"957.