Vortex Sole Engine Supplier of the British National Championship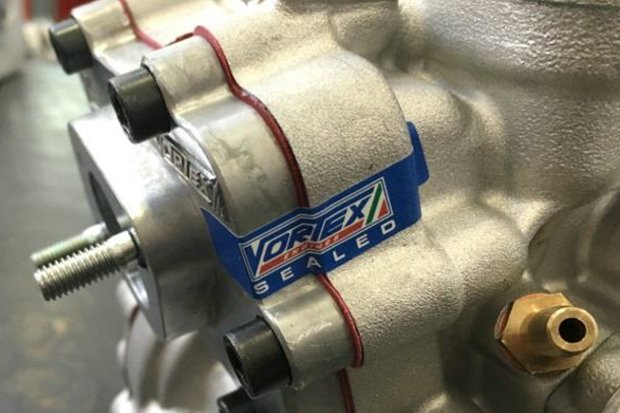 Vortex is thrilled to begin this new challenge and to provide engines for the OK and OK-Junior class in the British National Championship. So the new-born Vortex models, DDS and DDJ, will give life to the British national championship reserved to the categories promoted by the CIK-FIA.
Vortex is strongly committed to this mission and wants to achieve great results in terms of number of participants in the championship. Quality and performance are 2 of the most important key points for the factory. That's why the product that will be used in UK will be the same winning engine used by Vortex official teams in the main International events. Vortex DDS and DDJ engines proved their speed, performance and reliability in the 2016 most important international competitions raced so far. In the last months we have seen amazing races in the OK and OK-Junior categories and in most of them the winning kart was powered by a Vortex product.
In order to guarantee to UK drivers the best professionalism and transparency the DDS and DDJ engines made for the British Championship, are coming out from Vortex factory sealed with specials stickers saying "Vortex sealed". These were made by Vortex factory with the aim to assure competitors the highest fairness. The Vortex engines made for the British National Championship follow the CIK FIA regulations and specifications. The MSA and Vortex decided to mark also other parts of the engines in order to recognize original UK engines and avoid the use of not original Vortex parts. In fact, thanks to the marking of some parts, non-original parts can be easily seen. The goal we want to reach through this procedure is to guarantee the integrity and steadiness of the Championship.
Strawberry Racing, Vortex UK official importer, has DDS and DDJ engines available in stock. We are sure that once you've driven it, you'll love it. Do not hesitate to contact Strawberry racing for any question.
The British National Championship will be contested over 3 rounds. The full three-round calendar is:
28-29 May: Whilton Mill
16-17 July: Shenington
23-25 September: PF International