Positive Results for Maranello Kart in the Opener of the Italian ACI Karting Championship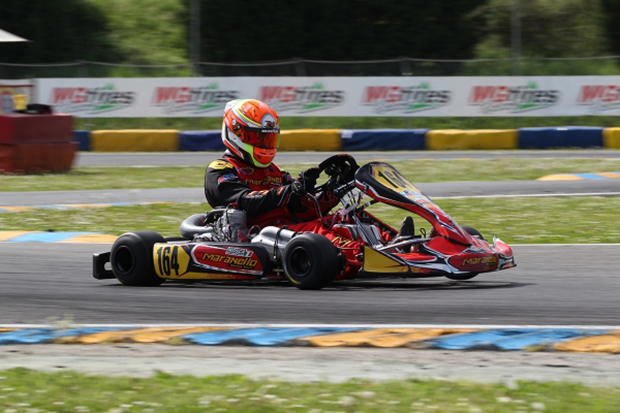 Tommaso Mosca
Tommaso Mosca obtained a great result in KZ2 confirming his place among the front runners of the category. Bad luck slowed down Spagni and Sani instead. Del Brutto on the podium in Prodriver Under. Bombardelli stopped by an incident.
Maranello Kart had a good start in the Italian ACI Karting Championship opener held in Castelletto di Branduzzo, but things could have gone a lot better if bad luck and some small hiccups had not prevented a more round result for the Italian outfit.

TOMMASO MOSCA EXCELLENT IN KZ2
Tommaso Mosca displayed a great growth in KZ2 and found his place among the front runners. He has benefited from the assistance by SG Race of Stefano Griggio and by Rizzi regarding TM engines. Mosca has been very quick in qualifying and set the second time of his group, being only 85 thousands of a second off the pole position posting the third absolute time of the category.
The young driver of Maranello Kart has been among the quickest also in the heats, when he secured a victory and two second places, before keeping his momentum in the two finals ended respectively in fourth and fifth place. Despite missing out on the podium, Mosca scored a very positive result that confirmed him among the main protagonists of the Championship.
Some bad luck hit Andrea Spagni on Maranello-Tm and Flavio Sani on Maranello-Modena, both at the debut with Maranello Kart. After a good qualifying run ended with the absolute P9, the bad result in one heat prevented Sani from getting a good result in the finals that he eventually ended in P15 and P17. Spagni was also slowed down by some problems in qualifying and in the heats, but he managed to recover well in Race-1 ending 14th. Spagni put also in a good Race-2, but his 13th place at the flag was later on voided by a 10s penalty due to the mispositioned front fairing after a contact.
MARIN ACCUSING SOME DELAY IN 60 MINI'S QUALIFYING
Lorenzo Marin did not manage to run a good qualifying in 60 Mini, which forced him to start heats from the back of the grid. He had therefore to run the second chance race but could not qualify for the final stages.
GREAT PODIUM FOR DEL BRUTTO IN PRODRIVER UNDER
The first of the three rounds of categories Prodriver took place in a joint event with the Italian Championship. Fabrizio Del Brutto scored a very good result in Prodriver Under as he secured the third place in Race-1 after a great qualifying stage. Del Brutto could not repeat such a good result in Race-2 as he was forced to an early retirement. Francesco Alaimo has been the highest performing of the Maranello lot in Race-2 with his final 12th place, as Roberto Cesari was 14th, Daniele D'Uva 18th and Stefano Palmeri 25th. Following a promising eighth place in qualifying, Luca Bombardelli was involved in an incident at the start of Race-1, which compromised the result of Race-2, as he had to settle for P24.
Gianni Corti has been the best of Maranello drivers in 125 Prodriver Over, as he was seventh in Race-1 and fourth in Race-2. Attilio Borghi run also a good Race-1 ending ninth, while Andrea Montagnani was tenth in Race-1 and ninth in Race-2.
NEXT ROUND IN ESSAY FOR THE EUROPEAN CHAMPIONSHIP
This week the attention will switch to the European KZ2 Championship to be held in Essay (France). Maranello Kart's colors will be defended by Alberto Cavalieri on Maranello-Modena run by Racing Team Officina del Kart. Tommaso Mosca will not be present unfortunately due to some problems affecting his preparator.