Grassroots Racer from Georgia Wins 2016 'Search for a Champion' Grand Prize Sponsorship
Kart Racer Myles Rowe is $10,000 Sponsorship Winner in Amateur Category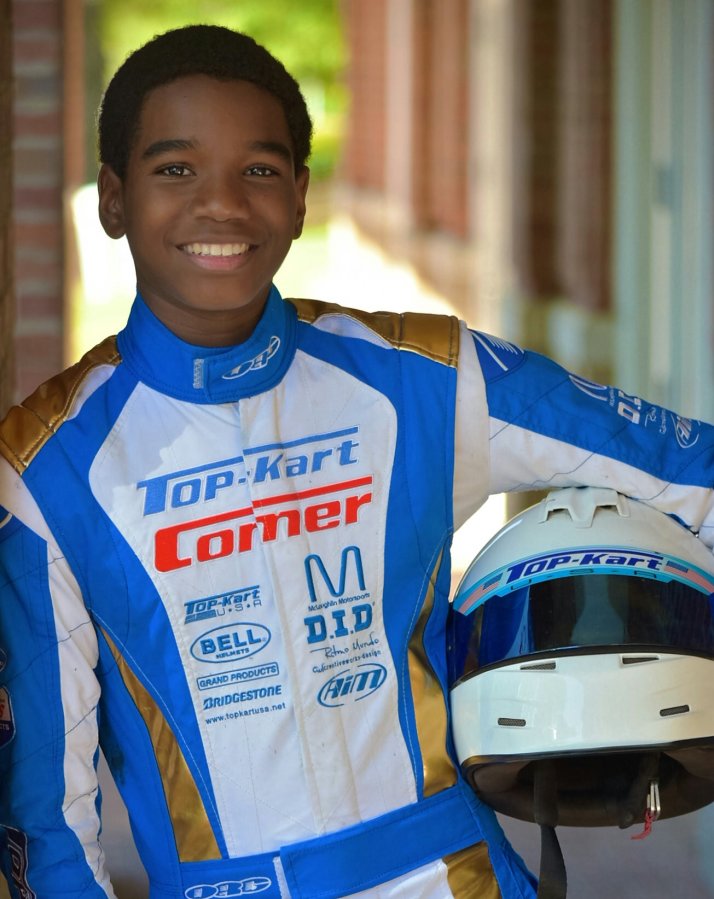 Myles Rowe is one of two grassroots racers who will be able to pursue their goals of racing at the professional level thanks to two grand prize sponsorships awarded through the 2016 "Search for a Champion" contest from Federal-Mogul Motorparts' iconic Champion® brand. Federal-Mogul Motorparts is a division of Federal-Mogul Holdings Corporation (NASDAQ: FDML).
Myles Rowe, a 15-year-old go-kart driver from Powder Springs, Ga., was the winner in the Amateur category and will receive a $10,000 (USD) grand prize sponsorship. Nearly 230,000 votes were cast at www.AlwaysAChampion.com during the contest, which awarded a record $200,000 (USD) in sponsorships and related prizes to 15 Advanced finalists and 25 Amateur finalists.
Rowe is in just his third year of go-kart racing but has already sketched out a plan to progress through four racing categories in the next several years, with the ultimate goal of becoming the youngest champion in the history of Indy Car competition. "Because I race nationally, we've really needed help with entry fees, mechanics and other expenses," he said. "Winning the Champion sponsorship is unbelievable."
Search for a Champion encourages grassroots drivers to compete for sponsorship cash and other prizes based on materials submitted for voter review. Entrants in Amateur category, participants were required to submit photos and an essay, with the option to enter a video. Hundreds of entries were received, with participants representing virtually every form of engine driven competition.
At the GoPro Motorplex in Mooresville, NC earlier this month, Myles finished in 2nd place for his first race of the season in WKA Man Cup Series for Pro IAME Jr. finals. His next race will be held the weekend of May 13th-May 15th for the United States Pro Kart Series in New Castle, IN.
To learn more about Myles, visit the website at www.MylesRoweRacing.com. You can also find him on a variety of social media outlets including Facebook at http://facebook.com/MylesRoweRacing.com, Twitter at https://twitter.com/MylesRoweRacing, and Instagram at https://www.instagram.com/myles_rowe_racing/.
For more information regarding the Search for a Champion contest and the full range of Champion products, please visit www.AlwaysAChampion.com. Like Champion on Facebook at www.facebook.com/ChampionSparkPlugs, and follow on Twitter at www.twitter.com/ChampionPlugs and Instagram at www.Instagram.com/ChampionPlugs.
About Federal-Mogul
Federal-Mogul Holdings Corporation (NASDAQ: FDML) is a leading global supplier of products and services to the world's manufacturers and servicers of vehicles and equipment in the automotive, light, medium and heavy-duty commercial, marine, rail, aerospace, power generation and industrial markets. The company's products and services enable improved fuel economy, reduced emissions and enhanced vehicle safety. Federal-Mogul operates two independent business divisions, each with a chief executive officer reporting to Federal-Mogul's Board of Directors. Federal-Mogul Motorparts sells and distributes a broad portfolio of products through more than 20 of the world's most recognized brands in the global vehicle aftermarket, while also serving original equipment vehicle manufacturers with products including braking, chassis, wipers and other vehicle components. The company's aftermarket brands include ANCO® wiper blades; Champion® spark plugs, wipers and filters; AE®, Fel-Pro®, FP Diesel®, Goetze®, Glyco®, Nüral®, Payen® and Sealed Power® engine products; MOOG® steering and suspension parts; and Ferodo®, Jurid® and Wagner® brake products.
Federal-Mogul Powertrain designs and manufactures original equipment powertrain components and systems protection products for automotive, heavy-duty, industrial and transport applications. Federal-Mogul was founded in Detroit in 1899 and maintains its worldwide headquarters in Southfield, Michigan. The company employs nearly 50,000 in 34 countries. For more information, please visit www.FMMotorparts.com.