Record Entries for First Battle at the Beach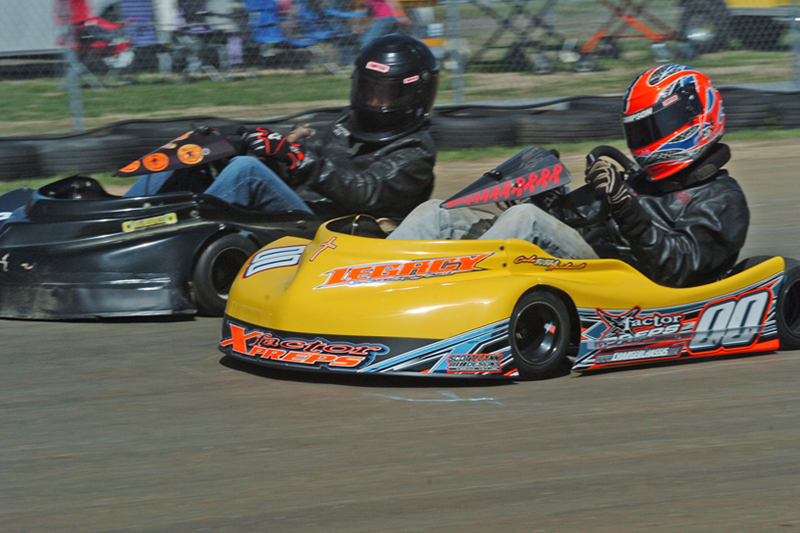 Junior 3-#00 Cole Neibert triple winner works past a competitor (Photo: Bruce C. Walls)
Two hundred and forty three racers set an all time first race of the season record at US 13 Kartway in Delmar, DE last Saturday (March 16th).  Regional racers from New York to North Carolina came to competed in round one of the 'Maxxis Tires Race at the Beach Series'. Local standout Cole 'Bubba' Neibert of Greenwood, DE, earned a trio of wins on the 1/5-mile dirt oval while Midlothian, VA racer Jason 'Higgy' Higginbotham took home the money.
Neibert, piloting a Charger Chassis, started off dominating the 2-Cycle Outlaw race wire-to-wire.  Chris Simonson, the pole winner-10.505 seconds, was second across the stripe finishing 3.345 seconds behind Neibert.  Cotty Edgens was third 5.8165 seconds off the pace. Further back Jordon Crooper crossed 6.308 seconds later for fourth followed by Scotty Edgens who was 7.204 seconds late for fifth.
Two races later Neibert had Hunter Heck nibbling on his tail pipe in Semi PRO Clone as they crossed the finish line with 1.127 seconds separating them at the stripe. Garrett Himminhoefer took the lead just after midway with Neibert trailing him. With just three laps remaining caution waved for the fourth time.  "I was nervous, " Neibert admitted. "I didn't know if I had enough to pass him (Himminhoefer), but I did and I took it."
Hunter Heck, Himminhoefer, Denton, MD driver Trent Reed and Jim Tyre took the remaining top five spots.
Neibert notched his third win in the second Segment where he was first to Semi PRO Clone stripe over Shane Forrest by 0.669 seconds.  Niebert was in third watching Brandon Gallo and Forrest fighting for the lead.  Finally Niebert burst trough and took the lead.   When he did Forrest hung on as Gallo was sent sailing.  He recovered, but was eighth at the end.
JP Gates took third, Mike Scott followed in fourth and Nick Brobst was fifth across the stripe.
"He (Gallo) kept turning down on me and stuff," Neibert described.  "So finally I stuck the nose in there and got him up and out of the way and took it under him (Gallo) and I kept on without being too dirty and just went on with it.  This is one of my first adult classes so it's pretty big for me.  I couldn't be any prouder.  I want to thank Charger Chassis, Shane and Rebecca Bass, X-Factor Preps my mom and dad, Evert, and everybody that puts a hand in this to help, I can't thank them enough. I have one more to go and I am hoping to make it 4-for-4."
That wouldn't happen. Himminhoefer dominated PRO Junior 3 with Zach Fields and Reed finishing ahead of Neibert by 1.142 and 1.441 seconds.  Tyre was fifth.
Higgy might have ended the night with three wins, but a technical issue cost him his first win.  In the first segment Higgy crossed PRO Flathead's finish line with Doug Stearly1.076 seconds behind him.  Higgy's DQ moved Stearly to the official winner making Missy Ford, Ty Bass, Austin Banker and JJ Pacevich the official top five.
Higgy earned two wins in the second segment including the $1,500 finally PRO Clong Heavy.  Higgy earned the pole with Stearly sharing the front row.  Stearly hustled into the early lead as Higgy battled back.  With 25 of the 30 laps distance done Higgy passed Stearly for the lead.  With the record crowd roaring for their favorite Higgy and Stearly crossed the stripe for the final time with Higgy earning the win with a 0.420 seconds edge over Stearly.  Pacovich, Bass and Banker battled their way into the top-five.
It was also a special day for 10-year-old Laurel, DE driver Sean Dixon.  Piloting a Huffy Racing Engines powered Phantom kart Dixon won the first kart race he ever entered; segment 1's Junior 1 Rookie.  Dixon dialed in a 13.8978 seconds third place-qualifying lap that was 2.058 seconds off the pace. Bradon Taylor won the pole with an 11.820 s seconds rounding.
After leading the field through several cautions Taylor was still leading the field. Outside pole winner Morgan Thomas, 13.727 seconds, attempted to pass Tyloe.  They exited turn four too fast for Thomas who lost control of his kart.  Dixon inherited second and went after Taylor.  The two young racers battled door-to-door   for three laps trading a little paint as they battled.  Dixon drove by Taylor who challenged him down to the final laps when his right rear wheel snapped off.
"It was fun, the kart handled good," Dixon beamed. "It was hard sometimes.  When I got up there beside number 44 (Taylor) I was pushing against him. Then once I passed him it was getting easy so I went as fast as I could because I thought he was right behind me the whole time."  Dixon added thanks to his dad (John Dixon), Mike Padgett and Chad Hayes.
Dixon and Taylor started the second segment Junior 1 Rookie race side-by-side with Dixon taking the outside front row position.  From there he chased Taylor across the stripe trailing by 4.355 seconds.
Six others were double winners that Saturday. Mike Stratton led two of segment one's features flag-to-flag starting with Clone Super Heavy. Stratton spun an 11.031 seconds lap for that pole.  From there Stratton built a comfortable 4.653 seconds cushion over EJ Holtz who fought his way from a sixth place start to a second place finish.
Stratton was piloting a new Reflex experimental chassis.  "We started building this chassis last Saturday. We finished it last night and it's awesome.  It's the best kart I've ever been on," said Stratton, of Milford, DE.
Completing the top five were outside pole winner Stephanie Lamb, David Steele and Greg Sylvester.
For PRO Clone Heavy's pole Stratton rounded the track in 10.783 seconds.  Matthew Robin was just 0.084 seconds slower in qualifying and only 0.164 seconds off in the race.  This time Holtz was third, Brent Savage fourth and Steele fifth.
Catlett, VA competitor Brady Penny bested two Animal fields in the first segment starting with Animal Heavy.  In that one his P&P Racing Engines powered Phantom Recon chassis finished a comfortable 3.076 seconds ahead of third fastest qualifier Austin Wyatt.  The closer battle was for the pole.  There Penny produced the fast time in 10.680 seconds which was just 0.056 seconds faster than Michael Allaband's 10.736 seconds run.
"The kart ran pretty good thanks to Bryan Bradford," Penny credited.  I want to thank Jonathan Cash, P&P Speed Shop, my parents and grandparents."
Fourth fastest qualifier Trent Curtis moved up a position finishing third, Brobst finished fourth and Payton Heck completed the top five.
Penny was perfect again in PRO Animal Heavy.  He turned a 10.452 seconds lap for the pole and was 1.621 seconds ahead of North Carolina's Ty Bass at the stripe.  Trailing in the top five were Wyatt, Trent Curtis and Brobst.
Carter Langley claimed the Junior two races.  In Lite he blistered the track with a 10.912 seconds ride that was 0.184 seconds faster then outside pole winner Colin James.  Ninth place starter Jesse Rogers threaded his way through the field to second place, but his efforts fell 5.949 seconds short. Jayden Johnson was third across the stripe followed in the top five by Spencer Warren and Gage Fitchett.
In Junior 2 Heavy Langley had Hunter Self nipping at his heels.  Self was just 0.384 seconds shy at the stripe. Warren, Johnson and Jacob King were third, fourth and fifth.
Logan Shockley led the way in Junior 1 Heavy and PRO Junior 1.  In his first race Shockley had to fight his way through the field from a fourth place start to beat pole winner Blake Wynn, 11.354 seconds, lap 1.543 seconds. Shockley shot by Racyn Hayes and Derrick McGraw and then went after Wynn.  Wynn won the pole with an 11.354 seconds lap. Major Pride crossed third followed by McGraw and Clay Peters in fourth and fifth.
"We struggled at first," said the 8-year-old Snow Hill, MD based racer.  "But we got it licked. I want to thank P&P Speed Shop and Phantom Racing Chassis for the Recon kart."
For his second win Shockley had to out run Ryan McKinney and beat him to the checkered flag by just 0.870 seconds.  Clay Peters crossed third followed by Racyn Hayes and Pride.
Austin Wyatt won Clone Heavy EL and Pro Clone EL.  In Clone Heavy Wyatt was 2.494 seconds ahead of Millsboro, DE based Zach Bullis.  Ashley Hayes and Michael Allabond.
In PRO Clone EL Bullis was just 0.227 seconds behind Wyatt.  Less than a second behind Bullis were Joey Morris and Allabond.
Ty Bass topped Flathead's qualifying with a track blistering third lap of 10.753 seconds that was just 0.004 seconds faster than pole winner Austin Banker's time of 10.757 seconds.  Penny and Alex White, of Lewes, DE, were in row two.
Bass blasted into the early lead.  He was just pulling away from his pursuers when the first of three caution flags waved.  Banker grabbed the lead on the restart and fought off challenges from the talented field behind him, Higgy, Penny, White, Missy Ford and Bass to name a few.
Caution waved with nine and 11-laps completed. Banker led them both.  Penny was on Banker's tailpipe at the end where 0.184 seconds separated them at the stripe.   White was third, Higgy finished fourth and Ford followed in fifth.
"They were all over me," said 22-year-old Banker, of Emporia, VA. "I got a little nervous there at the end.  Luckily we were able to pull it off. The Primer Kart was good, real good I just have to get a little better on tires. I'd just like to thank Hermie Saddler Karting, Robin Bradshaw Karting, Jonathan Cash and P&P Speed Shop for the engines and everybody on the team for such hard work. Wormy works his but off every week for me."
Banker led 25 Clone Heavy racers flag-to-flag.  Pacovich crossed second 0.646 seconds behind Banker.  Wyatt was third followed by White in fourth and Evan Dennis fifth.
"I think I've finally figured it out what I needed.  I hope I can Higgy's going to be tough later tonight.  He set the last two poles I want to thank my crew and I'd like to dedicate this win to my friend Wormy his grandfather passed away a week ago this past Saturday.  Wormy comes with me every weekend, I couldn't do it without him. I know he misses his grandfather a lot so I want to dedicate this win to him."
According to eight-year-old Derrick McGrew, Jr. and his father Derrick, Sr., the six-hour haul from their Ballston span NY home to Delmar, MD to win Junior 1 Lite was worth the trip.  McGrew, Jr earned the outside pole with an 11.666 seconds time on his first lap that was just 0.033 seconds off of North Carolina based Blake Wynn's first lap of 11.633 seconds.
At the drop of the green flag Wynn and McGrew blasted away from the field for their own battle.  Two-laps into it caution waved for the first of two times. This time Shockley was launched over Clay Peters in turn two.
Four laps later another turn two incident brought out the caution for the final time.  When racing resumed Wynn and McGrew took their fight for the lead into traffic. As they were threading their way through traffic just after mid race McGrew grabbed the lead. From there he built a comfortable 1.772 seconds finish line advantage over Wynn.
"The Slack Xpect kart was good and so was the CKE motor," McGrew, Jr. credited. "It was hard to pass him (Wynn), but I got him just after ½-way."
Shockley worked his way back to a fifth place finish.  Ahead of him Ryan McKinny and William McConi crossed third and fourth.
Battle at the Beach racers will be back at US 13 Kartway Saturday April 23rd.