Renowned Race Track Consultant Partners With New El Paso Road Racing Venue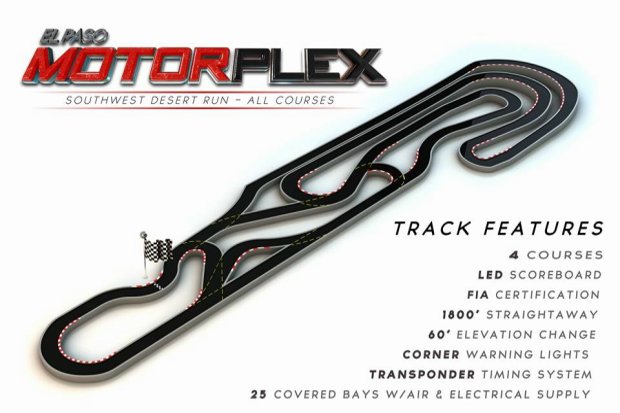 World renowned motorsport and racing consultant, Martyn Thake, has partnered with the owners of the El Paso Motorplex as they move forward with plans to build an exclusive road racing facility on the outskirts of El Paso, Texas.
Thake and his consulting company, Motorsports Consulting Services, LLC, (MCS) brings to bear more than 30 years of comprehensive motorsports and special event experience; encompassing all areas of facility design and management, racetrack design, construction management, event promotion, event management, operations and logistics management, sanctioning body track inspection, insurance inspection, risk management inspection, race car design and manufacture, and performance driving instruction.
More than 90 different motorsports facilities around the world have benefited from MCS design, redesign and inspection input. I have performed hundreds of track inspections, designs and redesigns for CART/Champcar, IMSA, ALMS, FIA, IRL and SCCA, as well as insurance companies and independent clients from around the world. MCS is by far, the most diverse and experienced motorsports consulting firm in the marketplace.
Motorsports Consulting Services, LLC, provided design, construction, event operation and management services, plus operations and logistics department staffing for the Grand Prix events in St Petersburg in Florida, Miami, Houston, Cleveland, Denver, and Baltimore. 
As Director of Circuit Development for CART and Champcar (2001-2006), Mr. Thake was responsible for the operational readiness of the racetrack and operational television production for all of the tracks upon which the series raced.
Other recent projects Mr. Thake has spearheaded include; the all-new Palm Beach International Raceway in Florida, the historic Pueblo Motorsports Park in Colorado, M1 Concourse in Pontiac MI, Palmer Motorsports Park in Palmer MA, Wild Horse Pass Raceway in AZ, Eagles Canyon Raceway in TX, and the two new FIA Level 2 facilities in China.
The owners of the El Paso Motorplex are proud and excited to be afforded to opportunity to be associated with one of the most recognizable names in motorsport development and advancement anywhere in the world.  As construction of the new road racing facility continues to progress, it will do so under the step-by-step guidance of Martyn Thake and Motorsports Consulting Services, LLC. 
For more information about Martyn Thake's experience and references, please visit www.mcs.ms
For more information about the new El Paso Motorplex road racing facility, please visit El Paso Motorplex on Facebook and/or DCBlair5207@gmail.com (Marketing Director).
Please follow and like us: