Nicholas d'Orlando Sets the Tone for 2016 with Impressive 2016 Florida Winter Tour Season in Junior Debut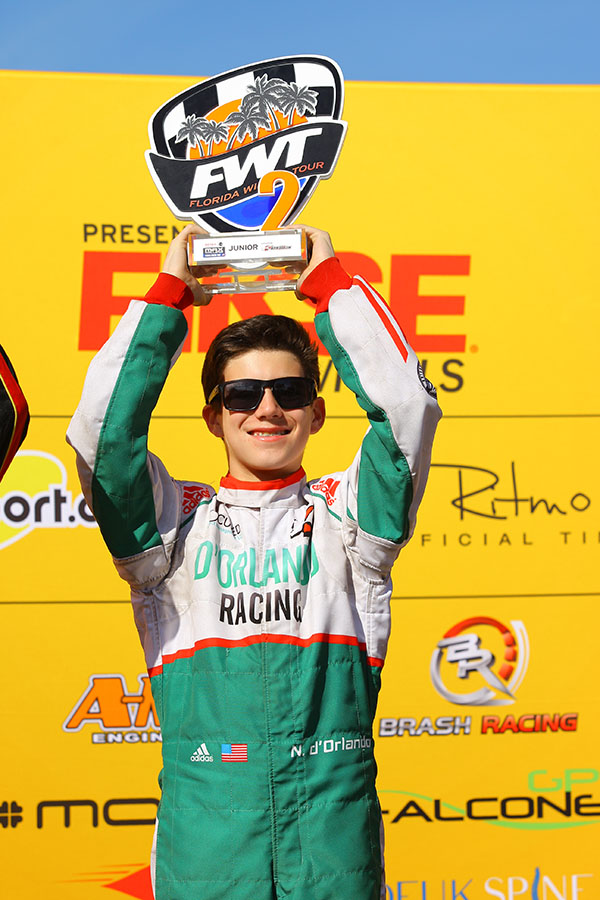 Nicholas d'Orlando is making a name for himself in just a few short months in the junior ranks and proving that he will be a force to reckon with in 2016.  The Hartsdale, NY native defiantly exceeded all expectations at the 2016 Florida Winter Tour with a podium finish, his first race win and two top-10 series championship honors in just three months into his rookie season.
Nicholas' junior debut aboard his KoeneUSA-prepared Tony Kart, was an eye-opener for the young rookie, in a field stacked of experienced competitors.  Showing talent & top speed early at the start of Round 1 of the Rok Cup USA series in Homestead, the larger, heavier and faster Junior Rok kart (vs his 2015 Cadet) would eventually take its toll on the young 12-year-old in the 25-lap main event.  Learning to deal with the aggressive nature of the young teenage class, he would battle with contact on multiple occasions and fight mid-pack to finish 19th.   But the experience from Homestead was all Nicholas' needed to adapt to this new racing environment and he would look to bounce back in Round 2 at Ocala Gran Prix with a strong showing all weekend, including a 4th place qualifying effort.  But heartbreak would result from a mechanical failure in that main event to end the weekend in 21st spot.  Round 3 at the Palm Beach Karting complex for Championship weekend would see Nicholas continue to improve and impress with consistent results in the front third of the field all week long, and improve his final result to 11th place.  His ability to adapt quickly and increasing consistency throughout the 3-weekend 3-month competition would earn him an impressive 7th place result overall in the Championship series points race, and the highest ranked Rookie in the class.
Similarly in the Rotax Max Challenge series, Nicholas' Junior Rotax campaign was a struggle in Homestead.   A treacherous turn one would be his demise, forcing him to collect himself & his machine from the barriers and he resumed back on track far behind the rest of the field and eventually withdrawn from the main event competition.  But his follow up weekend in round 2 in Ocala would be the talk of the week!   Earning the pole position in Qualifying and leading the entire 32+ kart grid to the flags, alongside big brother Michael in 2nd position, Nicholas respectfully brought home his first Junior race win and two top three finishes in the heats.  Setting himself in position to contend in the main event, he would not falter to earn his first Junior podium with his 2nd place result.
Building on the confidence gained in Ocala, Nicholas would continue to see the front pack of the grid in the 3rd-round Championship weekend at Palm Beach Karting.  Another impressive qualifying 3rd place effort, directly behind his sophomore-season brother Michael on pole, set him up nicely for the three heat races and two top-10 results.  But his luck would change when mechanical issues in the third and final heat forced his starting position for the pre-final further down the grid to 11th and the bad luck continued into the start of the pre-final with contact in the opening turn of competition.
But as they say, the cream rises to the top, and Nicholas' proved once again that he is a fighter as he battled back from 21st to an impressive 7th place finish at the line in the main event!  Even with the post-race driving infraction penalties, typical of a rookie, his consistency and impressive showing would be enough to earn him his second top-10 Championship points series spot in 8th place.  And once again, the highest ranked rookie in the stout field of international Juniors.
"So far I am loving my first year in junior!" says Nicholas d'Orlando.  "The kart for this series was amazing, and it took some adjustment to its faster speeds and larger size, but I can't think of a better way to start off in a new class.  I personally did not expect to do this well myself, but I think that this was a great start to my year and look forward to the rest of the 2016 season."
Nicholas d'Orlando & d'Orlando Enterprises would like to extend special Thanks to their team at KoeneUSA (www.teamkoeneusa.com) including Mike Maurini & Martijn Koene and tuners Adam Johnson & Bob Lucke, for their tireless efforts and commitment.  Thanks to the administration and staff at Iona Preparatory School for their continued support and assistance in and outside the classroom, and to their sponsors at adidas Motorsport/FysheUSA (adidasmotorsport.com), Kool Nerd Clothing (www.koolnerdclothing.com) and Focused Project Management (www.focusedpm.net).
Be sure to check out their online store for Adidas karting products and Kool Nerd apparel at www.dorlandoracingstore.com.
For more information on Nicholas d'Orlando, please visit www.dorlandoracing.com. Be sure to follow him on Facebook (Nicholas d'Orlando Racing), Twitter (@dorlandoracing) and Instagram (@dorlandoracing) to stay up to date on news, information, photos and results.