Molecule to Host Grand Prix of Long Beach Kick Off at K1 Speed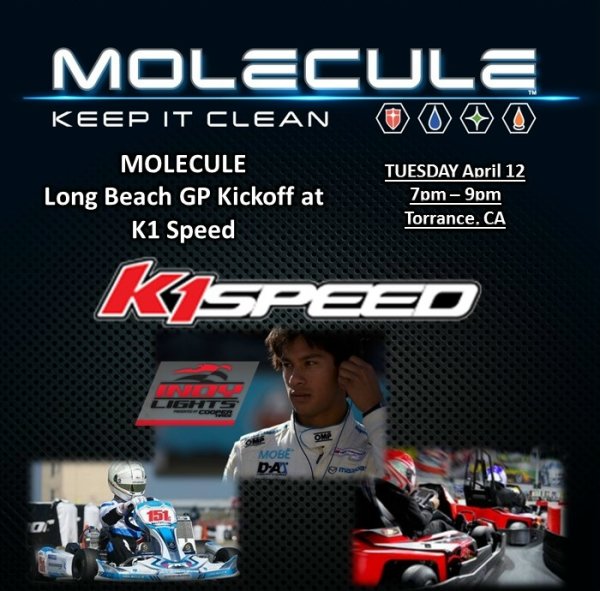 The Toyota Grand Prix of Long Beach is one of the most popular races in the world attracting the most talented racing drivers, motorsports enthusiasts, and industry leaders for a week-long event. For local San Clemente-based Molecule, the GPLB is a keystone event each year.
Molecule, the hi-performance equipment care manufacturer, has teamed up this year with industry leader K1 Speed in Torrance to kick off the weeklong festivities with a night filled with karting, prizes, and a great opportunity for young racers to learn more about progressing up the motorsport ranks. Headlined by Indy Lights driver and Molecule Athlete Neil Alberico, racers and fans alike will have the opportunity to pick Neil's brain about what it's like moving up the open wheel ladder.
"We couldn't be more excited to team up with a great Molecule partner like K1 Speed for a night of karting" explained Molecule Marketing Manager Kyle Kuntze. "It's a little chance to give back to the local racing community, having Neil on site to help tomorrow's stars. The Toyota Grand Prix of Long Beach is one of our favorite events of the year and to be able to kick off the week in this way will be an awesome start to what is shaping up to be an unbelievable week for us."
"We're happy to be teaming up with Molecule this year during the Toyota Grand Prix of Long Beach" says K1 Speed Marketing Manager Andrew Palos. "It's only fitting to be hosting this unique event with California grown and Indy Lights driver, Neil Alberico. We look forward to seeing a lot of familiar faces that night on and off the track."
The event will be open to the public and Molecule will be providing Performance Equipment Care prizes including a Fastest Time of the Night Award and will take place Tuesday April 12th from 7-9 PM. A limited number of Friday tickets will be on hand for those in attendance. In addition, other Molecule Athletes will be on site throughout the evening and a few friendly on track competitions are to be expected.
About Molecule – based in San Clemente, California, Molecule provides hi-performance cleaners and protection for athletes. Founded as a solution for motorsports technical fabric care, Molecule provides premium care products for athlete's equipment including performance apparel, protective equipment and vehicles. www.moleculemotorsports.com
About K1 Speed – was founded in 2003 and is the nation's largest indoor kart racing chain. Each facility boasts 50,000-90,000 sq. ft. of space, which feature real road courses, meeting rooms, snack bars and spacious lobbies with genuine racing memorabilia. Visitors can take advantage of a variety of different race packages to race against their friends or the clock. K1 Speed can accommodate 10 to 800 guests and offers a unique venue for corporate functions, team building events, birthday parties, bachelor parties or other private ceremonies. www.k1speed.com