Circuito Internazionale Napoli in Sarno, Italy Gets Update Configuration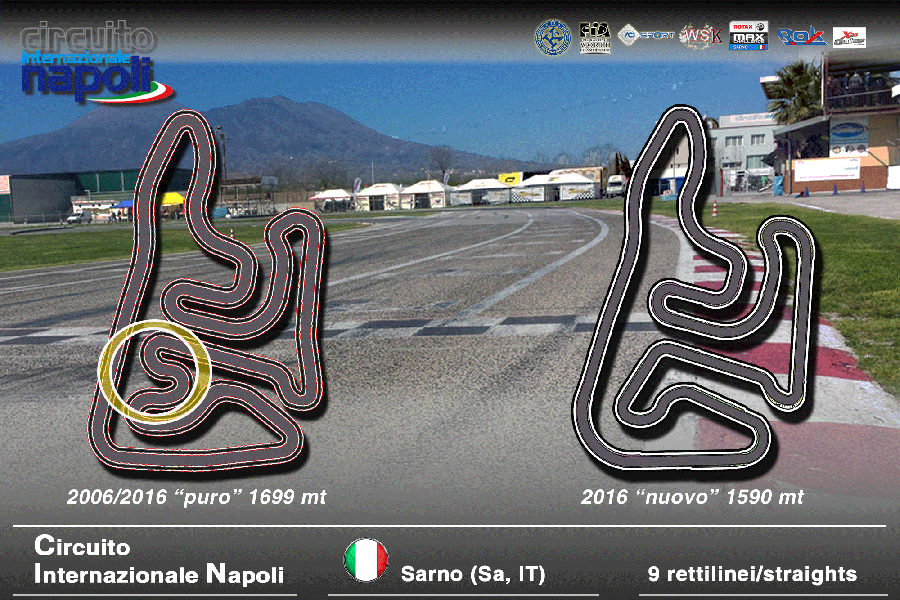 From next April 21 track reopened in Sarno for the final shakedown of the new configuration, after some works that redesign without hard revolution the well appreciate Circuit under the Vesuvius foot. Works are affecting even the tarmac and other facilities of the racing plant.
After nearly a decade, the track layout of Sarno, the Circuito Internazionale Napoli, changes face. No hard heavy changes to motor path that has graduated the major part of the current and the ones from recent past motorsport and Karting champions. Just important changes.
The majority of Sarno's iconic straights and corners are retained in the new layout. The old route of 1,699 meters, was created and approved in 2006 and the length marked the fullest extent as regulation in Karting. The vehicles in the race course have the maximum stress for both the chassis and the engine and the setups never definitive or standardized. A challenge in the challenge to increase the value of a race in Sarno. The new 2016 track now will measure 1,590 meters. A significant change is in the last sector where one time there was the famous and terrible "triple s" corners that disappear in the new design. The drivers will now turn left two time, then right, engaging and drawing something like a hook then in the traditional last corner before the starting grid straight.
On Circuito, crew are carrying out works on the asphalt of certain points as well as for some curbs along the track. Work in progress also to the structures of the park fermee.
New Circuito figures: leght 1590 mt, 9 straight, 13 corners with different radius and 1 light chicane between the two segments of the Sarno's power main straight.
So, racing activities will reopen on April 21, next upcoming race April 24-25 with 19 ed of Trofeo Grifone, Karting, where will be the race for also for Rotax categories. Circuito Internazionale Napoli on next October will be the stage for Rotax Max Challenge Grand Finals 2016.