Andersen Racing's Aidan Keel Captures FWT Vice Championship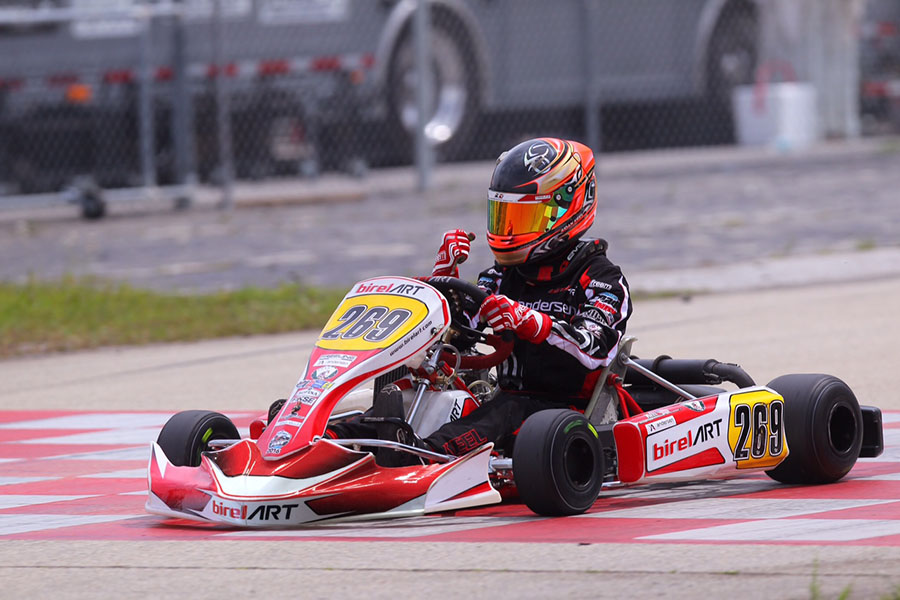 Coming into the final round of the 2016 Florida Winter Tou held at Palm Beach International Raceway, national front-runner Aidan Keel was in the hunt for the FWT championship. With rain in the forecast, it was bound to be a touch and go weekend for the 14 year old, Andersen Racing Team driver.
Keeping his composure in the high-stakes double points weekend, Aidan was among the top 5 fastest karts all throughout free practice. Headed into qualifying Aidan was confident in his package:
"Although I was not able to make it to all of the pre-race testing, I knew that my team had found a great baseline on the chassis. The nicest quality of the Birel-Art chassis is that it is extremely adaptable, and therefore fast in nearly all conditions. With the rain on its way, I knew that I would be taking full advantage of this characteristic."
Despite his speed alone, Aidan was unable to find a drafting partner in qualifying and thusly qualified 11th just .3 seconds off of Pole. Aidan quickly went to work in the rain soaked heats finishing second in the final heat race. With the points stacked, Aidan would start the final in the 6th position.
Sunday saw a drying track lead to unpredictable weather conditions. Finally with a dry line clearly formed, Aidan's technician Nick Neri bolted on slick tires and a dry set-up and sent Aidan to the grid. After some contact from behind at the start, Aidan came across the first lap in the seventh position. He then set to work on his opponents ahead of him. By lap 4 he was in second place, and never looked back.
"By the time I had fought my way up to second place, I saw that the gap to the leader was massive. I just kept looking every lap up to the top of my team transporter where one of my managers, Ryan Child, was giving me signals informing me of what was going on behind me. Luckily for me, the set-up we chose was spot-on and my engine was working flawlessly. I just kept my head down and readied myself for all possible outcomes."
And Aidan did just that; pushing every lap and out-smarting his opponents to hold second all the way through the 25 lap final. Aidan walked away from the race confident and ready to greet the podium.
"For sure missing the championship by only 50 points was disappointing, but overall it was a great team effort to take the Vice-Championship. I want to take this time to thank Ryan Child and Jake Mottaz from Andersen Racing as well as Dan Andersen and Eddie Kish, for making my development possible thus far. I would also like to thank Nick Neri my mechanic, and my parents. Lastly, I want to thank Two Henry's Brewing Company and Keel and Curley Winery from Plant City, FL for placing their bets on me all these years. I wouldn't be anywhere without the work of my team, my family, and my sponsors, and I promise to push to continue to provide good results all season long!"
Aidan is a member of the Andersen Racing Team, and trains on track weekly at Andersen RacePark. Aidan follows the Andersen Racing Team's unique training format, which administers a weekly, monthly, and quarterly structure for their student's physical, technical, and nutritional program. Every member submits to a personalized training regime, and receives regular one-on-one attention with the Andersen Racing Team staff. The program is aimed at preparing drivers both for the international karting stage as well as the USF2000 national championship, the first step on the Mazda Road to Indy.
You can find Aidan trackside this season at the Rotax US Open series or the Rok CupUSA championship. You can also contact him through his website www.AidanKeel.com
Please follow and like us: