Drivers Speed Up to Climb Up the Standings at WSK Master Series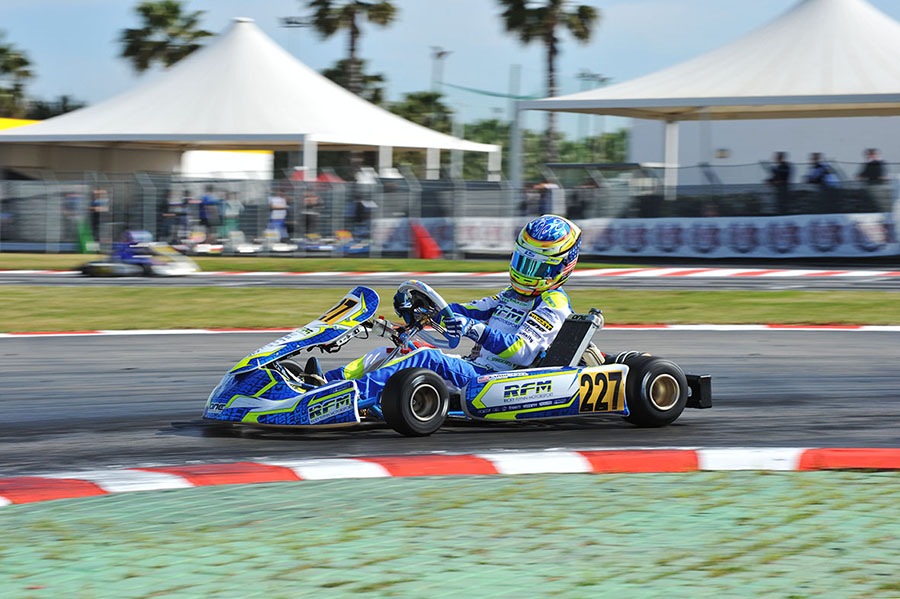 The WSK Master Series is at its crucial point. Drivers are doing their best to achieve the best performance in this third round of the series, hosted by the World Circuit La Conca. The last round of the event is scheduled on next 22nd May in Adria (I), and all those drivers who desperately need to close the gap in the standings gave all they got in this qualifying, which took place this afternoon on the 1,250 metres of the circuit set in Muro Leccese (Lecce, Italy). La Conca can once again boast remarkable figures: 200 entrants coming from 40 countries and from 5 different continents!
All the challenges of the WSK event live in streaming
Today's top drivers are going to challenge the current frontrunners, who gained the head of the standings after the previous racing weekend in Sarno. The leaders are Marco Ardigò (Tony Kart-Vortex-Vega) in KZ and Giacomo Pollini (CRG-TM-Vega) in KZ2, with the Spanish Pedro Hiltbrand (CRG-Parilla-Vega) in OK, the Russian Ivan Shvetsov (Tony Kart-Vortex-Vega) in OKJ and the Italian Gabriele Minì (Energy-TM-Vega) in 60 Mini. More points at stake in this round, according to the incremental scoring system rule and, consequently, lots of expectations for great duels. The Prefinals and the Finals will be available live in streaming thanks to WSK Promotion on Sunday 3rd April starting at 11.00 am.
Qualifying tells us what we should expect tomorrow
The Italian Flavio Camponeschi (CRG-Parilla-Vega) is eager to attack in KZ: he set the best time with 44"899, 94 milliseconds better than Paolo De Conto (CRG-Maxter). The English Jordon Lennox-Lamb (BirelArt-Parilla) is third, ahead of Ardigò in fourth position. In KZ2, the Dutch Stan Pex (CRG-Vortex) is ahead of the Italian Leonardo Lorandi (Tony Kart-Vortex). The American Logan Sargeant (FA Kart-Vortex-Vega) won the CIK-FIA KFJ World Championship last year here at La Conca, and this year too he seems to be at his ease on this track: he achieved the pole in OK in 44"902. Hiltbrand, the leader, seemed in trouble, while the French Clement Novalak and the Italian Lorenzo Travisanutto (both Tony Kart-Vortex) put in a better performance and placed second and third, ahead of the Italian Davide Lombardo (Exprit-TM). In OKJ, too, the leader did not perform well, while the Dutch Noah Watt (Tony Kart-Vortex-Vega) grabbed the pole with 45"990, ahead of the English Fin Kenneally and the Moroccan Sami Taoufik (both on FA Kart-Vortex), followed by the Spanish David Vidales (Energy-TM).
Tomorrow's preview
While we are still waiting for tomorrow's 60 Mini qualifying, the OKJ already had its first two heats: the winners were Ulysse De Pauw (BirelArt-Parilla-Vega) and Fin Kenneally