NASCAR Stars to Battle in Go-Karts at Fan-Favorite ENEOS Little 600, May 24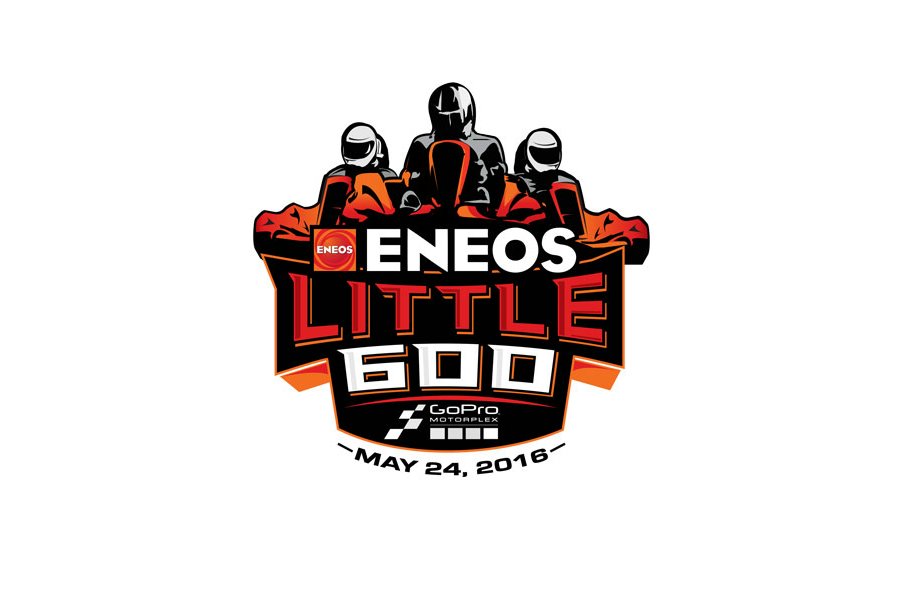 GoPro Motorplex is excited to announce the return of the 3rd Annual ENEOS Little 600 free fan event, Tuesday, May 24, featuring popular NASCAR drivers battling bumper-to-bumper in the facility's fleet of rental go-karts. Conveniently scheduled between the NASCAR Sprint Cup Series All-Star Race and Coca-Cola 600 at Charlotte Motor Speedway, the ENEOS Little 600 is a must-do during May Speed Weeks in Charlotte.
This year, GoPro Motorplex is excited to announce their partnership with ENEOS Fully Synthetic High Performance Motor Oil as title sponsor of the Little 600. In addition, the ENEOS Little 600 will again be a proud part of the 600 Festival Association's May event lineup that includes the Circle K and Kangaroo Speed Street presented by Coca-Cola event in uptown Charlotte.
By offering a family-friendly, casual atmosphere, trackside seating, delicious food, autographed raffle prizes and unprecedented access to popular NASCAR drivers, the ENEOS Little 600 promises to be an event no race fan will want to miss. Fans will have the opportunity to watch several heat races that will set the starting grid for the 15-lap main event under the lights. In addition, the Little 600 puts the "eyes in the sky," NASCAR drivers' spotters behind the wheel during the Spotters' Race. Other entertainment includes the Future Stars race with a talented group of 8-12 year old karters competing for their chance in the spotlight.
The 2016 ENEOS Little 600 will boast a similar entry list as in years prior that included NASCAR drivers, Kyle Larson, Kasey Kahne, Ricky Stenhouse, Jr., Joey Logano, Michael McDowell, Justin Allgaier, Ryan Blaney, Trevor Bayne and many more.
Although the ENEOS Little 600 is free for spectators, fans have the option to upgrade for just $75 to the exclusive VIP Package. The VIP experience is limited to just 100 guests and includes indoor viewing, catered dinner, free parking, a track walk and much more. To purchase VIP tickets, visit gopromotorplex.com/online-store.
Fast Facts:
WHAT: 3rd Annual ENEOS Little 600
WHEN: Tuesday, May 24, 2016  |  2:30 p.m.- 9:00 p.m.  |  Rain or shine!
WHERE: GoPro Motorplex, 130 Motorplex Drive Mooresville, NC
COST: FREE Admission, Parking Fee: $10/per car load
DETAILS: gopromotorplex.com/Little600
About ENEOS:
ENEOS is the corporate brand name of JX Nippon Oil & Energy Corporation, the largest oil company in Japan. ENEOS brand motor oil is developed to exceed the highest standards of the automotive industry. ENEOS product ranges from motor oil that offers optimal performance protection under the most extreme temperature variations, to ecologically friendly motor oil that provides superior fuel saving capacity. For more information please visit www.eneos.us.
About 600 Festival Association:
The 600 Festival Association is a nonprofit that has been commemorating the May races at Charlotte Motor Speedway with spectacular, family-oriented events for more than 31 years. This year's lineup of events includes Movies on the Campus in conjunction with Jiggy with the Piggy in Kannapolis (May 6); Haulers on Union in Concord (May 19); Little 600 at GoPro Motorplex in Mooresville (May 24); the PNC Speed Street 5K and Kids 600 Yard Fun Run (May 28); and Circle K and Kangaroo Speed Street presented by Coca-Cola in uptown Charlotte (May 26-28). For more information on the five 2016 600 Festival Association events, visit www.600festival.com or follow us on Facebook, Twitter @600festival and Instagram @600festival.
About GoPro Motorplex:
Let's go karting! Located in Mooresville, NC, GoPro Motorplex is an outdoor, 0.7-mile, 11-turn karting facility open to the public seven days a week, year-round featuring Adult Karts (Ages 16+) available for rent that reach speeds up to 55 mph. GoPro Motorplex can also accommodate group events and corporate team building outings. Additionally, the facility hosts some of the largest professional touring karting series races in the country, making GoPro Motorplex the premier source for all things karting at every level of the sport. For more information on GoPro Motorplex, please visit gopromotorplex.com or follow us on Facebook, Twitter @GoProMotorplex and Instagram @GoProMotorplex. Join the conversation by using #Little600 or #Letsgokarting.