Michel Recovers Nicely for Four Wins at WKA Roebling Weekend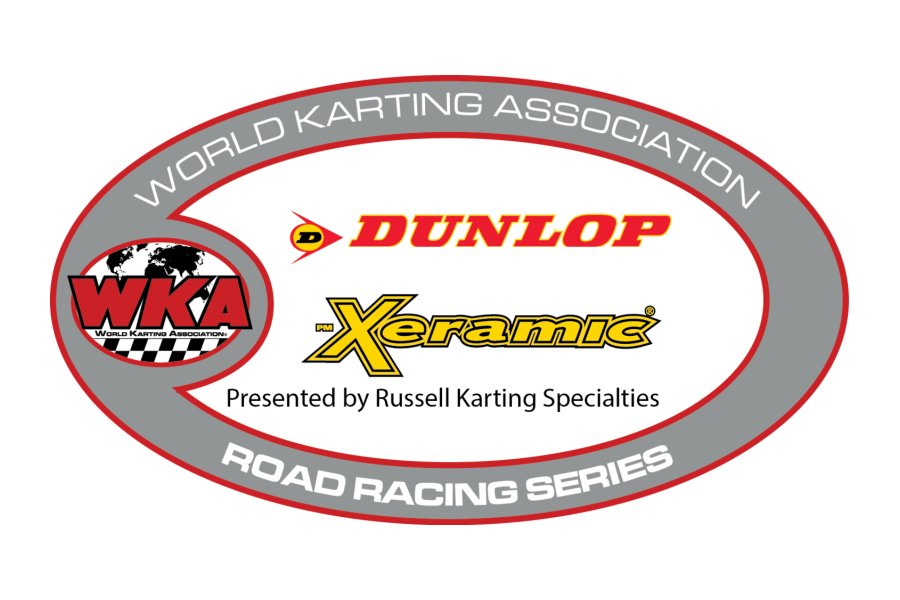 The first two races of the new season for Matt Michel on the Dunlop/Xeramic National Road Race Series presented by Russell Karting could not have been any more different if you scripted it. After sustaining serious injuries in a turn 3 crash on the high banks of Daytona, leaving the young driver with several broken ribs and many other injuries, Michel stormed back for stop #2 on the series to claim 4 wins recently at Roebling Road Raceway in Savannah, Georgia in front of improving series numbers, numbers the Southern Kart Club had not seen in a while, and a sign that the health of the Road Race program, much like that of Michel, is steadily improving with each passing race.
The multiple win weekend was not just confined to Michel though, as veteran Louie Magiera continues to pick em up and lay em down, scoring 4 wins as well. Other multiple winners at Roebling included Stephen Wheatley, Robert Wimmer, William Morsberger, Travis Miller, Dawn Magiera, Duane Eberhart, and Steve Johnson.
Additionally, the participation of 7 Cadet Class drivers was also a welcome sign for the program, searching for an injection of youth to carry on the fabled Road Race tradition. Madison Wheatley was the big winner of the weekend, not only taking $100 at the awards banquet Friday evening, but maintaining her momentum on track, taking both wins on the weekend. Wheatley bested Jordan Johnson, Carter Hadden, JB Dixon, and Palmer Roberson for the top 5, with Katie and Desi Greco completing the field on Day 1.
Wheatley was trailed by Dixon on Day 2, with Hadden, Johnson, and Roberson completing the top 5. Desi and Katie Greco completed the impressive field of Cadet competitors.
The first of Robert Wimmers 3 wins on the weekend came Saturday in the WT Racing Leopard Sprint class, where Wimmer bested Walter Troup, Quincy Smith, AJ Ellis, and Don Johnson. Wimmer also took the Animal Medium final on Day 1, topping Quentin Hall and Stephen Wheatley. Wimmer returned on Sunday to sweep the Leopard Sprint class, topping Smith and Troup.
For Wheatley, his weekend started with the Hoosier Racing Tires Animal Lite class, fending off the efforts of Rob Hindery, David Clevenger, Ben Thomason and Blake Beattie. Wheatley came back Sunday to complete the feat in the class, topping Thomason, Beattie, Clevenger, and Hindery.
Steve Johnson's 2 wins for the weekend came in the Animal Heavy Class while Duane Eberhart took the first of his 3 wins in the B Stock class over Ben Eberhart, Johnny Scavuzzo, Joe Scavuzzo, and Brandon Nichols. Eberhart also won both Vintage races for the weekend as well.
2015 champions Chris Hines and Steven Rougeou split the wins over the weekend in the Fisher Racing Engines Stock Honda Class. Hines took Day 1 over Stephen Flatt, Rougeou, Aamir Hyder, and Keith Buffo, while Rougeou took the Sunday matinee over Flatt, Hyder, Buffo, and Michael Hines, with Chris Hines finishing sixth on Day 2.
Travis Miller laid claim to the KALL Racing Formula 100 class on Saturday, taking down Milo Schoonover, Rick Fulks, Paul Wyzga, and Lance Yunck, while the Millers Dynotime sponsored class on Sunday again saw Miller taking the win, this time over Yunck, with Wyzga and Michael Tracy completing the running order.
For Matt Michel, the sweet taste of victory came Friday evening, with the induction of his father Pete into the World Karting Hall of Fame at the series annual awards presentation. With several family members in attendance, it clearly was an emotional time for the Michel Family. That emotion and momentum carried over to Saturday where Michel recorded the first of his four wins on the weekend, taking the Yamaha Sportsman Heavy class, topping Brandon Schenkel, Bill Holder, David Lee, and David Stolte. Michel polished Saturday off with a win in the CKI sponsored Yamaha Sportsman Medium class, following a spirited duel with Bill Holder. Amanda Holewski came home third on Day 1, with David Lee and Ace Rossi completing the top 5. To make the weekend perfect, Michel roared back to sweep both classes Sunday, topping Stolte, Lee, Norris, and Jimmy Driggers in the Yamaha Sportsman Heavy class, while Amanda Holewski chased Michel across the stripe in the Yamaha Sportsman Medium class, followed by David Lee and Michael Marr.
As mentioned earlier, the only driver to match Michel on weekend win totals was Louie Magiera, taking the WKA Sprint win Saturday over John Jezierski, Richard Russell, and Ryan Goetzman. Magiera came back Sunday to win WKA Sprint again, topping Goetzman and Jezierski. Magiera also swept the Yamaha Sprint mains for the weekend as well.
Good fortunes stayed in the Magiera family in the form of Dawn Magiera, Louie's wife, as Dawn won the Yamaha Sportsman Sprint race, besting Dan Febbroriello, Lee Curtis, and Mandy Doles on Day 1, with Febbroriello, Doles, and Curtis chasing Magiera to the stripe on Sunday.
Bill Morsberger swept the Matthai Material Handling 100cc Piston Port Class to finish out the weekends multiple winners. Here's a look at the rest of the weekends top finishers.
Saturday:
Open Sprint: Nelson Hicks
Junior Animal Lite: Loch Beattie
Rev Clean Formula 125: Robby Harper
Foster 4J Ranch Yamaha Medium: Lamar Hillard
Animal Limited Modified: Dominic Greco
Tag Heavy: Emmitt Rodriguez
Clone LO206 Heavy: James Cartledge
Junior Enduro: Taylor Collins
125 Shifter: James Crawford
The Agile Group Unlimited: Jeffrey Metter
Clone LO206 Lite: Blake Beattie
100cc Controlled: Rick Fulks
Sunday:
125 Shifter: Thomas DuPont
The Agile Group Unlimited: Ron Miller
Animal Limited Modified: Charles Wilbur
Clone LO206 Lite: Rob Hindery
Animal Medium: Quentin Hill
DD2: Jim Dixon
TaG Heavy: Tim Linthicum
Clone LO206 Heavy: Robert Garland
Kion/Linde Forklifts Yamaha Heavy: David McCauley
100cc Controlled: Lance Yunck
Junior Animal Heavy: Cole Peschang
The next event for the Road Race Series will be June 4 and 5 at Summit Point Motorsports Park in West Virginia. This will again serve as a 2 day event this year. For more information on the Summit Point Nationals, click here.
http://worldkarting.com/downloads/eb-2016/eb.summitPoint.rr.2016.pdf