Lemke Wins Pro IAME Senior Championship in WKA Winter Cup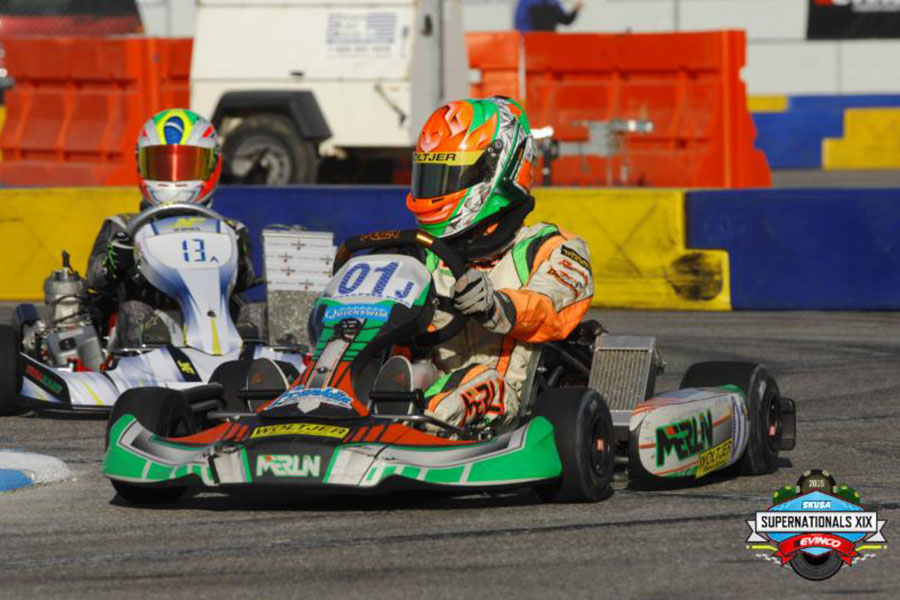 Lemke in action at the 2015 SKUSA SuperNationals in Las Vegas (Photo: On Track Promotions - otp.ca)
Former WKA Triple Crown champion and 12-time national karting champion Brandon Lemke is now a Senior class champion in his rookie year in the adult category after capturing the Pro IAME Senior points championship in the 2016 WKA Winter Cup Series, which wrapped up March 4-6 at GoPro Motorplex in Mooresville, N.C.
Since advancing to the Senior category at Daytona in December, Lemke has wasted no time becoming one of the top TaG Senior pilots on the East Coast.
At GoPro earlier this month, Brandon won both Pro IAME Senior finals to close the three-race Winter Cup Series, which Brandon began with a  P2 finish and two Pole Awards in the 47-kart field December 28-30 at Daytona KartWeek.
Lemke headed to the GoPro round behind only Brandon Jarsocrak in the Pro IAME Senior standings, and he needed to finish ahead of the Pennsylvania driver Saturday to have any chance at the points title.
After qualifying P3 for Saturday's competition, Brandon raced to wins in both 8-lap heat races and headed to the final as the clear favorite. Lemke did not disappoint in the main, pulling out to a 3.5-second advantage in the 16-lap contest and winning comfortably over Braden Eves and Jonathan Kotyk.
Brandon returned Sunday to qualify P1 over Eves and score one of the two heat race wins with Eves taking the other by a 1-second gap over Lemke's Merlin. With Eves looking faster Sunday heading into the final, Lemke needed to focus on hitting his marks and driving flawlessly in the weekend's finale race.
Brandon would do just that, driving his Franklin Motorsports / Woltjer Racing Engines #01 to a 1.2-second lead in the 16-lapper, and crossing the finish stripe with several kart-lengths to spare over David Ilavia and Eves.
"I thought we could run well in the Winter Cup but I didn't expect to win the championship, only because the Pro IAME Senior class had some really talented and experienced drivers competing," Lemke said regarding his latest national championship. "The Merlin chassis handled perfect at GoPro, and the Woltjer engines gave us the horsepower needed to stay out front. I have to thank my parents for all the support, Jason Birdsell for setting up some awesome karts for me to drive, Franklin Motorsports, Woltjer Engines, Quickswim, QPS Employement Group, Grand Products, Race Ready Engineering and Mike Birdsell for all the pit help at GoPro."
Lemke and other top national pilots will return to competition with Round Two of the WKA Manufacturers Cup Series April 1-3 at GoPro Motorplex. Following the return trip to Mooresville, Lemke and his team will head to Arizona for Round One of the SKUSA Pro Tour is April 29-May 1 at the Phoenix Kart Racing Association and then return east for the USPKS opener is May 13-15 at New Castle Motorsports Park in Indiana.
Brandon Lemke is a 15-year-old national champion kart racer from Eagle, Wisconsin. Lemke is a 12-time national karting champion, 13-time regional champion and the last driver to win four national WKA championships in a single season, which netted him the prestigious Triple Crown award in 2013.
Lemke races his family-owned Franklin Motorsports-backed Merlin chassis in the most competitive sprint series in the country. He's proud to be sponsored by Quickswim, QPS Employment Group, Woltjer Racing Engines and Race Ready Engineering.
To learn more about Brandon, visit BrandonLemke.com and "Like" his Facebook page at "Brandon Lemke Fan Page."