The Awning Company Super One Series Round 1 Report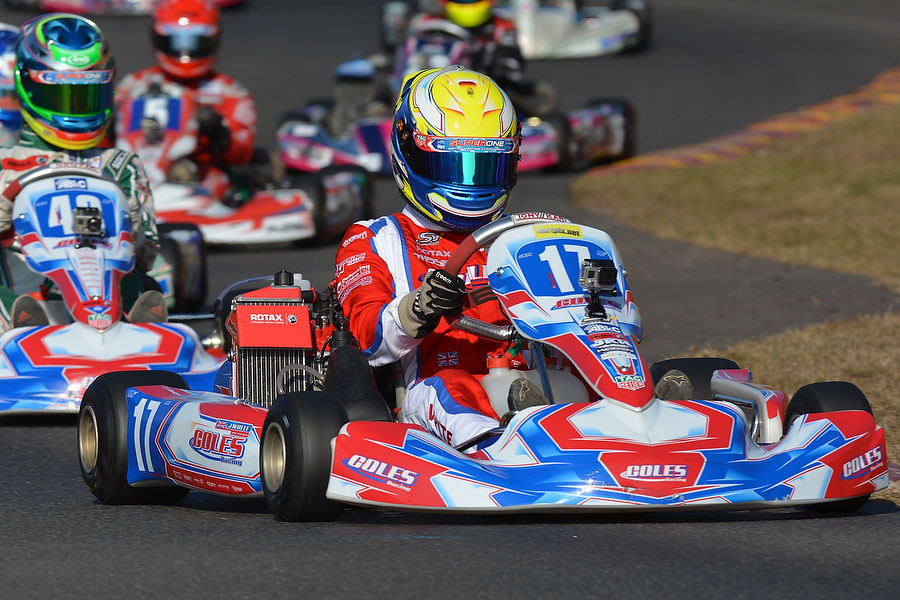 Josh White (Photo: kartpix.net)
The first round of the Super One 2016 season got off to a tremendous start at Rowrah, in Cumbria's Lake District, arguably one of the most technical circuits in the UK. Racing conditions for the record entry of 206 in Britain's premier and only recognised British and National Series had perfect racing conditions all weekend.  The turn around in TKM Extreme seniors was especially notable, from around 9 competitors last year to 47 this year. This was put down to new economy initiatives from the promoter and Tal-Ko, including banning Friday practice for the TKM classes and allowing normal pump fuel.
MSA British Cadet Kart Championship for IAME Cadet:
Harry Thompson took an eight point lead from the first round after two narrowly won victories.  Both finals for the IAME 60cc 2-stroke engines resolved into four way scraps for the wins. In Final One Thompson slotted in behind polesitter Joseph Taylor until Taylor Barnard leapfrogged both.  Thompson briefly led but had to slot back in behind Taylor once more with Barnard alternating between third and fourth.  A great pass on the last lap sealed victory for Thompson.  Thompson started on pole for  Final Two, the televised race, and ended up taking victory. However, it wasn't made easy for him as he was closely pursued by GP plate driver, Taylor Barnard right from the word go. The race came to an unfortunate end, 10 laps in, due to a red flag because of an incident between Oliver Denny and Harrison Skinner, both drivers thankfully walked away. This put the results back a lap meaning Thompson was 1st, Barnard 2nd and Bray Kenneally 3rd.
1 Harry Thompson Synergy
2 Taylor Barnard Zip
3 Bray Kenneally Zip
4 Joseph Taylor Synergy
5 Zak O'Sullivan Synergy
ABkC National Championships for Honda Cadet:
The same Harry Thompson started the Honda Cadet second final on pole from Ben Kasperczak and Cadet McQueen and held the lead until lap 10 with Kasperczak only 0.1 seconds behind. Kasperczak took charge for a few laps before dropping to second on the last lap, giving first place to Caeson Gibson. After a strong race from Thompson, he was holding on to second but unfortunately dropped to sixth on the last lap. Gibson took the chequered flag ahead of Kasperczak who was later excluded for "driving in a manner incompatible with general safety" therefore, Caden McQueen took second and Archie Brown was third. O-plate driver Wesley Mason finished 15th after climbing up 17 places! He had a very good day on Saturday finishing 3rd and 4th in the heats, but had a disappointing final one after he was forced to retire.  Oliver Bearman, who was second fastest in timed qualifying, was excluded from the meeting after the first heat for a fuel anomaly, but he has appealed the decision.
1 Caeson Gibson Project One
2 Caden McQueen Zip
3 Archie Brown BRK
4 James Walker Synergy
5 Archie Swinscoe BRK
ABkC National Championship for Mini Max:
Both Mini Max finals were exceptionally close, especially between Jonny Edgar and Tom Canning who disputed the victory hard. Canning ended the race, the same way he had started it in P1. Edgar took 2nd and after closing the gap on the last lap, Strawberry Racing driver, Lorcan Hanafin finished in 3rd. Jenson Butterfield had an amazing drive in final two, making up 15 places to finish 4th after an unfortunate final one.
1 Tom Canning Kosmic
2 Jonny Edgar Esprit
3 Lorcan Hanafin Tonykart
4 Jenson Butterfield Tonykart
5 Dexter Patterson Kosmic
ABkC National Championships for Junior TKM:
Going into Sunday this was really Bradley White's race to lose after he dominated proceedings on Saturday. He started on pole for final one and was challenged on several occasions by Kristian Brierley but had all the answers required. However, final two was a different story. White lost the lead in the opening laps as Brierley took over and led the grid of 19 until the end with Abbi Pulling on his tail. Some last lap over taking and place changes saw Brierley take the win ahead of Joe Fowler in second and Pulling a close third. White finished fourth. Pulling, the Tal-Ko supported driver, also took the "Girl Power" trophy for scoring the most points throughout the weekend out of every other girl who had entered.
1 Kristian Brierley Tonykart
2 Joe Fowler Jade
3 Abbi Pulling Tal-Ko
4 Bradley White Tal-Ko
5 Ian Sisson OTK
ABkC National Championships for Junior Max
KR- Sport dominated in final two with Jonathan Hoggard finishing first and Joe Turney runner-up. Hoggard took the lead from third on the grid straight away and never looked back eventually winning by just under 2 seconds. Behind him was William Pettitt for most the race, before Turney usurped the 'O' plate champion to third at the end.  Two drivers fell foul of the new 10s penalties for incorrectly positioned front fairings.
1 Jonathan Hoggard Tonykart
2 William Pettitt Tonykart
3 Mark Kimber Tonykart
4 Rory Hudson Tonykart
5 Tyler Chesterton Tonykart
ABkC Championships for TKM Extreme
It was amazing to see the return of a full, talented, TKM Extreme grid at Super One. This is a race that has been highly anticipated over the winter with names such as Phil Smith, Charlie Bruce-White, Jake Campbell-Mills and Paul Monks all returning. And it's fair to say it certainly delivered!   On Saturday the racing was very close in the heats and this continued in to Sunday, not only at the front of the grid but all through it! Christopher Whitton took pole for final one but it was Matthew Taylor who took the win, putting him on pole for final two. Taylor made a brilliant start and held on to the lead for half the race, before Whitton found his way through. He led for a few laps but Taylor was not prepared to settle for second and eventually re-took the lead and victory! Whitton finished a solid runner-up and in third was reigning champion Matt England after showing all the qualities of a reigning champion.  Dean Golba came all the way from the repechage to tenth place.
1 Matthew Taylor Tonykart
2 Christopher Whitton OTK
3 Matt England Tal-Ko
4 Kyle Sproat Tonykart
5 Harry Moore Jade
Senior Rotax
After a battle with Josh Skelton, Jack McCarthy won final one and took his place at the front of the grid in final two. He couldn't hold on to pole for long as Charlie Turner took the lead within the first lap but it wasn't long before Josh White negotiated his way to the front and brought the win home for Coles Racing. McCarthy finished in second and Turner third.
1 Josh White Tonykart
2 Jack McCarthy Tonykart
3 Charlie Turner Tonykart
4 Harrison Thomas Tonykart
5 Josh Skelton Tonykart