Morheiser Big Winner at So Cal Oval Karters 2016 Opener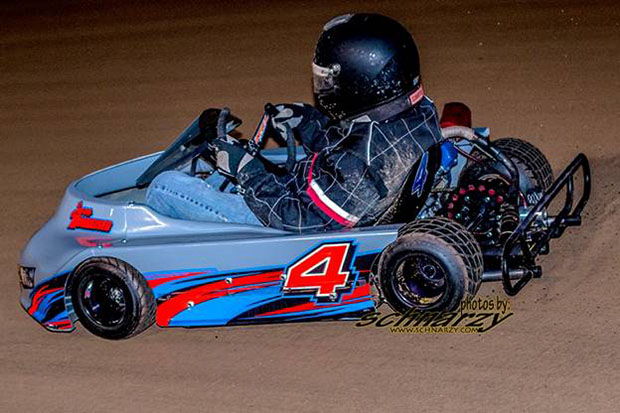 Jason Morheiser, shown here on his way to the F200 win, also won in the SR 4 Cycle Class (Photo: Schnarzy)
Jason Morheiser emerged as the big winner when the So Cal Oval Karters will kicked off their 2016 racing season on March 12th at Wheel2Wheel Raceway on the San Bernardino County Fairgrounds in Victorville.   The veteran racer not only won the F200 main event, but he also took top honors in the Senior 4 Cycle class.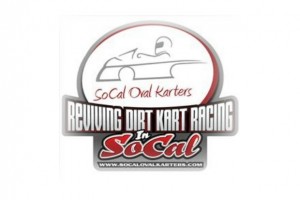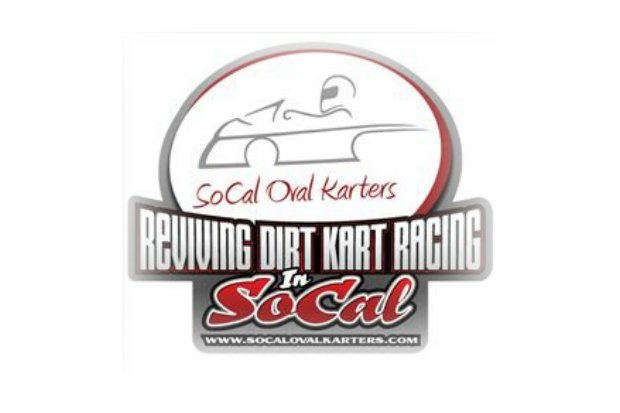 On the chilly desert night, Morheiser, who scored two F200 wins at Wheel2Wheel in 2015, beat Whittier's Steve Juillerat, Justin Garcia of Riverside and Banning's Scott Gaynor to the checkered flag in the F200's.  In the Senior 4 Cycles, the La Verne based racer bested past California Lightning Sprint Car racer Ryan Sherman of Lake Elsinore, Norwalk's John Leonhart and nine-time 2015 winner and series champion Matt Martis of Bonita to pick up his second trophy on the night.
Victorville local Chris Southern of Hesperia scored the season opening KT100 win when he beat Long Beach veterans Joe Gibb, who had mechanical gremlins in the first heat, and Matt Drotz to the checkered flag.  Oxnard's Rob Marion, who won four KT100 main events and finished fourth in the points last year, was fourth with Ted Marshall rounding out the top five.  Don Amigliore of Menifee, who terrorized the F200 class late in the 2015 season, finished sixth.
In the Open Class it was all Joe Gibb as he started on the pole and led all 20-laps for the win on the 1/8 of a mile banked dirt oval.  Dylan Hoffman, Fountain Valley's Scott Bohle and Norm Reynolds of San Marcos rounded out the field.
Keeping up with the future of the sport, youngsters Kevin Sherman of Lake Elsinore and Kailana Franklin honed their skills getting some laps in the Junior/Junior class.
The So Cal Oval Karters will return to Wheel2Wheel on Saturday April 23rd for round #2 of the SCOK Championship Series.
Anyone interested in racing with the SCOK or interested in purchasing a race ready kart can call (805) 857-2595 or mailto:scokart@gmail.com.
The So Cal Oval Karters would like to thank the following sponsors for helping make the 2016 championship series possible.  Burris Racing, Cory Kruseman Sprint Car Driving School, Hubcapmike.com, Perris Auto Speedway, R&J Motorsports, THC Home Medical Services, T-MAC Racing and Yamaha of America Racing Engines.  If you or your business would like to become a partner of the So Cal Oval Karters 2016 season, please call or E-mail Mike Nigh at (805) 857-2595 or mailto:scokart@gmail.com.
KT100
Chris Southern – Hesperia
2. Joe Gibb – Long Beach
3. Matt Drotz – Long Beach
4. Rob Marion – Oxnard
5. Ted Marshall
6. Don Amigliore – Menifee
F200
Jason Morheiser – La Verne
2. Steve Juillerat – Whittier
3. Justin Garcia – Riverside
4. Scott Gaynor – Banning
SR 4 Cycle
Jason Morheiser – La Verne
2. Ryan Sherman – Lake Elsinore
3. John Leonhart – Norwalk
4. Matt Martis – Bonita
Open Class
Joe Gibb – Long Beach
2. Dylan Hoffman
3. Scott Bohle – Fountain Valley
4. Norm Reynolds – San Marcos
Jr/Jr
Kevin Sherman – Lake Elsinore
Kailana Franklin