EKN Driver Diary: Trey Shannon – 2016 24 Hours of America
1227 laps, 854 miles put Racing For Tourette driver on top in NOLA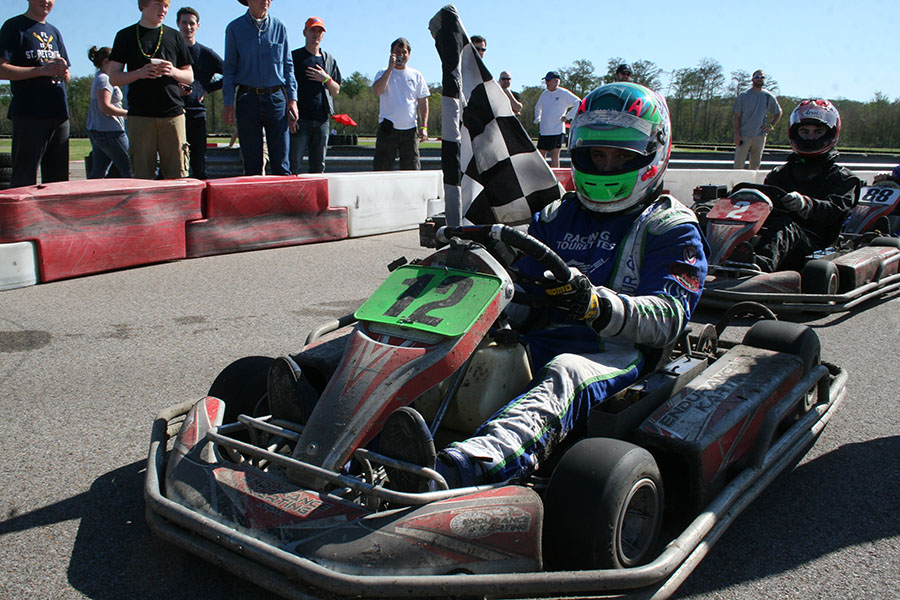 Trey Shannon pulling off after winning the Solo division at the 24 Hours of America (Photo: Endurance Karting)
Driving a kart solo has become somewhat of an annual tradition for me these days. Since my Guinness World Record attempt at New Castle in 2011, I've made two more 24 hour record attempts, both indoor, and competed solo in the Endurance Karting 24 Hours of America as a solo driver every year since 2013. I knew it was a matter of when, not if, and this year was the year, 24 hours in a kart solo became an all out 24 hour sprint. Messrs Howden and Cole have once again been kind enough to let me bore you all with one of my overly detailed and mostly mindless rambling EKN driver diaries. Let's get to the race, shall we?

The Drive Down
This year's 24 Hours of America was held March 11-13 in New Orleans at the very nice NOLA Motorsports Park facility. Since New Orleans is quite the destination, my wife and I decided we would vacation for a few days after the race. My brother and his girlfriend thought that was a great idea as well, and before we knew it, the whole family was in. While my wife and mom flew down from Charlotte, and my brother and his girlfriend from DC, my dad and I decided to go ahead and drive so we could stop in Montgomery, AL to visit family. We left Thursday, stayed that night in Montgomery, and drove the rest of the way Friday. After getting delayed for only a couple hours getting around Atlanta, we made it into Montgomery just before dinner time. We got to spend a few hours with my dad's aunt, hearing fantastic stories about my great uncle, a man I don't have any memory of as he died when I was very young. I have always found the story of his life to be very fascinating though, and to hear firsthand accounts of some of his antics was a real treat. After a few hours of stories, we grabbed a late dinner and headed off to bed. The next morning we awoke to rain, and it kept raining all the way to New Orleans.
Friday Practice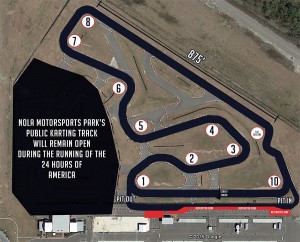 After trudging through the rain and making our customary stop at JoAnn Fabrics for seat foam, we got to NOLA with plenty of time to check into the hotel and head over to the track before driver check-in closed. First thing after arriving at the track, I caught up with one of my solo competitors and long time friend Tim Spencer. Tim and I went to school together and were teammates on the Formula SAE team at Virginia Tech. He was at New Castle in 2011 when I made my first record attempt, and we've competed as teammates in several races since. Tim has completed multiple triathlons, but this was going to be his first 24 hour solo drive, so I was pumped to be a part of it. The other crazy guy joining us in the solo class was Motoyasu Yamada. Motoyasu had run the race solo last year at Daytona. Although he didn't finish that one, he was scary fast. With prior event experience and a year to think about it, we expected him to be a serious contender this time around. After checking in, getting ourselves weighed, and taking pictures of the gorgeous sunset during the drivers' meeting, it was finally time to get some practice in. At this point it was dark and still raining, and visibility was slim to say the least. Having never been on this track before, and no opportunity for a track walk, practice was definitely interesting. The exit of turn 1 was completely blind. I was literally turning in and then guessing. Thankfully, the exit was quite wide, and light came back before reaching the next turn, so after a few laps I was able to get my bearings just fine. Attempting to learn a track in the rain at night is not ideal, but I knew that similar conditions were very possible during the race, so I tried to digest as much as I could. After practice we packed up and ventured out for our customary night-before-the-race carbo-loading Italian dinner.
The Race
We woke up Saturday morning to find the skies overcast and the track still wet. The track crew did a great job before the race to get some of the soggier spots cleaned up and the track was ready to go. With more bad weather potentially on the way, Endurance Karting decided at the Friday drivers' meeting to move the start time of the race from 11am to 9am to give them a 2-hour window in the event they needed to red flag the race at any point. This put us on a rather tight time schedule Saturday morning as we didn't have a chance to prep our kart Friday before like we usually do. We made sure to get there early enough to get the tape on the steering wheel, MyChron4 mounted, and a few sponsor decals on the kart before the pre-race drivers' meeting. We had a brief drivers' meeting at 8 to go over what the procedure would be in the event of a red flag, then got all the karts lined up on the front straight.
It wasn't raining, but the track was still very wet, and the threat of rain was still very much in play. I decided to start the race with my rain suit on as I figured the spray would be pretty bad. It was. Not only that, but people dipping wheels off threw up a good amount of mud, so the rain suit was a good call. The only problem was that I had it on for quite a while. Normally we karters wear rain suits for 10-20 lap races, on relatively cool days. Although it was wet, the temps were in the mid 70's, so after a few hours I started getting pretty warm. Thankfully I had trained well and was able to deal with the heat without too much trouble. I could at least take it down during my 15 minute fuel stops and breathe a bit before getting back out on track.
In addition to being a bit steamy inside my rain gear, I also managed to put us on the back foot fairly early in the race. Before our first fuel stop (fuel stops were once every 2.5 hours), when conditions were still very tricky, I was following a younger driver in one of the other karts. We solo guys started in the back, so we were all working our way through the field to start the race. I got stuck behind a driver who was being a bit conservative under breaking for a few of the corners, but was quick on exit, so getting a run on him was tough, especially with it still being pretty dicey out there. After following him for a few laps, we went into the last turn and he came to what seemed like a complete stop. I took avoiding action and came oh so close to actually saving it. As we all know though, "close" only counts in horseshoes and hand grenades. As it was, I ended up spinning into the pit lane. Going through the pit lane entailed a couple safety stops designed to keep pit lane speed down, and one 20-second hold for a "driver change." As a result, we were a lap behind just over an hour into the race. Thankfully, we had almost 23 hours to make it up, but I certainly didn't do myself any favors with that one.
After the early bobble, I simply put my head down and got to work. About 10 hours in, the threat of rain finally subsided, and I was able to take my rain suit off and get some fresh air out on track. In true New Orleans fashion though, the second I got back out on track, it began to drizzle. Thankfully it wasn't enough to make me spend the rest of the night soaked, but it was enough to make the track nice and damp again. The drizzle didn't last long though, and the track dried out for the most part early in the night, all except for the entrance to turn one. Because of the slight angle of the track going into one, the standard brake zone remained wet, forcing us to brake and turn in from the center of the track instead of the outside. At the end of the race it got even weirder, but I'll get to that later. Over the entirety of the 24 hours though, I was never able to take a normal line into turn one.
The rain eventually cleared for good, and I eventually made up the ground I had lost early in the race. After almost 17 hours, all three of us solo drivers were on the same lap. This is where things began to get interesting. Somewhere around 17-18 hours in, during one of our fuel stops, Tim said he was starting to get tired and his hands were getting pretty fatigued. We gave each other some words of encouragement and got back out on track. To Tim's credit, he didn't give up. He kept on digging and kept fairly close to our quick pace, only dropping about a second a lap, if that. Soon after that, Motoyasu decided he'd had enough and parked it. It was now down to me and Tim, and I knew that if I could keep the pace up all the way to the end, I'd be in good shape for the win. That was until the great Mississippi River basin decided to throw another super fun wrinkle into the program.
Perhaps some of you reading this have experienced this particular phenomenon before, but I certainly never have. About an hour before sunrise, a film of morning dew began forming off line, and it was SLICK. The racing line was the only place there was still grip, and it was barely a kart-width wide. I got to test just how slick it was when I came up on a slowing kart and had to take evasive action and go around the outside of him at a fairly quick corner. I lost all grip, hit a huge curb, and went flying. Luckily I landed on all four wheels, and after getting blasted with mud, made my way back on track and back up to speed. It was a tense moment, but luckily the kart was ok and I was able to come out of it with nothing more than a soaking wet right leg and a pound or two of extra mud based ballast.
Over the last few hours of the race, as the sun came back out, I was able to stretch my lead as the morning dew slowly but surely dried out. The only part of the track that was still being stubborn was turn one. As I mentioned earlier, the entry to turn one got even weirder at the end of the race. The water creeping across the track from the outside had pushed the brake zone all the way to the inside of the track. Our braking and turn-in ended up a foot off the inside edge of the track for the last couple hours. I've never seen anything like it. I've never seen anything like the morning dew situation either, but I just focused on adapting as quickly as I could to each new challenge and getting on with the program. It was the same for everybody, so I didn't dwell on any of it. In fact, I really enjoyed the challenge, and was able to make up a bit of time occasionally by being one of the first to discover a new quick line. Weird lines aside, the sun was shining bright for the end of the race, and my whole family was along the pit straight fence to see me cross the line at the end of 24 grueling hours, 7 laps ahead of my closest solo competitor.
This is the sixth time I've gone solo in a kart for 24 hours, and it's always an amazing and unique experience. This one was particularly special because it was Tim Spencer's first crack at 24 hours solo in a kart. As I mentioned earlier, Tim and I have been friends for a long time, and he was there with me at New Castle in 2011 when I made my first attempt at a 24 hour solo kart drive, so I'm elated that I could be a part of his first attempt, and beyond proud of the effort he put in. He pushed at his limit for the whole race and finished strong. I'm glad we got to share in this experience.
I also want to offer a huge congratulations to Joseph Buffa, Perry Herndon, Drew Cattell, and Ennis Bragg of Detroit Rock City on their third straight 24 Hours of America win. I've run this race the last three years, and they've won it each time. I must be good luck or something!
Post Race
After the podium ceremonies, a quick sip of champagne with Tim, and a long shower back at the hotel, we packed up the car and headed into the French Quarter for a few days of vacation. New Orleans has some amazing food, and we took full advantage of that. We stayed a few days, ate back all the weight I lost during the race, had some drinks on Bourbon Street, and Wednesday my dad and I began the drive back through Montgomery and on to Charlotte.
Before I wrap this up, I want to say 'thank you' to a few people. First and foremost, I want to thank my brother Drew for once again working a perfect strategy to get us caught up after my early mistake, and keeping us ahead when it counted. I can only imagine how boring a 24 hour race is from the pits, but he stayed focused and timed every single one of our stops to perfection so we didn't have to make an extra one towards the end. Without him, I don't win. Thanks also to my family who came down to New Orleans to support me during late hours and crappy weather. My parents, my wife, my sister and her husband who flew in from California, and even Drew's girlfriend all made the trip, and were all there to give me a hug when I crossed the finish line. They didn't even care that I was all muddy and sweaty. I'd also like to thank Chris McCoy and everybody at Endurance Karting for putting on yet another fantastic 24 Hours of America event. They had some really tough conditions in addition to daylight savings time to deal with, and apparently a tent vendor that completely flaked on them, but they did a great job to keep things running smoothly and make sure everybody was taken care of. Top notch event as usual. Thanks to all my fellow racers, it was a pleasure racing with all of you. Last but not least, a huge 'thank you' to all of my sponsors. Oktane Visual, AiM Sports, C12 Recovery, and Kart Sale are phenomenal sponsors and I can't thank them enough for all their support. It's a privilege to represent such great brands both on and off the track.
As many of you know, I do these crazy twice-around-the-clock solo drives for a reason that is very close to my heart. The Tourette Association of America is a fantastic organization, and I'm extremely proud to represent Team Tourette through my Racing For Tourette program. If you feel so inclined, please stop by my fund raising page at https://give.everydayhero.com/us/racing-for-tourette#/ and drop a few bucks in the pot. Any donation, no matter how big or small, is massively appreciated.
If you're still reading, thank you so much for your support. My apologies for rambling on so long. Hopefully I've provided a delightful break from work at the very least. Thanks Rob and David at EKN for giving me the opportunity to share my racing experiences with all of you. I sincerely enjoy recapping my racing adventures, so I hope they provide an equal level of entertainment for everybody reading.
Thanks for reading everybody!
Trey Shannon
www.treyshannon.com
Facebook: Trey Shannon – Racing For Tourette
Twitter: @treyshannon
Instagram: @treyshannon