The Fight for the Pole in the Prefinals in Sarno at WSK Super Master Series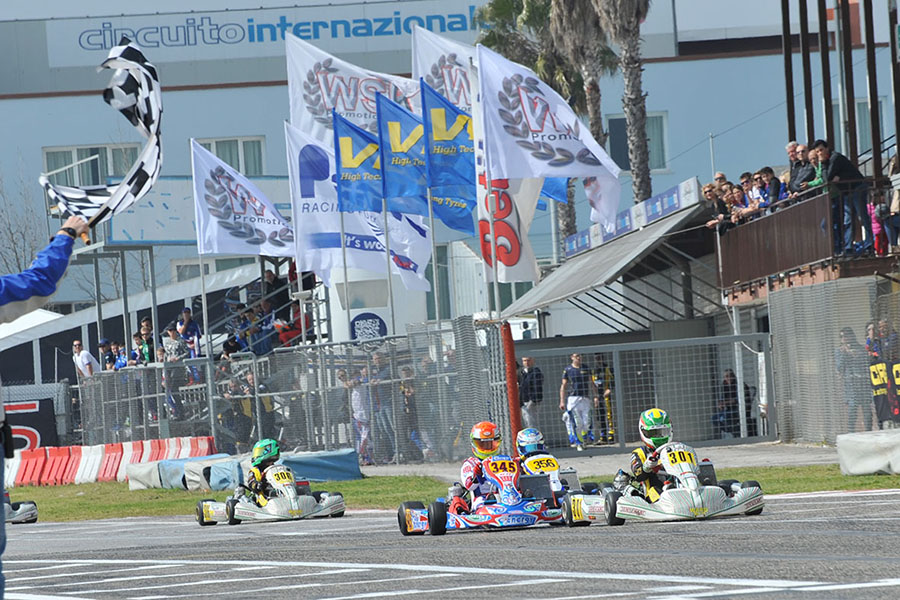 The top drivers are trying to keep at bay the pack of their rivals in the qualifying heats of the WSK Super Master Series on schedule today in Sarno. The Series is at its second round of the season and the 200 drivers on track challenged each other on the International Circuit Napoli in the 22 heats of today, which established the starting grids of the of tomorrow's Prefinals. The competition was as uncertain as ever, with very few competitors first in more than one race. The final phase of the event will be available live in streaming from 11.00am, on the official WSK Promotion website wsk.it.
Nielsen wins the first battle in the OK category
Two victories in the heats were not enough, and the Italian Felice Tiene (CRG-Parilla-Vega) was beaten into second position by the Danish Nicklas Nielsen (Tony Kart-Vortex-Vega), who won once and placed second twice, but had performed better in qualifying. In the Prefinal, they will start ahead of the Polish Karol Basz (Kosmic-Vortex) and the Danish Martijn Van Leeuwen (BirelArt-Parilla).
Lorandi in KZ2 beats all
Leonardo Lorandi (Tony Kart-Vortex-Vega) is in great shape: he won two heats in the category which groups together the KZ and the KZ2 classes. The young Italian driver, a KZ2 entrant, first beat the French Jeremy Iglesias, then the Dutch Bas Lammers (both on Sodi Kart-TM-Vega), grabbing the Pre-final A pole. On his side, in first row, will take the start the French Anthony Abbasse (Sodi Kart-TM-Vega), leader of the standings. Lammers is the pole-sitter of Pre-final B, with his team-mate Iglesias in second position on first row.
Blomqvist, 3 victories for the Pole
The Swedish Isaac Blomqvist (Tony Kart-Vortex-Vega), one of the very few driver to achieve more than a victory, hauled himself to the top of the ranking of the OK Junior thanks to his three victories: he will be the pole sitter of the Prefinal A. Next to him the Dutch Jason Watt (FA Kart-Vortex), very consistent and always in the top positions. In the Prefinal B, pole position for the Russian Bogdan Fetisov (Tony Kart-TM-Vega), who won once as well as the Spanish David Vidales (Energy-TM), who will start from the second slot. The other victories went to the Russian drivers Dimitrii Bogdanov (FA Kart-Vortex) and Ivan Shvetsov (Tony Kart-Vortex) and the Italian Giuseppe Fusco (Lenzo-LKE).
Minì accelerates in 60 Mini
Before the last heats on schedule tomorrow morning, the frontrunner of the 60 Mini category is the Italian Gabriele Minì (Energy-TM): he won three times, while Alexandros Kattoulas (Tony Kart-TM) finished in first position only twice. The other victories of the heats went to Andrea Antonelli (Exprit-TM), Michael Paparo (IP Karting-TM) and Francesco Pizzi (Energy-Iame-Vega).