Chronometers at Work in Sarno for WSK Super Master Series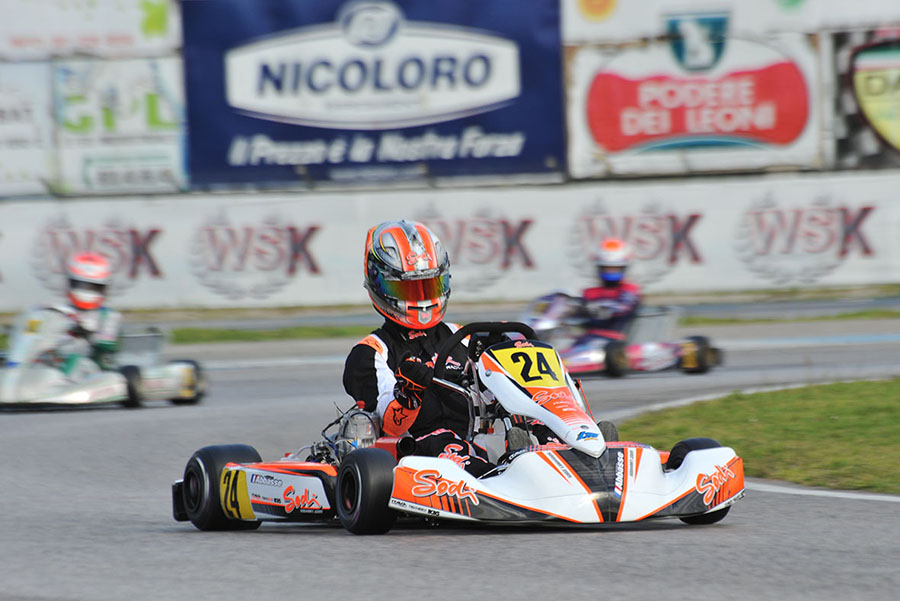 The attack to the top of the WSK Super Master Series standings is at its second round today, at the Napoli International Circuit. The event has entered the crucial phase: after two days of free practice on the 1699 metres of the track in Sarno the Qualifying session took place this afternoon. The 200 scrutineered drivers were eager to set their best performance for the starting grids of tomorrow's heats. After the season-opener in Castelletto di Baranduzzo (Pavia, Italy), which took place two weeks ago, the front runners of the Series are the French Anthony Abbasse (Sodi-TM-Vega) in KZ, the Dutch Stan Pex (CRG-Vortex-Vega) in KZ2, the Moroccan Sami Taoufik (FA-Vortex-Vega) in OK Junior, the Spanish Pedro Hiltbrand (CRG-Parilla-Vega) in OK and the Italian Francesco Pizzi (Energy-Iame-Vega) in 60 Mini.
Live streaming for the WSK challenge
More points at stake for this second round of the event, according to the WSK regulation, which provides a bigger amount of points event after event. There are great expectations for spectacular races: all the final day of the appointment will be available on the wsk.it website live in streaming on Sunday 20th March. The live coverage starts at 11.00 am with the Prefinals and Finals.
Some surprise in the results of qualifying
The Russian Pavel Bulantsev (Tony Kart-Vortex-Vega), currently in eighth position in the general standings, was today's fastest driver in Qualifying in the OK Junior. He completed a lap in 1'15"464. Excellent performance also for the Italian Giuseppe Fusco (Lenzo-LKE), the best in his session under the rain and second behind Bulantsev in the overall ranking. The third best performance was achieved by the Brazilian Caio Collet, followed by the Belgian Ulysse De Pauw (both on BirelArt-Parilla). Thrilling situation also in the OK, with the Polish Karol Basz (Kosmic-Vortex-Vega) who is currently in 15th place in the standings and needs to gain positions: he grabbed the pole thanks to his 1'07"464. Behind him the French Clement Novalak, only 42 milliseconds slower, followed by the Danish Nicklas Nielsen (both on Tony Kart-Vortex) and the Chinese Yue Yang Sun (FA Kart-Vortex). In KZ, the French Anthony Abbasse (Sodi-TM-Vega) made clear that his leadership is well deserved and set the best time with 1'04"250, even though the Italian Leonardo Lorandi (Tony Kart-Vortex-Vega) is in close pursuit: he was the best in in KZ2 with 1'04"700. Third performance for the Italian Lorenzo Camplese (Parolin-TM), followed by the Dutch Bas Lammers (Sodi-TM).
Qualifying heats ready to start
The 60 Mini Qualifying are on schedule tomorrow morning. Today afternoon the first two OKJ heats were won by Watt (Tony-Vortex) and Taoufik (FA-Vortex).