Maranello Kart On the Podium of the Margutti Trophy with Alberto Cavalieri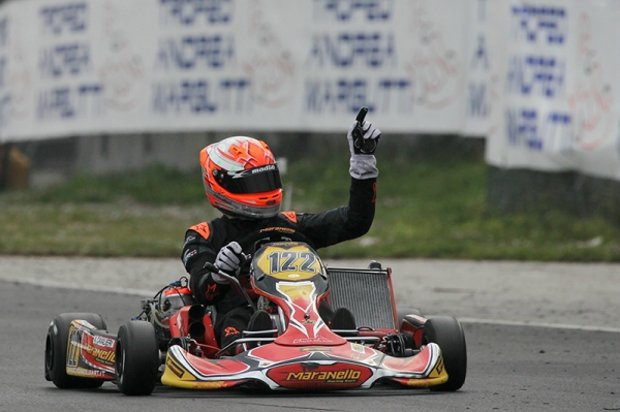 Alberto Cavalieri
Alberto Cavalieri clinched a great third place at the 27th Andrea Margutti Trophy in his debut race with Racing Team Officina del Kart. Massimo Dante and Tommaso Mosca forced to the retirement after being among the main protagonists of the event held at the South Garda Karting circuit.
Alberto Cavalieri obtained a good podium for Maranello Kart in the 27th edition of the Andrea Margutti Trophy, race held at the South Garda Karting track of Lonato, at the end of a very tight and fought Final.
This great result highlighted once again the competitiveness of the Maranello chassis allowing Alberto Cavalieri to take a very satisfactory third place at his debut on Maranello-Modena run by Racing Team Officina del Kart.
The result at the Margutti Trophy could have been even more striking for the Italian firm. The other two Maranello Kart drivers, Tommaso Mosca and Massimo Dante, have been in fact among the absolute protagonists of the event, as witnessed by the result of the Prefinal that saw Cavalieri third again, with Mosca fifth and Dante sixth.
The Final has been quite spectacular with Maranello's trio Mosca, Cavalieri and Dante busy battling out the top positions and ready to challenge the leading duo made by Schmitz and Pollini. A technical problem unfortunately forced Dante to retire from the race at one third through, while Mosca installed himself right behind the two front runners managing to keep their pace, with Cavalieri also very close. At the last corner, right before the chequered flag, when Pollini on top managed to have the best of Schmitz, Mosca had a contact with Lorandi while trying to defend his third position, and ended his race there, as Cavalieri got the most of it, crossing the line in P3.
Thanks to this good result, Alberto Cavalieri and Racing Team Officina del Kart confirmed their participation to the forthcoming European KZ2 Championship, together with Tommaso Mosca.
Massimo Dante will have his chance for a counter-charge in the Spring Trophy to be held on March 20th at South Garda Karting, racing alongside his two new team mates Luca Bombardelli and Andrea Spagni.
All results of the Andrea Margutti Trophy are available at www.trofeomargutti.com.