Anthony Gangi Jr. Battles Tough Competition and Elements at WSK Super Master Series
Rain, snow and ice plague the series opener in Castelletto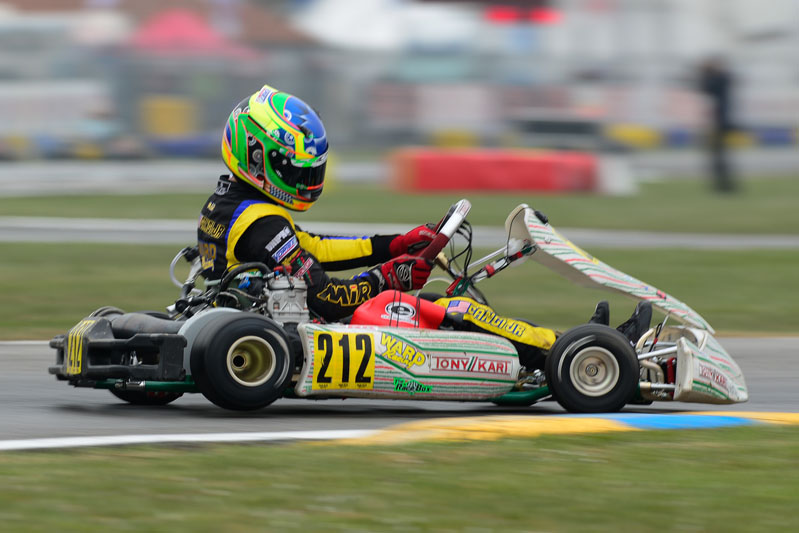 Anthony Gangi Jr. battled the weather and engine gremlins during the WSK Super Master Series season opener
Taking on top karting talent from around the world, Anthony Gangi Jr. started his first WSK Super Master Series event this past weekend at the 7 Laghi International Circuit in Castelletto, Italy. With weather playing a major factor in the first of four rounds in the WSK series, Gangi Jr. and his Ward Racing team were plagued not only by the weather but also with engine gremlins. Despite all this, the outstanding young man and burgeoning talent left Castelletto more determined than ever.
Starting off his effort Thursday during dry conditions at the 1,256m circuit, rain moved into Northern Italy on Friday. With several sessions of free practice on the schedule, Gangi Jr. ended the day with a 25th place result in qualifying.
Saturday saw large snowflakes fall onto the track, and the rain turn to ice, unprecedented at most karting events. Officials were forced to cancel the day due to the conditions. With the heat races now cancelled, Gangi Jr. and his fellow competitors would go directly to the prefinal and final on Sunday.
Gangi Jr. Heads Next to Sarno, Italy for WSK Round Two
Now with little time to make progress while in Castelletto, Gangi Jr. advanced to 23rd in his division – OK Senior – prefinal. The Ward Racing/Tony Kart pilot then made the best of circumstances in the final, improving again to finish 21st overall.
"This week was an improvement from my previous ones in Europe," explains Anthony Gangi Jr. "Unfortunately, I only closed out 21st because of an engine issue, but I will not allow this to stop my learning process. Week by week, race by race, I will continue to strive and get better. Thank you again to my mechanic Matsuura Masanori and the whole team at Ward Racing."
The second round of the WSK Super Master Series is next for Gangi Jr. as he will head to Sarno, Italy March 16-20, 2016.
The GT7 Motorsports Team is a proud Tony Kart and Vortex engine dealer for the US North East. For more information on Anthony Gangi Jr. please check out his website at www.GangiJr.com. For more information GT7 Motorsports please visit their website www.GT7Motorsports.com or contact Anthony Gangi Sr. at 516-635-8594 or email at agangi@mac.com