Nielsen Wins WSK Super Master First Round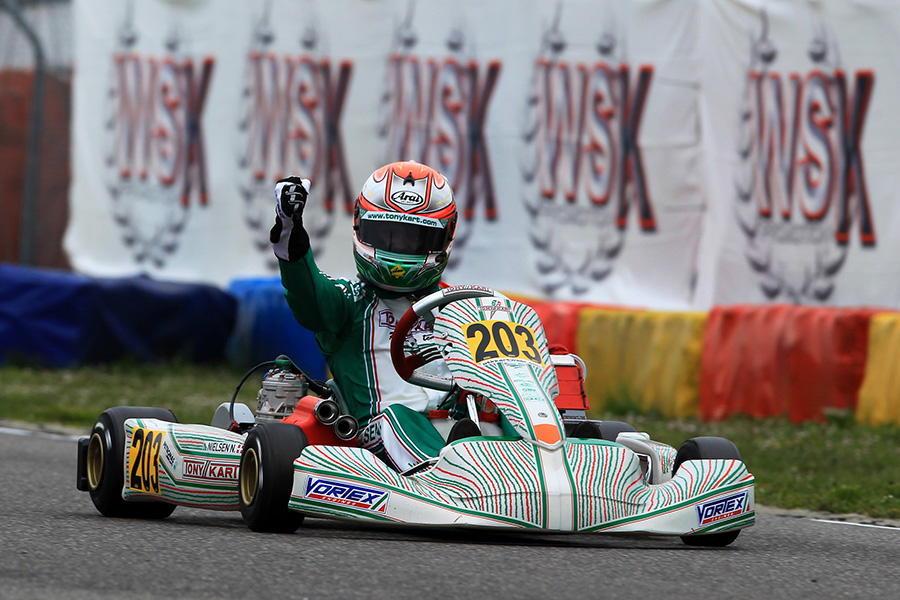 In the first round of the WSK Super Master held at the 7 Laghi circuit, the bad weather conditions change the schedule, forcing the cancellation of qualifying heats
 Nielsen wins again on OK class. After winning the Winter Cup, this is his first win in the WSK Super Master at the 7 Laghi
 Simmenauer misses the podium in OK caetgory and Novalak performs an important comeback
 In KZ Ardigò wins the pre-final and fights for the podium in the final
 Corberi KZ2 sees a likely success fading
 The young OKJ drivers, Milesi, Marseglia and Moggia don't miss the entry into the final
 WSK Super Master's rankings and calendar
OK
Flood and snow failed to stop Nicklas Nielsen on Saturday, winner of the first round of the WSK Super Master in OK class.
Fifteen days after the definite victory in the Winter Cup, our driver repeated, winning a thrilling final.
After qualifying where we got the third, eighth and ninth timing respectively, with Nielsen, Novalak and Simmenauer, the extreme weather conditions have forced a stop in the course of the WSK event. The Saturday program was cancelled and we moved immediately to the final stage, with the dispute of the prefinal and final on Sunday. The weather during the Sunday races granted a reprieve, allowing the competitions on the dry track.
In the prefinal Nielsen lost some positions, finishing seventh, behind the excellent Simmenauer, fifth and already at ease in the new category.
At the start of the final Nielsen gained three positions at once, keeping the fourth until the ninth lap. In the second half of the race our driver has shown off his best qualities and took advantage of his outstanding Tony Kart-Vortex chassis, jumping in the lead at on the fifteenth lap and remaining there until the chequered flag.
Simmenauer was well determined and finished fourth, not far from the podium. Novalak fought and recovered thirteen positions, after an unfortunate pre-final.
KZ
In the qualifying heats Marco Ardigò was the best of his group and second place, while Marcus Armstrong signed the fifth time, confirming his fast driving skills already highlighted on the occasion of the first appearances in KZ class. Again the weather has forced the cancellation of Saturday's heats and we moved on to the prefinal, in which Ardigò won and Armstrong finished seventh.
In the final the fight for the victory and the podium were hard, with Ardigò leader until the very end and finished fifth, just a few tenths behind the winner Abbasse.
KZ
Luca Corberi was as fast as unfortunate, because our young and promising driver, after the fastest time in qualifying, ended early the prefinal, just as an outstanding success was in his hands. Corberi (KZ2 driver) was the only one to keep up with the KZ rivals, with whom he ran jointly up to the time of his withdrawal.
Positive was the performance of Alessio Piccini eighth under the chequered flag.
OK JUNIOR
Select more than sixty drivers without disputing any heats, passing directly from qualifying to the prefinal, was an important test of nerves for our drivers. All three, Milesi, Marseglia and Moggia, have passed the exam, qualifying for the finals without problems.
Milesi in the pre-final "A", which he finished in fifth place, signed the best lap, with an excellent 48"555. Milesi, Marseglia and Moggia have then closed the final, respectively, in eleventh, eighteenth and twentieth place.
The rankings of the first WSK race Super Master: http://www.wskarting.it/results_2016.asp?r=1&c=3&s=WSK_superMaster