Kart School Perfect Chance for New and Returning Karters to Prepare for 23rd Season of Tuesday Night Racing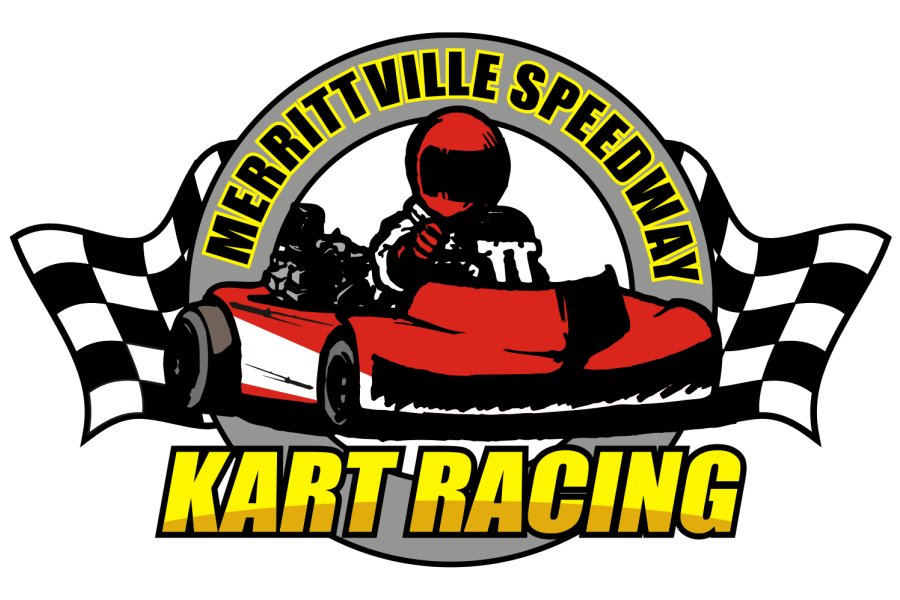 Merrittville Speedway, in conjunction with RCM Racing Equipment will present it's 2016 Kart Driving School Sunday April 17th – a must for all Novice Karters and a great way to start the season for returning karters.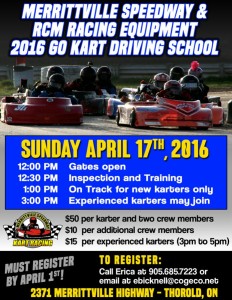 "Going into the season everyone needs seat time … especially our brand new karters," said RCM's Chris Long, "once our novices take to the track for their first laps … anyone with any level of experience is welcome to join in."
The afternoon session will teach inexperienced karters the basics of karting – focusing on understanding rules while providing the basics of kart set up, maintenance procedures and driving techniques.
Karters will want to be in line when the Pit Gates open at 12 Noon before a 12:30 Kart Inspection and Training kicks the afternoon off.
At 1:00 PM, the Kart Race Track will be open for new karters only with the initial on track session running until 3:00. Beginning at 3, karters of any level can join in on in on rotating on track sessions.
Entry Fees for Karters including 2 Crew Members if $50.00 with additional Crew Members $10.00. Experienced Karters are $15.00 for the late session.
Karters must register for either session by Friday April 1st by contacting Erica Bicknell-Jones at the Speedway's Winter Office at 905-685-7223 or via e mail at ebicknell@cogeco.net.
"Thanks again to RCM Racing Equipment's Chris Long and Paul Klager for helping another generation of karters the opportunity to learn proper driving techniques," said Kart Race Director Jeff Riley, "the afternoon provides the same fun, competitive and most importantly safe driving environment that they will experience during the season."
For further information on Tuesday Night Kart Racing including the RCM Driving School – contact the Speedway Winter Office at 905-685-7223 or by contacting (General Manager) Erica Bicknell-Jones at ebicknell@cogeco.net or Race Director Jeff Riley merrittvillekartclub@hotmail.com
MERRITTVILLE SPEEDWAY SPONSORS
The 2016 Lucas Oil Kart Weekly Racing Series for Merrittville Speedway's 7 Divisions is brought to racers by partners including Performance Manufacturing, Vansickle PetValu, Tim Phillips Garage, Ed MacPherson Construction, RCM Racing Equipment, Cassell Manufacturing, Superior PetroFuels, Briggs & Stratton, St. Catharines Discount Auto Parts, Wilder Racing Engines and Burris Tire.
Lucas Oil Products is one of the fastest growing additive lines in the consumer automotive industry featuring a premium line of oils, greases and problem-solving additives. Through innovative product research and development, along with aggressive marketing programs, Lucas Oil Products has established itself as the top selling additive in the industry.
Look for Lucas Oil Products at their favorite automotive retailer or repair centre including Kala's Home Hardware, St. Catharines Discount Auto Parts, Tim Phillips Garage and through RCM Racing Equipment.