Four Podiums for Energy at WSK Castelletto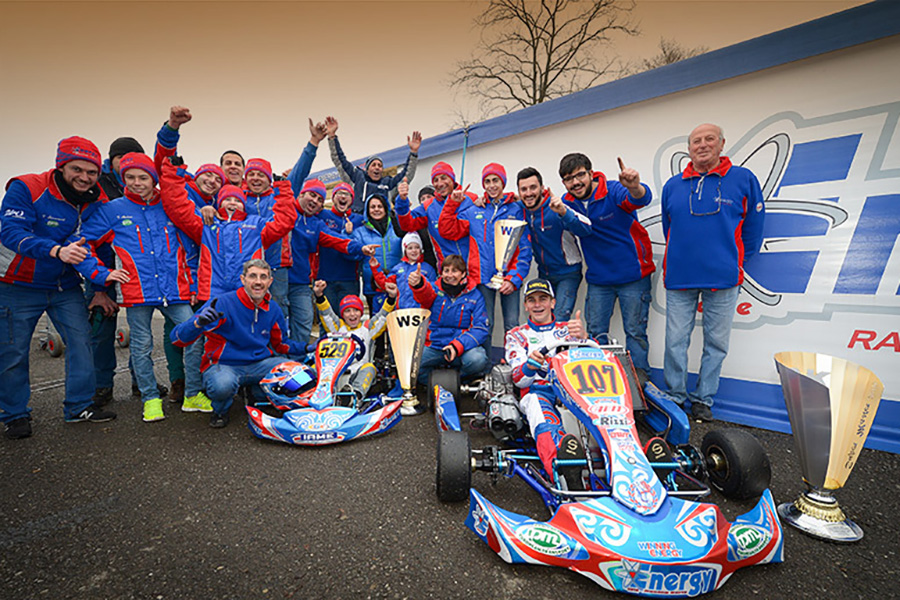 (Photo: KSP Photo Agency)
The drivers carrying the Energy colours have swept the podium at the first round of the WSK Super Master Series. In the four categories where the Italian brand had entered, they were in the top three each time. Congratulations to Christian Lundgaard (3rd in OK), David Vidales (3rd in OK-Junior), "Alex" (2nd in KZ2) and Francesco Pizzi (1st in 60 Mini with the Giugliano Kart team). What a start for the team, which is always looking to make the most of every driver!
The competitors faced true winter weather at Castelletto … Snow showers disrupted Saturday significantly, so the organisers decided to cancel the qualifying heats! "The weekend was difficult to manage for everyone: drivers, mechanics and engine manufacturers," admits Mick Panigada, team manager of Energy Corse. "Skipping from timed practice to the Prefinal was unusual, but the team reacted perfectly in this particular context. We were able to anticipate the track conditions and quickly adapt the set-ups. Congratulations to all of our representatives for their courage, and special mentions to the four drivers who managed to get their Energy karts on the podium."
Lundgaard confirms in OK
Already on the podium in the WSK Champions Cup, Christian Lundgaard repeated his performance at Castelletto. Starting 11th, the Dane spared no effort to move up to frontrunners at a very steady pace. With this 3rd place, Lundgaard has confirmed that he will be one of the strong men of the category.
OK-Junior: Top three for Vidales
Still uncertain, competitive and complex to manage for young drivers, this category has again highlighted the talent of David Vidales. After a difficult start which saw him demoted to 7th in Prefinal A, the Spaniard has continued to move forward. He earned his place in 4th position on the starting grid for the final, where he again moved up a place to climb the third step of the podium. The abolition of the qualifying heats did not help the progress of Mattia Michelotto, Thomas Mialane, Theo Nouet and Dominik Goldschmied.
Energy Corse still strong in KZ2
The winner of the Senior Rotax World Final in 2015 proved he also had a special talent with a gearbox kart. Not content with 2nd place in its category, "Alex" was frequently fighting with more experienced drivers, who were racing in KZ. It was an intense and rewarding race for the young Italian, very comfortable with his Energy-TM.
Francesco Pizzi wins 60 Mini
2nd in the WSK Champions Cup, winner of the Winter Cup in Mini Rok and now again at the opening of the WSK Super Master Series! The Italian Francesco Pizzi and Energy-Parilla and the whole Giugliano Kart team never cease to impress. His rise in Prefinal A was remarkable, as was his start to the Final. This victory from Pizzi brooked no dissent. In 4th, his Czech teammate Roman Stanek was close to accompanying him on the podium. In total, the Final contained no less than seven Energy chassis.