Multiple Champion Josh Smith Returns to Karting to Compete in 2016 British FKS Championship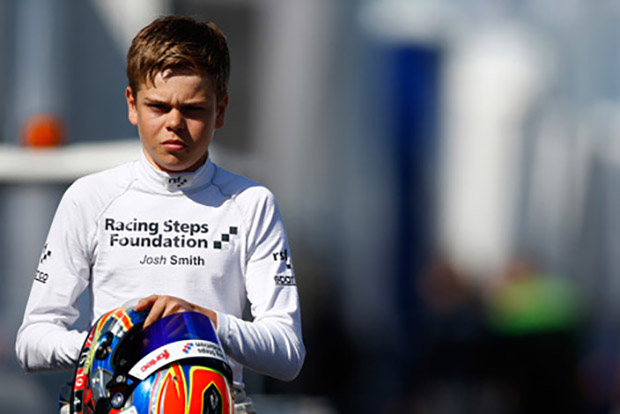 Formula Kart Stars are delighted to announce that 2015 Racing Steps Foundation F4 driver Josh Smith will be returning to karts this year to compete in the 2016 British Formula Kart Stars Championship. Josh will compete in the Super FKS class along with 23 other drivers, with his sights firmly set on following in reigning champion Ross Martin's footsteps and securing a drive with Fortec Motorsport for the 2017 MSA Formula.
Earlier today FKS Co-commentator Chris McCarthy caught up with Josh and here is what he had to say:
Tell me about last year and maybe why things didn't work out for you?
"I just felt that the season came up very short notice which didn't leave me a lot of time to test, only two months in fact, which compared to others wasn't a lot. So it was hard work from the start and I had limited testing and tyres in comparison to others. I tried the best I could with the given situation. It went okay I got some decent results but not enough of them really which was frustrating."
Do you think the RSF backing brought added pressure?
"Yeah definitely, that's what's frustrating as I had really high hopes for myself but other drivers had just done a lot more testing than I had, up to a year in fact. So it was really tough competing against some of the drivers who had a lot more experience."
With all that in mind would it be fair to say 2015 was a good year?
"I think I could have done things better myself for sure, but it would have been nice to have more time to prepare for the season."
What would you say you took out of 2015?
"Well I learnt how to drive and race a car and learnt some good race craft and I'm now very comfortable racing an F4 car in all conditions."
Do you come into 2016 a different driver to what you were in 2014?
"I think I now bring more experience to the table compared to 2014 both on and off the track. Car racing has made me a bit more versatile as driving new things gives you new skills. I think I've definitely matured as well as being in car racing brings you into a whole new World where people are a lot more grown up. I'd say racing wise I'm now much more calculated as in cars every overtake has to be clean, there's no touching so that's a new skill I'm bringing to the table."
Unlike most of your competitors you've had a test of what the prize will be for winning FKS. Do you think that will make you more determined? 
"Yeah probably because I want to give myself a second chance, if you win the championship you have plenty of notice and plenty of time to prepare. Also I want to prove all the doubters wrong, I don't think I did myself justice last year but now I would have had a years experience I think if given another chance I'll be able to build on that. I won't have any pressure from outside sponsors for the first time in a few years either this year so I think that'll make me more relaxed and when I'm relaxed is when I'm at my best."
Who's decision was it to come back down to karts rather than go sideways to another car championship?
"It wasn't like I wanted to come back to karting I would have loved to have stayed in cars but budget doesn't allow it so this is a great opportunity for me to get back into cars. I don't think it's a step down, I think it's a step back to go 10 steps forward."
Did you shop around all the Karting series or did you always know you'd do FKS?
"As soon as I heard the prize I knew that's where I had to be but I also want to do some KZ stuff as the speed is mental and they keep you really sharp."
Who do you see as your main rivals for this year?
"I can't really say that until I see the full grid especially with the unconfirmed Fortec drivers. But I'm not going to be underestimating anyone I just want to hit the ground running. Your going to have returning drivers who will be good but it's hard to judge anyone before I've seen them all on circuit."
Have you been doing much testing? 
"I'm planning to do quite a bit between now and Round 1 at Buckmore Park but I've been racing KZ over the winter which has helped. But I plan to start testing and racing X30 as soon as possible."
Who will you be racing with this year?
"I'm going to be running as a privateer with my Dad this year. We've had quite a bit of success doing it like that in the past so I don't see any reason why we can't be successful this year."
To keep up-to-date with Ross Martin's performance in MSA Formula with Fortec Motorsport please visit the FKS Facebook page here
For further information and to enquire about the championship call us on +44(0)1280 841923 or email  office@formulakartstars.com