Jim Murley: 1941 – 2016
Karting loses a true visionary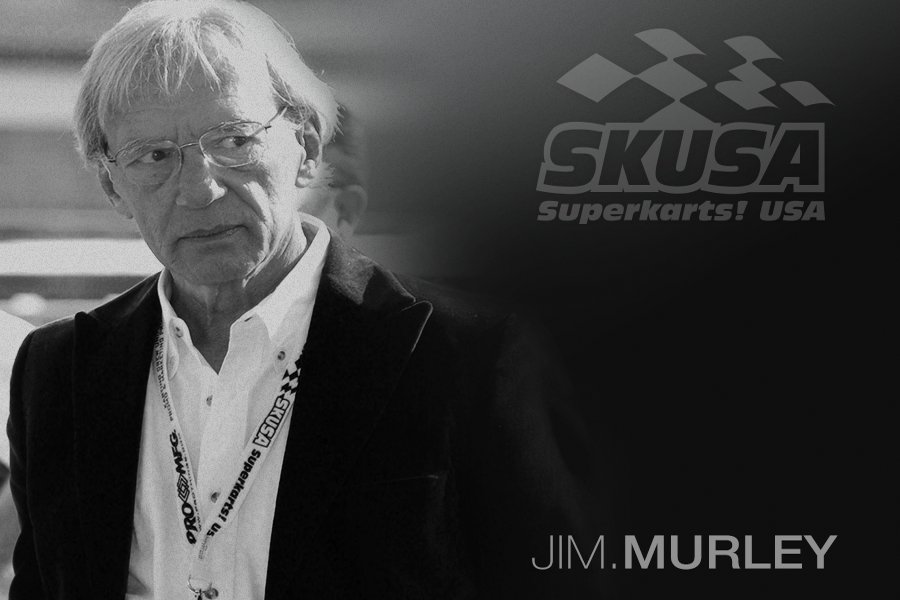 I was at the airport during a stopover when I received the heart-breaking text, letting me know that my good friend Jim Murley had passed away after a valiant battle with cancer.  I knew that Jim was not well and that his time was limited, and thankfully, he and I spent an afternoon at his home in Dublin, Ohio last summer, chatting about the early days of Superkarts! USA and the passion we shared for shifterkart racing and the people who were part of those exciting years.  You'd need to have been in this great sport for over 10 years to have enjoyed the opportunity of meeting Jim or to have participated in an event that he promoted, but if you haven't, let me let you know that you're still enjoying the benefits of Jim's contribution to the sport.  What we enjoy at the national level today has much to do with how Jim pushed the envelope of the sport in the late 1990s and early 2000s.
Jim was a visionary who truly believed that shifterkart racing could be taken to the next level, into the world of professional mainstream motorsports.  He developed the Superkarts! USA program with this ultimate goal always in his mind, and he rolled out ideas and concepts that were drawn from his experience in motocross and other forms of motorsports. Jim's personal career included drag racing, sprint cars and motocross, and his arrival in the world of karting in the early 1990s would usher in an important time in our sport.  Karting's development over the last 60 years has been blessed by countless innovators; those who pushed the technical limits of our equipment, and by promoters and builders who are responsible for growing the sport and bringing different groups of racers together.  Jim did both.  He pushed shifterkart racing to new heights; launching a national travel series that attracted major teams and manufacturers, taking karting into the Las Vegas city limits on the grounds of the Rio Hotel, and ultimately, he did what no one had before and put the SKUSA SuperNationals on live television with HDNet. Jim always tried to think outside the box, and the sport is all the better for it.
When Jim took over the reigns of Superkarts! USA and its flagship series – the Great Lakes Pro Tour – in the late 90s, he had a laser-beam vision on expanding the program with multiple regions and eventually, a national series.  The SKUSA Florida Winter Tour kicked off in 1999, and regions were eventually developed in Southern California (Mission Region), Northern California (Sierra), Oklahoma and Texas (Red River), Louisiana (Dixie), Colorado (Rocky Mountain) and the Pacific Northwest (Cascade).  Jim knew that these regions would be crucial in providing the driver pool to support a national series.  As a result, shifterkart racing exploded in popularity during Jim's reign, as these regions brought a pure gearbox program to many areas of the country.  He gave shifterkart racers a home, a voice and a leader. The growth was explosive and Jim did the best he could to manage lightning-fast engine development and rising costs. More than anyone before him or any who followed, Jim was constantly faced with limiting the evolution of engine building and expensive development.
All in all, Jim's crowning achievement was taking the sport to the next level, nationally.  The success of the second running of the SKUSA SuperNationals in 1998 provided the momentum to launch the inaugural ProMoto Tour in 1999, which was a five-race series that would culminate in the 'World Finals', where the champions would be crowned. Races were held in Arizona, Oklahoma, Indiana and Oregon, with the drivers returning to the Oklahoma Motorsports Complex in Norman for the finale.  Jim wanted to promote his top drivers, and his motocross background prompted the introduction of the national number plates, which are a big part of MX racing. Trackmagic factory driver Jason LaPoint was the first ever SKUSA #1 plate holder in S1, topping a start-studded field to win the championship and the #1 for 2000. Murley brought the sport together during those early years, pitting the SSC Racing program against the mighty black and yellow army of Trackmagic, for example.  MRP Motorsports and 3S Go-Karts carried the Birel flag, while Bobby Oergel fielded a squad of Haase pilots. Champion Racing ran Interkarts those days and won races, while the American-made CTS chassis was incredibly tough to beat in the 80cc class. JM Racing was the leader in the Tony Kart ranks, and KLS Racing and Shift Kart put their drivers on the top of the podium on the MBA chassis.  They were heady days and the paddock atmosphere ate up the passion and enthusiasm of SKUSA's leader.
Jim felt great pride for the drivers who came through the Superkarts! USA program during his reign, and the list is long. Current professional drivers like AJ Allmendinger, Scott Speed, Charlie Kimball, Michael McDowell and Jonathan Bomarito were all stars of SKUSA ProMoto Tour, enjoying the pro-level components that Jim introduced into his program, like the pre-race S1 autograph sessions, the Dash for Cash events and the previously-mentioned TV coverage.  Jim always had his focus on presenting the ProMoto Tour as a spectator-friendly 'show' and the drivers needed to be the 'stars'.
Jim's dedication to growing SKUSA and the sport of karting was seen in his effort to take the ProMoto Tour to the people. In 2000, he ran a temporary circuit race at Cal Expo in Sacramento and the race drew a good number of spectators. He also worked with the city of Barrie, Ontario in Canada to resurrect the 'Barrie Grand Prix', which was an event that many drivers still tag as a favorite thanks to its waterfront location, beer gardens and strong local support.  Jim's dedication to moving the SuperNationals from the Las Vegas desert in Sloan into the city was a prime goal, and when the opportunity arose to promote the race at the Rio, he jumped at it.  This was a huge financial undertaking that, sadly, would eventually lead to his departure from SKUSA and the sport, but no one can ever say that Jim Murley didn't have an incredible vision of what our sport could be.  The fact that SKUSA would eventually return to the Rio under new ownership speaks volumes in regards to the roads that were blazed by the organization's charismatic president.
I have so many incredible memories of Jim and the bubbling excitement that we shared as we threw around ideas, dreamed big, and developed plans to push the sport to new levels.  I first met Jim in 1997, and we connected immediately. He was almost 30 years my senior, but he had a youthful enthusiasm that brought us together with our ideas on building the sport.  He was like an older brother who I loved and respected above all.  I was a young journalist unencumbered by the inherent politics and in-fighting of motorsports, and Jim was electric, hopped up on coffee and powered by what he saw as a diamond in the rough – shifterkarts. He was absolutely in love with gearbox racing and pushed me to expect more from myself and to dedicate myself to my craft.
I think back fondly to a three-day power meeting in Ohio with Jim, myself and Joe Janowski during the winter of 1999.  With the SuperNationals only months in the review mirror, we came together to put design the inaugural ProMoto Tour. I had just launched Shifter Kart Illustrated, on the urging of Janowski, and we put the series together in less than three days.  We devised a schedule, Jim put the contracts together with the tracks, we discussed the class structure and nailed it down and I got on the phone selling the title and class sponsorships. By the end of the marathon brainstorming session, we had everything in place.  Shifter kart racing was put on a new path during that particular long weekend.  I often think back to that trip when I'm at a modern day SKUSA Pro Tour event, remembering the unbridled enthusiasm that Jim, Joe and I shared.  It all started there in Ohio.
Fast forward to the following April, and Jim's story in karting was in full form. I flew to Columbus to co-pilot Jim's trek to Phoenix for the first round of the inaugural ProMoto Tour in 1999.  We loaded up the small red SKUSA trailer, hitched it to the back of Jim's black dually and we dropped the hammer to start the 2000-mile journey to Formula K Raceway, which is now know as PKRA.  We left SKUSA headquarters in Ohio with only 28 pre-entries, but lots of stated 'interest'.  We needed to get a realistic driver count so we could order tires for the race, so I spent much of the trip on a mobile phone, calling the primary shop owners to find out who was coming. Remember, this was 1999, so I have to laugh out loud when I confirm that it was indeed a 'phone in a bag'.  We were both a little nervous, with less than 30 confirmed drivers, but my shotgun seat discussions with industry players like Joe Ramos, Scott Jefferies, George Barros, Ray Cunningham, Garry Lobaugh, Bobby Oergel and Jean Marchioni gave Jim and I some hope for a strong launch.  In the end, the race drew 90 drivers with over 30 pilots in the headline S1 class.  Darren Elliott won the opening round over Jason LaPoint and Ryan Howe, signaling the start of a new era in national level karting in the United States.
As an aside, Jim and I packed up the SKUSA trailer on the Monday after the ProMoto Tour opener in Phoenix and drove 56 hours straight to Miami, Florida for the one and only Flamingo Grand Prix, which is a hilarious story all by itself.  We were running on adrenalin and pure passion for the sport.  Those memories will always be part of why I do what I do.
There wasn't a job that Jim wouldn't do; nothing that was beneath him. He was the 60-year-old ripped guy with his shirt off putting up the SKUSA canopy on the Wednesday before a race, and he was the guy tearing it all apart on Monday morning as everyone left the track. Jim always said that he struggled every Monday, watching his racing family pack up and leave.  It was like watching his 'kids' leave home.  He'd start the countdown to the next race that very day, but I know he battled a little depression when each race was wrapped.
Jim Murley was so important to me personally, and to my career and my business, because he believed in me and what I was trying to do.  He believed in the sport just as much, and in his memory, I truly hope that we will continue to focus on growth and providing our racers with a quality experience that will help take karting to new heights.  It's been a 'two steps up and one step back' kind of timeline since Jim's years of SKUSA came to an end, and with each new conflict, it's almost like we simply crash back to where Jim have carried us by 2003.  The new edition of Superkarts! USA is once again pushing the sport to new levels, and I'm sure Jim will look down on the Pro Tour with pride, knowing that he played a crucial role in preparing karting for where it will go during the next 5-10 years.
Rest in peace, my friend. It was a wild ride, for certain, and you got your wish, power-sliding across the finish line, going Mach 12 with your hair on fire.  You made your mark on our sport and will never be forgotten.
---