Michael d'Orlando Finishes Top 10 in Ocala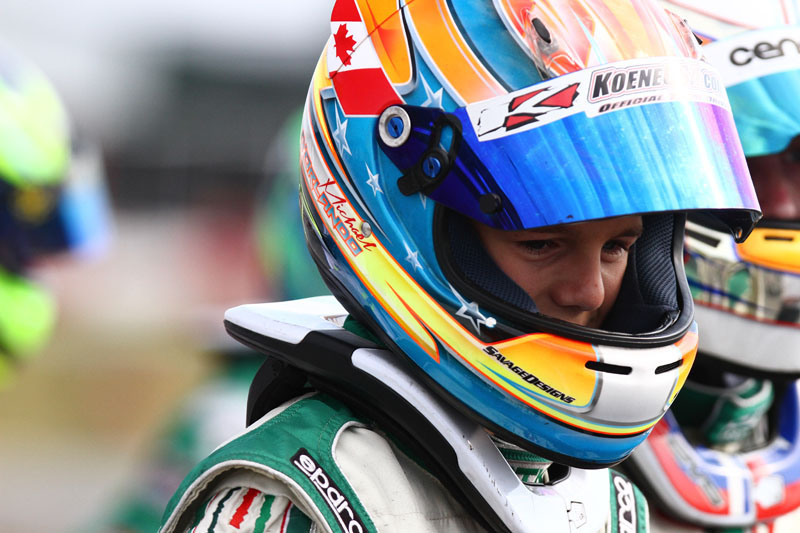 If you've been following the progress of Michael d'Orlando in recent history, then you know his story. He's fast. He's at the front and he's hard to beat. And he's probably one of the best drivers on the grid when it comes to making a comeback.
It was another solid weekend for Michael d'Orlando, at the technical track of Ocala Gran Prix, in round two of the Florida Winter Tour Rotax Max Challenge.  Despite some adversity he finished up the weekend in ninth giving him another top 10 finish and some much needed points to stay in the championship hunt.
Friday's racing action kicked off strong as Michael consistently kept his No. 251 KoeneUSA prepared TonyKart in the top five for the morning practice sessions.   When the events of the weekend started up in the afternoon, the Junior MAX Qualifier would set one of the most talked about grids of the weekend.  Michael's impressive 2nd position result sealed out the front row beside younger brother, Nicholas, by a mere 65/1000ths, and therefore the brothers would be leading the pack of over 30 drivers to the green flag for all three of the upcoming Heat races.
Head to head heat racing action closed out Friday's events with Michael taking an impressive win over OGP's hometown driver, Mathias Ramirez.  Saturday's heat racing would continue to be impressive with Michael again taking another win and followed it up with a 3rd place finish behind Ramirez and race winner, Nicholas.  These solid results would set Michael d'Orlando in the pole position for Saturday afternoon's PreFinal event.
The PreFinal grid would see a d'Orlando tandum on the inside row – Michael inside row 1 and Nicholas inside row 2 – and an anticipated battle to attempt to seal out the charging and highly experienced Ramirez.   In the early opening laps Michael would slip down a few spots with Ramirez taking the inside line to the front early, bringing Nicholas with him.  The troubles would start here for Michael when contact with another driver sent that driver into the barriers, followed up with an unexpected retaliation from that driver and further contact forced Michael down the order to midpack.   Once again, rallying his way up the grid, Michael would cross the stripe in 7th while also earning fastest lap honors in the process.  The troubles continued post race however, as he would be subject to a driving infraction, therefore setting him up in a disappointing 12th place starting spot for the main event on Sunday.
Back in the seat ready to redeem himself, Sunday set up perfect weather conditions for the biggest race of the weekend.   But anyone remotely familiar with racing understands that outside row 6 is a tough spot to start a main event.   When the green flag flew, Ramirez on pole and Nicholas off-pole, in turn 3 of the opening lap, unavoidable conditions ahead of him would put the eldest d'Orlando in a tail spin and resulted in his falling back to 29th.  Not to be outdone completely however, in a lengthy 30 lap race, once again Michael d'Orlando would put on another show of overcoming adversity and move his way up to 16th by lap 12.   With only three laps remaining, he moved in to the 9th position, although with a gap too large to overcome for more, and he would yet again finish another race in the top 10. As younger brother Nicholas would come home second to race winner Mathias Ramirez, overall it was a great weekend for d'Orlando Enterprises.
"It was one of those weekends we had to battle back at the end", said Michael. "We were top three all weekend long and we were just looking for a podium finish. The incident in the prefinal took us out of our momentum a little and I did not get a good start in the final.  But I had a good run to climb back up to the top 10 and I tried to get some good points to keep in the hunt for a championship at the end. I am so proud of my brother coming in second and getting his first podium finish in Juniors and look forward to getting back up front with him in Palm Beach and pushing for that championship title".
d'Orlando Enterprises returns to racing action March 10-13 for the final & championship round of the FWT ROK Cup at Palm Beach Karting  in Jupiter, FL USA
D'Orlando Enterprises would like to extend thanks to their team at KoeneUSA (www.teamkoeneusa.com), including Mike Maurini, Martijn Koene and tuner Matt Long, for their continued hard work and support.  And special Thanks to the support of their sponsors at adidas Motorsport (www.adidasmotorsport.com), Kool Nerd Clothing (www.koolnerdclothing.com), Focused Project Management (www.focusedpm.net) and Iona Preparatory School (www.ionaprep.org).
Check out the d'Orlando Enterprises online store at www.dorlandoracingstore.com for Adidas karting products and Kool Nerd apparel.
For more information on Michael d'Orlando, please visit www.dorlandoracing.com. Be sure to follow him on Facebook (Michael d'Orlando Racing), Twitter (@dorlandoracing) and Instagram (@dorlandoracing) to stay up to date on news, information, photos and results.