Braden Eves Wins at WKA Winter Series in Jacksonville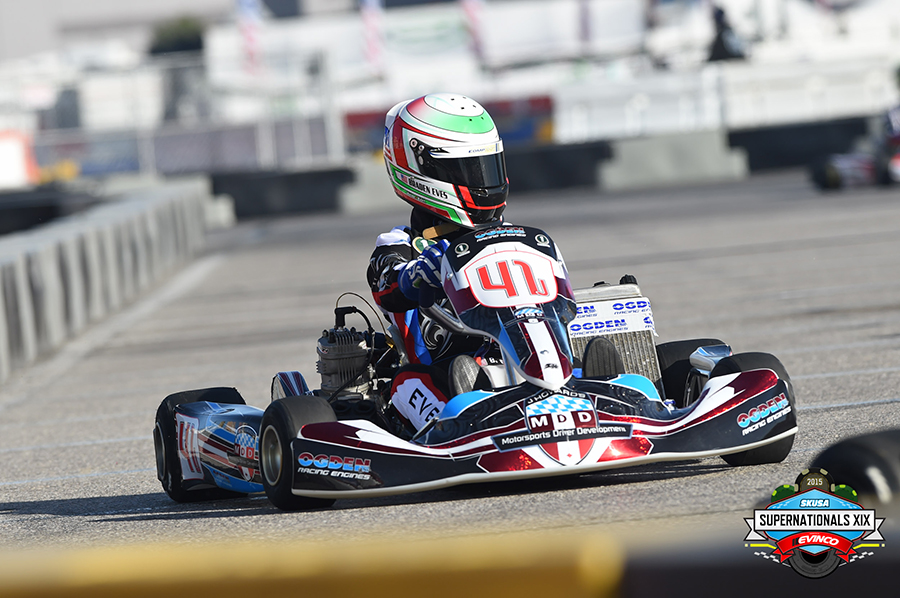 Braden Eves during Superkarts USA SuperNationals in Las Vegas (Photo: On Track Promotions)
Earlier this month, Braden Eves, competing in his first full season as a senior driver, secured the event champion trophy at the World Karting Association Winter Cup in Jacksonville, Florida. The Gahanna, Ohio resident failed to set a fast time after mechanical troubles in qualifying but raced the heats well enough to start the feature in 6th place.  Falling back at the start, Eves worked his way back to 6th setting the fast time of the race.  Shortly thereafter, rain began to fall and his speed advantage increased over the field.  Eves cruised to the win.
The following day, Eves qualified a solid third despite not being able to find a drafting partner. Eves won the first heat and came in second in the second heat which meant he would start on pole for the final.  Eves was able to hold his lead until lap three where he was shuffled back to the fourth position.  He worked his way back to the front and maintained a several kart lead until the pack drafted back to him.  Entering the bowl section, Eves was passed by eventual winner, Mike Giessen.  Attempting to pass for the lead at the end of the long straight, Eves was too far back coming on to the straight to get alongside Giessen to make the pass and settled for  a third place finish.
Overall, the first and third place trophies were enough to seal the overall event championship.  Eves will be looking to repeat at the third and final World Karting Association Winter Cup at Go Pro Motorplex in Mooresville, North Carolina in early March.
Jay Howard's Motorsports Driver Development offers a unique team environment where any chassis and engine combination may be used by the driver.  Jay uses video, data and personal coaching to maximize results.  For more information, please visit http://www.jayhoward.com/driverdevelopment.php
Allison Racing Engines, owned by Brandon Jenkins, provides winning two cycle racing engines.  For more information, see https://www.facebook.com/AllisonRE15/
Zero Error Racing provides dual core radiators, billet aluminum battery boxes, axles, sprockets and other parts for the kart racing market.  See http://www.zero-error.com/ to order from them today.
For more information about Braden Eves, please follow him via Facebook at https://www.facebook.com/pages/Braden-Eves-Racing/173859046127561 and through his website at http://www.bradeneves.com.  For information on how to partner with Braden Eves, please contact Greyson Eves at 614-725-7195 or via e-mail at bradenevesracing@yahoo.com.