CRG On Track in Lonato at the 21st Winter Cup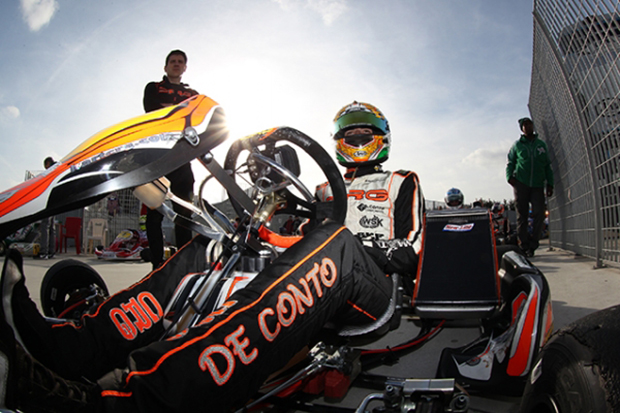 The protagonists of CRG works team will be in Lonato for the 21st edition of the Winter Cup in the weekend of February 21st. Top class lineups in KZ2, OK and OK Junior. Numerous participation also in Mini Rok with private teams.
The 21st edition of the Winter Cup is kicking off at the South Garda Karting circuit of Lonato. The classic race of the beginning of the season will be once again one of the first international challenges among the best teams, and this year will have about 280 drivers on track in the four categories KZ2, OK, OK Junior and Mini Rok.
CRG Racing Team will have a strong presence at this appointment with the objective of getting the most out of the competitiveness of its products, as recently happened in KZ2 at the WSK Champions Cup held in Adria, where Paolo De Conto on CRG-Maxter dominated the category.
Paolo de Conto is in fact among the most awaited protagonists. In Lonato, he will be assisted again by Renda Motorsport on CRG-Maxter; the team will also field Giacomo Pollini, Enrico Prosperi and Stefano De Vecchi. In category KZ2, that counts 68 entered drivers, CRG colors will be defended also by the Finn Simo Puhakka, by 2015 European Champion Flavio Camponeschi who is at the debut in KZ2 with CRG, by Fabrizio Rosati, by the Spanish driver Gerard Serbian Ariza, the Irish Henry Odhran and Macau's Chang Wing Chung, alongside several other private drivers, among which 2014 European Champion Andrea Dalè.
CRG will line up three top class drivers in the new international category OK in Lonato: Felice Tiene (third at the Winter Cup last year), Pedro Hiltbrand at his season debut, and the Finnish driver Paavo Tonteri, at his first year in the higher category after the Winter Cup podium of KF Junior obtained last year, will have great chances to put in a great performance.
CRG colors will be represented by the quick Norwegian driver Dennis Hauger, who is at the first year in OK Junior, after being among the protagonists of 60 Mini last year. The Spanish drivers Gonzalo Vergara Fernandez and Miguel Angel Jurado Ariza will also be on track with CRG.
A lot of drivers will be competing on CRG chassis in the very crowded Mini Rok, that will have 108 drivers on track. Among these, Team Gamoto's Riccardo Camplese, Barbera Francesco, Han Cenyu, Elliot Vayron, Marcos Flack, Egor Litvinenko and the Chinese driver Huang Xizheng will be aiming for a good result, as will do team Morsicani's Federico Cecchi, Leonardo Bizzotto and Lukas Malek. The Spanish drivers Lucas Romero Berlanga, Iris Pinheiro Rego, Troy Burkill, Fahd Mesbahi and several other drivers will also compete on CRG.