JoMotorsports Kicks Off 2016 with Mini Swift Victory
Multiple podiums over the course of first two weeks of racing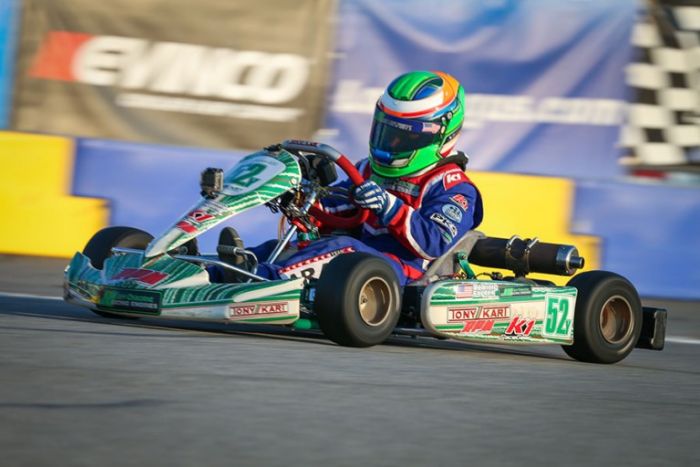 Dominic Gordon wins round one of California PKC (DromoPhotos.com)
Jeff Osborne or better known as JO in the karting community has been in the karting industry for two decades first as a driver, then a national champion tuner, and now a race winning engine builder. After debuting JoMotorsports in 2015, Jeff Osborne has been hard at work in the off-season and the hard work has paid off at the first two races of the 2016 season.
Focusing solely on the mini and cadet categories JoMotorsports had eight drivers representing them in the first round of the SKUSA California Pro Kart Championship at Buttonwillow. In the Micro Swift category Cooper Hicks qualified on pole, but unfortunately was involved in an incident on the parade lap of heat one that totaled his kart and it was never the same for the rest of the day. He ended the final in 12th. In the final Carson Kragh had a great run finishing on the podium in third position. Piers Aspiras kept it in the top ten all day with a solid eighth place finish followed by Nick Curry in 10th.
Three drivers represented JoMotorsports in Mini Swift and Dominic Gordon was the top qualifier in the second position followed by Aiden Kepmf in fourth and Carson Morgan in 10th. After qualifying second that would be the last Gordon would see anything but first place as he went on to win the final by 2.4 seconds. Carson Morgan finished 10th while Aiden Kempf was involved in a first turn incident.
The following weekend the largest kart club in the nation, LAKC, ramped up their 2016 season. In Micro Swift Dane Idelson made the switch to JoMotorsports power and after working hard all day came away finishing the final in third position and setting the fastest lap of the race. In Mini Swift Carson Morgan battled hard and overcame a 10th place qualifying position to finish second in the final, his best result at LAKC and looks to carry this momentum into round two of the California Pro Kart Challenge.
JoMotorsports will be attending all LAKC, SKUSA Pro Kart, and Pro Tour events in 2016 and has motors for lease and for sale. Clients can take advantage of JoMotorsports' state of the art dyno that is constantly being used to develop power improvements. To learn more about JoMotorsports contact Jeff Osborne at jormotorsports559@gmail.com