ROTAX Winter Cup: Grids Shuffled After the Heats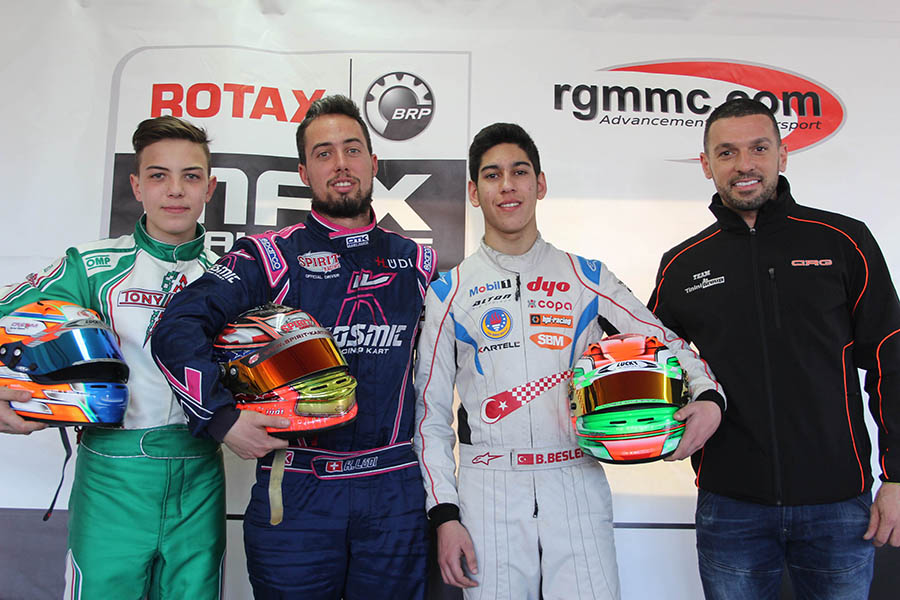 On Saturday race action was on the agenda of the 2016 ROTAX Winter Cup at Valencia. Again the Kartódromo Internacional Lucas Guerrero was beset by heavy storms, putting the drivers' skills to the test. In the 15 qualifying heats, slipstream was the key to success, especially on the long start-finish straight where strong headwinds forced down both, the engines' revs and drivers' heads. In the end the ranking was shuffled again, bringing up new faces on the top of the lists with not less than nine different heat winners.
In the junior class the qualifying quickest, Adam Smalley (Coles Racing), could not tie in with his perfect speed from Friday, which made him drop back to fifth place throughout the heats. In front Axel Charpentier (Strawberry Racing) and Olli Caldwell (KR Sport) were setting the tone. Both of them won two heats and finished second once, which made the merge ending in a tie. Since Axel Charpentier had the better qualifying result he took the pole position for Sunday's prefinal, while Olli Caldwell followed in second place of the heat ranking. Third position went to Joe Phillips (KR Sport) ahead of Spain's Carlos Saval Martin (Binakart).
In the senior category Berkay Besler (Bouvin Power) took command. By two wins the Turk conquered the lead in the intermediate ranking and established him self on the pole position for the prefinal. Second place went to Josh White (Coles Racing) from the UK ahead of Nicolas Schoell (Strawberry Racing), who was the only one besides Besler, being able to take two heat victories. Friday's qualifying winner Leonard Hoogenboom (Team TKP) finished fourth in the merge of the heats ahead of Tom Gamble (Strawberry Racing) from the UK in fifth place.
For the DD2 heats Kevin Ludi (Spirit Racing) was in brilliant shape. The Swiss finished the qualifying races by a clean record and took the top of the classification. Yet he had no walkover since Edward Brand (CRG SPA) was always close on his heels. In the end Brand had be satisfied with second place ahead of Spain's Caballero Dalmau (CRG SPA), Dzianis Slavinski (Uniqe Racing Team) from Belarus and Austria's Constantin Schoell (Daems Racing). The best DD2 Masters proved to be Cristobal Garcia (CRG SPA) again. He finished the heats in eighth place.
Now that the grids have finally be set, the ROTAX Winter Cup is ready for its all decisive races on Sunday. At 11:20 a.m. the prefinals kick off, followed by the finals at 13.20 a.m. More information regarding reports, photos, results and live TV stream are available on the official websites www.rotaxmaxeurochallenge.com or www.telemundi.com.