d'Orlando Brothers Ready for Second Round Action at Ocala Gran Prix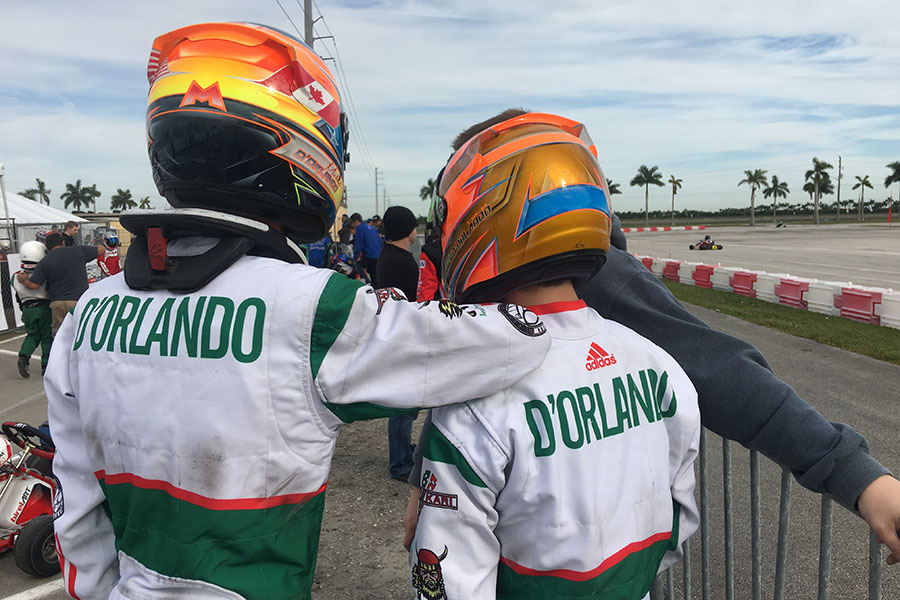 After a short break, it's back to racing for Michael and Nicholas d'Orlando as they head to Ocala Gran Prix in Ocala, FL for round two of the Florida Winter Tour Rok Cup USA series. Both d'Orlando brothers are no strangers to racing at the acclaimed OGP circuit as they have won here in both Micro and Mini classes.  Now they're looking to add to their already winning record, in the Junior Rok class.
Michael heads into the weekend as the current class series points leader with a 15 point lead over Ocala's own Mathias Ramirez.  After impressive runs in the opening rounds of the FWT in Homestead, with a win in the Junior Rok season opener and a controversial second place result  in the ROTAX Junior MAX opener, Michael has begun his 2016 campaign with a furious start and is looking to keep this momentum going as he gets ready for  on track action in Ocala.
"I am looking forward to racing this weekend here at OGP. This is a tough group of Juniors and there are some very experienced veterans here for their home track." said Michael. "Our goal is simply to just remain consistently quick like we were at Homestead. We need to keep on our toes, stay in the top 3 to 5, and let our actions on the track speak for themselves and come away with some great results."
With his past success at OGP, Junior rookie Nicholas d'Orlando is looking to bring those successful results with him this weekend as he prepares for just his second round of Junior Rok  racing. Despite some tough results in Homestead, Nicholas knows what it takes to win and is looking to gain valuable experience with serious competition in a stout field of drivers.
"I like racing here at Ocala Gran Prix. This has been a good track for me in the past.  I have worked hard over these last few weeks to look over data and improve on some things. I expected there would be a learning curve and we are going to stick to our short term goals this weekend." said Nicholas. "We are going to have to take it one race at time, remain consistently quick and to move forward. We showed it at times at Homestead and we had the speed to run in top 10."
Tune into www.maxspeedentertainment.com to watch the d'Orlando Brothers and all live racing action from the Florida Winter Tour in Ocala.  And for more information on Michael & Nicholas d'Orlando, please visit www.dorlandoracing.com. Be sure to follow them on Facebook (Nicholas d'Orlando Racing & Michael d'Orlando Racing), Twitter (@dorlandoracing) and Instagram (@dorlandoracing) to stay up to date on news, information, photos and results.