American Sargeant Wins OK Debut at WSK Champions Cup
Paybacks and new talents at the WSK Champions Cup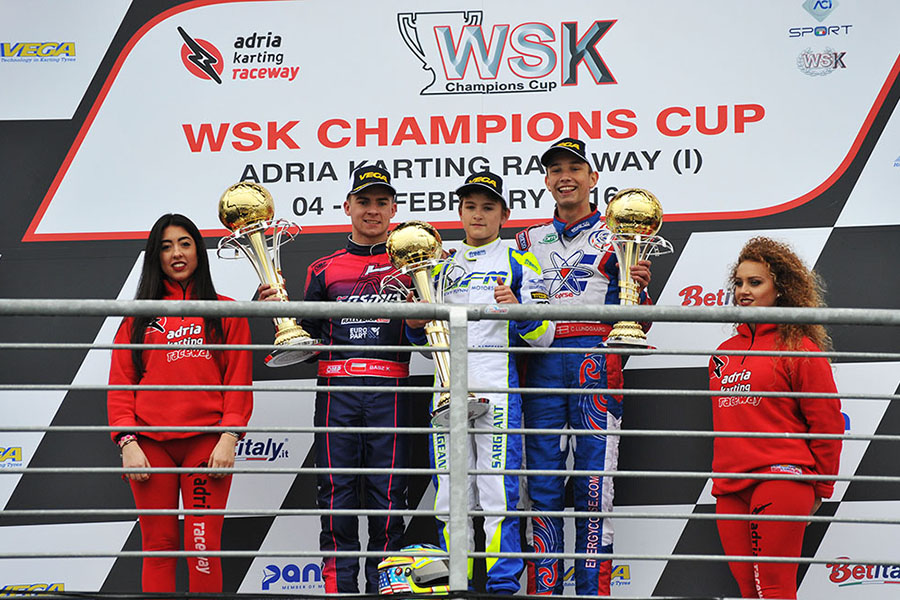 (Photo: Press.net Images)
The WSK Champions Cup won its personal duel with the bad weather and the rain. The heated finale of the event was followed by a huge attendance hosted by the Adria Karting Raceway.
Paolo De Conto beats all in KZ2
The Italian Paolo De Conto (CRG-Maxter-Vega) was simply irresistible: he pursued the leader of the race, his fellow countryman Marco Ardigò (Tony Kart-Vortex-Vega). De Conto was slowed down by a contact with the Czech Patrik Hajek (Kosmic-Vortex-Vega) during his attack to the leader. After a spin, He closed the gap with Ardigò, this time together with the Belgian Rick Dreezen (Ricciardo-Parilla-Vega). The latter took the leadership and kept the head of the race until the last lap. Unfortunately for him, the last metres of the race were fatal and De Conto won the race thanks to a terrific overtaking on Dreezen.
Winning debut for Sargeant in the OK
The American Logan Sargeant (FA Alonso-Vortex-Vega), the 2015 World  Junior Champion at his debut in the category, challenged the other CIK-FIA Champion, the Polish Karol Basz (Kosmic-Vortex-Vega). However, the fastest driver in the Final was the Danish Christian Lundgaard (Energy-TM-Vega), followed by Sargeant and Basz. The American immediately laid his cards on the table and took the lead of the race, with Basz right behind him and Lundgaard in third position. The three drivers finished the race keeping this order.
In OKJ Jewiss wins in the last metres
The OKJ had his winner only on the last lap, when the British Kiern Jewiss (Ricciardo-Parilla-Vega) overtook the French Timothy Peisselon (FA Alonso-Vortex-Vega) and won the Cup. At the start, the French Charles Milesi (Tony Kart-Vortex-Vega) took the lead and kept it until half race; then he got overtaken by Peisselon and, after few laps, also Jewiss passed  Milesi. Jewiss then closed the gap with the leader and passed him, crossing the finishing line in first position. In the last phases of the race, the British Fin Kennelly (FA Alonso-Vortex-Vega) scored the third position passing Milesi.
Paparo wins in 60 Mini
He was always among the protagonists and, eventually, he won the race: the Italian Michael Paparo (IP Karting-TM-Vega) managed to win the Final ahead of his fellow countryman Francesco Pizzi (Energy-iame-Vega) and of the Czech Dan Skocdopole (CRG-TM-Vega). The latter, after the end of the race, was obliged to leave his position to the Polish Tymo Kucharczyk (Tony Kart-TM) because of a ten second penalty.