Nicholas d'Orlando Learns That Moving Up Isn't Easy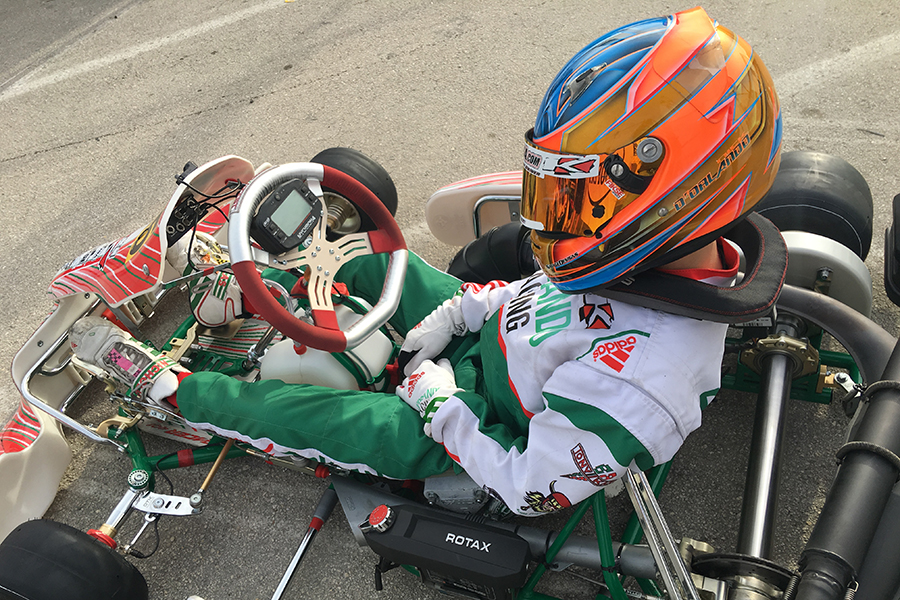 In only his second race weekend in one of the toughest classes in karting, Nicholas d'Orlando made his ROTAX Junior MAX debut last weekend at the Florida Winter Tour Rotax Max Challenge event, at Homestead, FL.  Despite his 34th place finish in Sunday's final, he would gain valuable experience and track time competing with some of the best drivers in the Junior ranks.
Mother Nature's fury on Friday resulted in a wash out for afternoon Qualifying and Heat races.  But Nicholas started his race week with a strong qualifying effort on Saturday morning with an impressive seventh fastest time in Group 2, albeit in a rogue wet track condition that only his group experienced., After the merger of both group's 1 and 2 times, Nicholas would start his No. 215 KoeneUSA prepared TonyKart in the 17th slot for the upcoming three heat races, where the challenges of the Junior classes would be Nicholas' professor.  Outside the top 20 in the first two heats, his 9th place finish would save some grace, but only enough to move him into the 23rd starting position for Sunday's PreFinal event.
As the sun finally decided to show for Sunday's events, Nicholas would turn up the heat at the start of the PreFinal and work his way forward to a solid 16th place finish.and setting himself up for an outside row 8 starting position for the Final.
Proving that the middle of a Junior field is one of the toughest places to be on the track, Nicholas did all he could to maintain position at the green flag and avoid the mass of karts through the opening corners, but it just wasn't in the cards.  Treacherous turn one was his demise forcing him to collect himself & his machine from the barriers and resume back on track far behind the rest of the field.  With compromised equipment, and the leaders closing in with every lap (one being his big brother, Michael) he was forced to withdraw from competition after only 11 laps.  He would be officially classified 34th.
"It was a tough weekend here in Homestead. This is a tough group of Juniors but the experience I gained here is valuable." said Nicholas. "We were quick at times and we had a good kart. I'm disappointed with the final results but I learned a lot these two weekends. and I know there will be a learning curve ."
D'Orlando Enterprises will be back in racing action at the second round of the Florida Winter Tour Rok Cup USA event in Ocala, FL on February 12, 2016.  They would like to extend thanks to their team at KoeneUSA (www.teamkoeneusa.com), including Mike Maurini, Martin Koene and tuner Bob Lucke for their continued hard work, support and dedication.  Furthermore, a special Thanks to the support of their sponsors at adidas Motorsport/Fyshe USA (www.adidasmotorsport.com), Kool Nerd Clothing (www.koolnerdclothing.com), Focused Project Management (www.focusedpm.net) and Iona Preparatory School (www.ionaprep.org).
Be sure to check out their online store for Adidas karting products and Kool Nerd apparel at www.dorlandoracingstore.com.  For more information on Nicholas d'Orlando, please visit www.dorlandoracing.com. Be sure to follow him on Facebook (Nicholas d'Orlando Racing), Twitter (@dorlandoracing) and Instagram (@dorlandoracing) to stay up to date on news, information, photos and results.