CRG Kicks Off 2016 Strong with Junior Pro Tour Win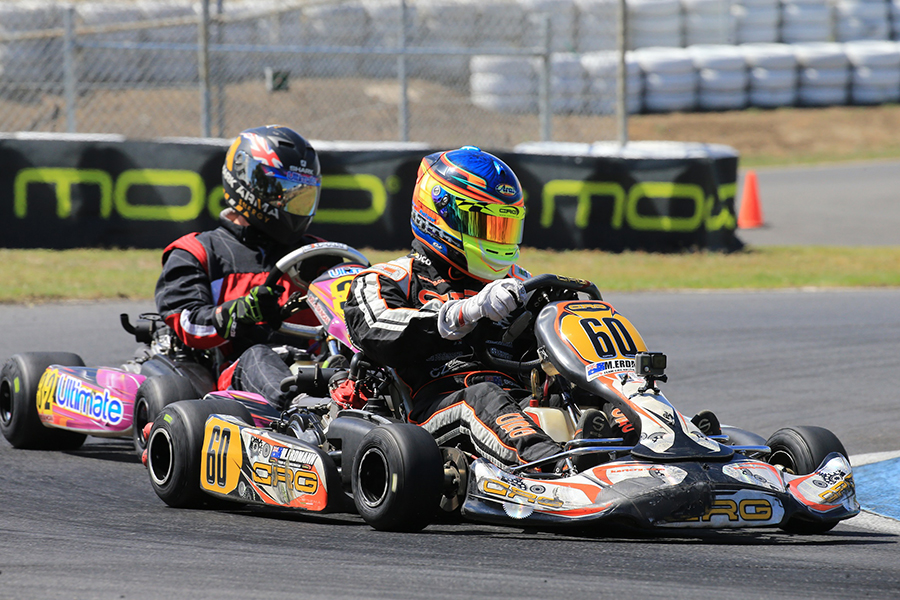 Team CRG stalwart, Matthew Erdmann continues to put in good performances
Team CRG Australia has started the 2016 season with success at the opening event of the Rotax Pro Tour at Melbourne's Todd Road with a string of podiums and a victory for Mini Max racer, Kai Allen.
Changeable weather conditions greeted the first race meeting of the 2016 national karting season, with difficult weather ensuring the team and drivers quickly eliminated any off-season rust.
Showing no rust was Shamick Racing's James Wharton and Kai Allen. Wharton took the pole while Allen who swept to victory in Mini Max. In the final it was looking like a CRG Hero 1-2-3 with Allen and fellow CRG-mounted James Wharton and Angus Giffen sitting in the top three positions. However a full course caution closed the field up.
Allen was able to jump Wharton to start his season in the best fashion possible, Wharton completing the podium in third position in his Shamick Racing-backed kart while Giffen was fifth.
CRG stalwart and Australian KZ2 Champion, Jason Pringle got his year off to a great start with a second position in DD2. Racing on home soil, Pringle pushed hard for the win, however finished second thus annexing a great haul of Rotax Rankings points.
Alex Waters did a solid job to qualify fourth in his first ever DD2 race and showed great speed throughout the event. Mathew Erdmann was well placed for a good final coming out of eighth, however a first corner incident ended his chances.
In DD2 Masters Mark Flood scored a sensational pole. In the Pre-Final, the tyre call based on the conditions proved to be incorrect and this dropped him to 11th. Flood then brought his CRG home eighth in the final.
Jason Hryniuk had a difficult weekend after a transponder issue in qualifying. He had been shown as the fastest driver on circuit during the course of that session, however it was to no avail, being forced him to start each of the heat races from the rear of the 28 kart field.
He did a terrific job in working his way forward throughout the course of the weekend and eventually elevated himself from eighteenth on the grid to record a terrific sixth placing.
Kartsport Superstar Aaron Cunningham was looking the goods to bring home another top ten finish. However a bad prefinal hurt the hurt his chances. Cunningham charged from 21st to 12th.
In Rotax Light, new 2016 recruit, Thomas MacDonald showed plenty of pace with his new CRG.
After qualifying fourth in the 37 kart field, MacDonald was among the top runners finishing each one of the heat races in the top five. An incident that saw him turned around during the pre-final buried him in 20th place for the final start.
MacDonald systematically pushed his way forward to record an 11th placing.
"The weather conditions made it a difficult weekend for the first one out," admitted CRG Australia Race Team Manager, Darren King. "Mattia (Madami – Team CRG chassis specialist) and I kept pushing with our drivers and we got a reasonable outcome.
"We were able to pick up where we left off last year though and it was great that Kai could take the win first up. He and James had a terrific race together. It's very pleasing to get a junior win up early in the season.
"Jason Pringle continued his good form to finish second in DD2, whilst a bit of bad luck befell JH (Hryniuk) and TMAC (MacDonald) and Erdmann.
"Overall, we're showing plenty of pace in our Rotax karts, especially the Rotax Light kart in Thomas' hands.
"We walk away feeling pretty happy but as always we will continue to develop."
The next major event for Team CRG Australia will be at the first round of the Australian Kart Championships in Dubbo over the first weekend of February.
A new look Team CRG outfit will ensure the Orange and Black is represented in force.