Another On Track Victory for Michael d'Orlando at FWT Amidst Off-Track Controversy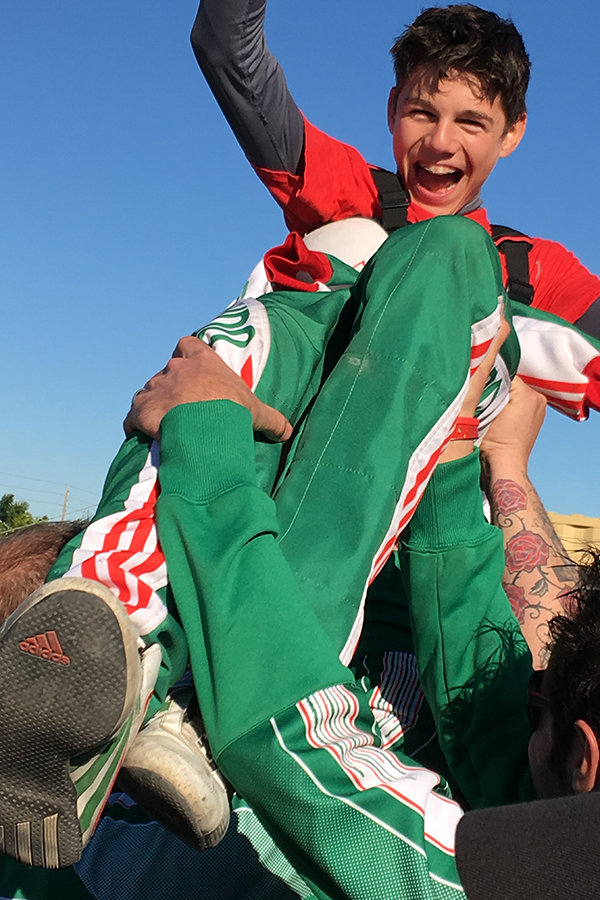 In the words of the legendary Vince Lombardi, "It's not whether you get knocked down, it's whether you get up". There's no truer words to describe Michael d'Orlando's weekend at the Florida Winter Tour Rotax Max Challenge in Homestead, FL as he raced to overcome challenges and controversy, and crossed the finish line in victory for the second time in as many weeks.  His on-track presence made it difficult to debate that he was the driver to beat all week.
The race weekend got off to a soggy start when Friday's torrential rains washed out the afternoon scheduled Qualifier & Heat races.  But Michael kicked off his race weekend on Saturday by qualifying his No. 251 KoeneUSA prepared Tony/Kart Junior MAX machine in the top spot in Group 2.  A water condition on track for his Group's session resulted in a slight disadvantage and after the merger of times of Groups 1 and 2, Michael would start in the 5th position, inside row 3, for the upcoming three heat races.
Not wasting any time, Michael found his way to the front in the first heat race with a second place result, and then followed up with two wins in heat races 2 and 3, adding fast lap honors in each.  These solid results were enough to earn him what seemed be the pole position for Sunday's PreFinal.  However, after an unexpected post race technical DQ, and a failed protest by his team KoeneUSA, it was a simple ROTAX-issued part that would force Michael down the Junior MAX PreFinal starting grid to start back in 10th spot on Sunday.
Sunday got off to a better start with a beautiful cool south Florida morning, as the sun would warm things up for on-track action.  Things would heat up in the Junior MAX field in what would be one of the most exciting classes, yet again, to watch of the weekend.  Despite his disappointing starting position, Michael was determined to make a statement and made his way back up front, taking one position after another through the field, bringing home an impressive 2ndrd place finish and yet another Fast Lap honor.  This outside front row position was the perfect starting spot for Sunday's final.
The main event was an exciting battle between Michael and Brazilian Arthur Leist, as they would take turns leading most of the laps of the race.  Michael put himself in a great position after dropping to second on lap 17 keeping the pressure close on Leist's rear bumper.  With laps winding down, Michael patiently waited for the right time and made his move with two laps to go on lap 24, taking the lead from Leist, in turn 1. Strong & focused through the remaining circuits, Michael pulled to a 0.390 lead and took the checkered flag in the Rotax opener, earning him his second win in the FWT Junior categories and his second win in two weeks.
However, during post race ceremonies & after podium presentations were completed, action in the Technical Inspections tent would continue quietly, as team KoeneUSA would wage a strong defense for Michael's stellar results when fellow competitors protested the win for having a non-Rotax bendix cover on the starter of his Rotax Junior MAX engine.  Despite this not being a performance enhancing part, the relentless protests prevailed and Michael was relegated to officially finish second, in what turned out to be the most controversial event of the entire week.
"Despite all that happened it was a great weekend", said Michael. "We had a fast kart all week and we overcame the DQ on Saturday, in the PreFinal.  But then to have another penalty on Sunday in the final is disappointing to say the least. I know we were the best out there and we proved it all weekend despite all that went on.  This was still a great two weeks and a great way to start off the year and the Florida Winter Tour."
D'Orlando Enterprises will be back in racing action at the second round of the Florida Winter Tour Rok Cup USA event in Ocala, FL on February 12, 2016 where Michael enters the event at the top of the series points race.  They would also like to extend thanks to their team at KoeneUSA (www.teamkoeneusa.com), including Mike Maurini, Martijn Koene and tuner Matt Long, for their continued hard work and support.  And special Thanks to the support of their sponsors at adidas Motorsport (www.adidasmotorsport.com), Kool Nerd Clothing (www.koolnerdclothing.com), Focused Project Management (www.focusedpm.net) and Iona Preparatory School (www.ionaprep.org).
Check out the d'Orlando Enterprises online store at www.dorlandoracingstore.com for Adidas karting products and Kool Nerd apparel.
For more information on Michael d'Orlando, please visit www.dorlandoracing.com. Be sure to follow him on Facebook (Michael d'Orlando Racing), Twitter (@dorlandoracing) and Instagram (@dorlandoracing) to stay up to date on news, information, photos and results.