Record Entries for Australian Kart Championship Opener in Dubbo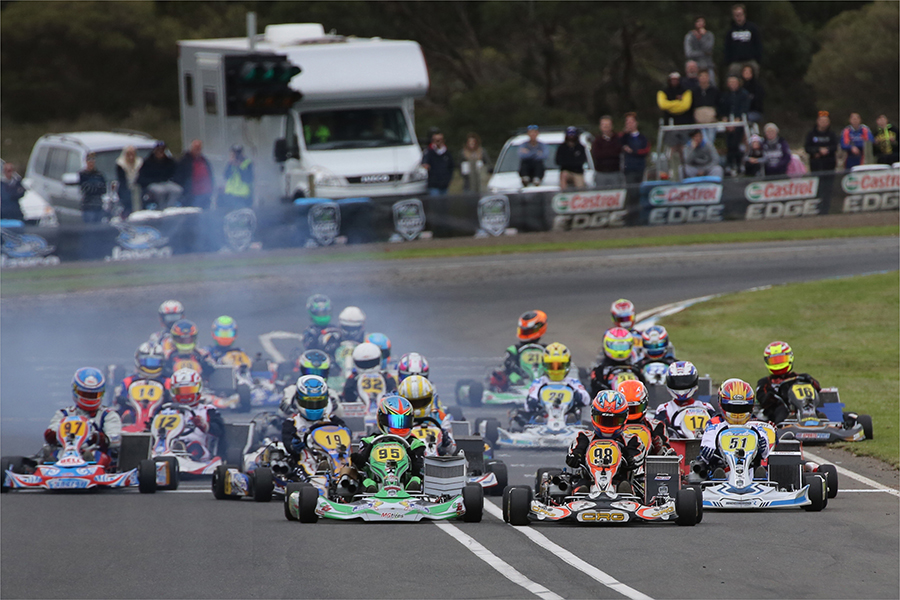 The drivers in the KZ2 class will reach speeds in excess of 120 km/h around the Dubbo circuit (Photo: Coopers Photography)
THE focus of the Australian karting fraternity will be on Dubbo next weekend (Feb 5-7).
Hundreds of visitors from all across Australia and New Zealand are expected to converge on the Central Western New South Wales City for the opening round of the Australian Kart Championship presented by Jayco and Castrol EDGE.
With a record 250 entries having been received for the 2016 opener, the racing will be some of the most exciting seen at the Lincoln County Raceway in the 23 year history of the venue.
A capacity field of 44 drivers will face the starter in both the Cadet 12 and KA4 Junior fields where competitors are aged from nine and 12 years of age respectively.  For these drivers, they will reach speeds close to 100 km/h while racing centimetres apart and learning significant lessons about car control and driving techniques well before they are old enough to obtain their road licence.
It is in the KA4 Junior class (formerly known as Junior National Light) where V8 Supercars Champion Mark Winterbottom was victorious in during the stand-alone National Championship event the first time it was contested in Dubbo in 1995.
"The Dubbo Kart Club has been working hard over the past few months to ensure everything is in readiness for what is gearing up to be a huge event," said Dubbo Kart Club President Sebastian Jones.
"To have received 250 entries is fantastic and we look forward to hosting the best drivers from all across the country at our venue.
"Never before have we had 44 drivers on the grid here in Dubbo, it's going to be great to see many young drivers in action.
"There will be Australian and State Champions all throughout the different classes, so the racing will be of the highest quality and who knows we may just be witnessing the next V8 Supercar Champion such as Mark Winterbottom, Jamie Whincup or James Courtney in action."
A total of nine classes of drivers will be in contested at the event from the youngest in the Cadet 9 at seven years of age through to the elite KZ2 gearbox class where the front running competitors will reach speeds in excess of 120 km/h around the 1037-metre circuit.
What: 2016 Australian Kart Championship – Round 1
When: February 5-7, 2016
Where: Lincoln County Raceway, Newell Highway, Brocklehurst
Who: 250 of Australia's best kart racers from as young as seven years of age in the Cadet 9 class through to the drivers in the elite KZ2 class where they will reach speeds in excess of 120 km/h while racing centimetres apart.