Michael d'Orlando Kicks Off 2016 Season with Maiden Victory at Florida Winter Tour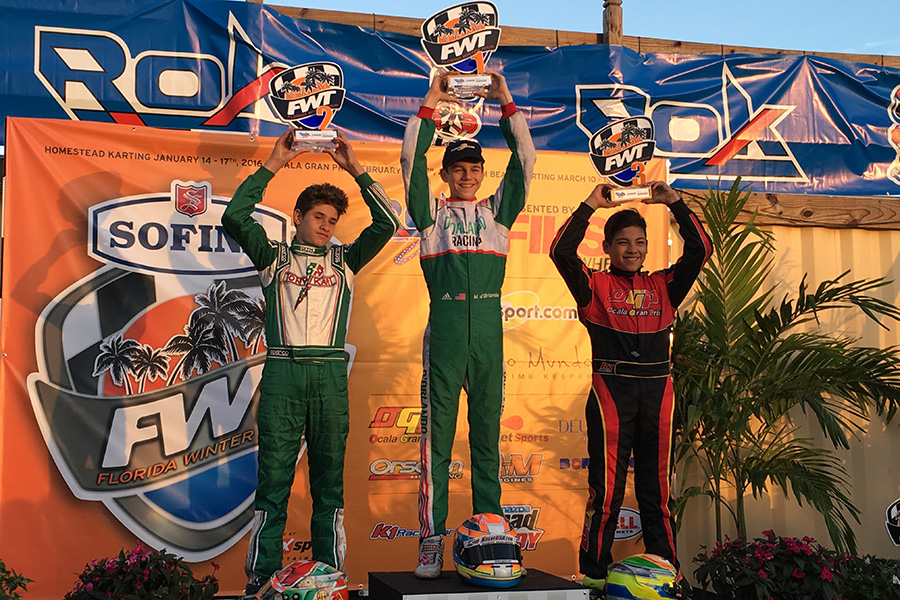 What a start to the 2016 season for Michael d'Orlando as he kicked off the new year at the first round of the Florida Winter Tour ROK Cup USA event by taking the victory in the Junior Rok category in spectacular fashion. Despite the inclement  weather in Homestead, FL and a tough field of 32 of some of the best Junior drivers in the world, Michael proved to be one of the top drivers all week long as he took home his first win in the Junior ranks at his first race of his sophomore season.
Michael began the race weekend on Saturday morning by qualifying his No. 251 KoeneUSA prepared Tony/Kart in the second spot in Group 1.   As the track conditions changed drastically from the morning heavy rains, Group 2 qualifying conditions proved to be much better and almost the entire group would out-qualify Group 1.  After careful review, the stewards of FWT ruled to place Group 2 on the inside row and Group 1 on the outside row for the upcoming three heat races.  This decision would put Michael in the 4th starting position, on the outside of row 2.
Following up with two fifth place finishes and a third place finish in the heat races, Michael's solid results were enough to set him up in the 3rd spot, inside row 2, for Sunday's PreFinal event.
Sunday morning rain caused some havoc with wet track conditions for warmups, but would eventually clear out for the junior class PreFinal and Final events. Things would heat up to be quite a battle for these races in what proved to be one of the most exciting classes to watch of the weekend. Michael knew he had to run a smart, clean race in the pre final and he kept to his game plan keeping his fine tuned machine consistent in the top 3 and eventually crossing the stripe in the 3rd spot.  After post race penalties were awarded, Michael was elevated one spot to secure an outside front row starting position in 2nd for the main event.
The main event would come down to an exciting battle between Michael and Canada's Antonio Serravalle.  As Serravalle would lead 16 of the 25 laps, Michael put himself in a solid second spot early on as Serravalle jumped out front early pulling a gap by over 1.3 seconds.  Michael maintained focus as he would lap by lap chip away at Serravalles lead and eventually take the point position on lap 22.  Leaving the rest of the field behind, Michael would not falter through the remaining circuits as he would set the fastest lap of the race on the final lap 25 and take the checkered flag to earn his first win in Juniors by .9 seconds and first win of the 2016 season.
"It was a great weekend", said Michael. "This was also a tough weekend and I like the competition here. We overcame some mistakes early on and we learned from them.  The track conditions changed a lot over the week with the rain off and on. This is a great way to start off the Florida Winter Tour and it was a fun race. We had a great kart. Feels good to get that first win in Juniors and we will keep working hard to get better & better.   I'm looking forward to coming back here to Homestead next week, in the Rotax classes.  Its going to be another tough round of competition."
D'Orlando Enterprises would like to extend thanks to their team at KoeneUSA (www.teamkoeneusa.com), including Mike Maurini, Martijn Koene and tuner Matt Long, for their continued hard work and support.  And special Thanks to the support of their sponsors at adidas Motorsport (www.adidasmotorsport.com), Kool Nerd Clothing (www.koolnerdclothing.com), Focused Project Management (www.focusedpm.net) and Iona Preparatory School (www.ionaprep.org).
Check out the d'Orlando Enterprises online store at www.dorlandoracingstore.com for Adidas karting products and Kool Nerd apparel.
For more information on Michael d'Orlando, please visit www.dorlandoracing.com. Be sure to follow him on Facebook (Michael d'Orlando Racing), Twitter (@dorlandoracing) and Instagram (@dorlandoracing) to stay up to date on news, information, photos and results.
Please follow and like us: